Every Wednesday, we pick a few of this week's new releases that stand out from the crowd for our New Comic Book Day series of blog articles. If you're looking to join a series or want to know what's happening in today's best comics, keep reading!
SPOILER ALERT — We try to keep from posting spoilers, but one may sneak through to our reviews now and again. Read with caution, true believers.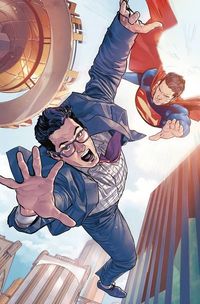 Action Comics #963
By: Dan Jurgens, Patrick Zircher, Arif Prianto, Clay Mann
Action Comics #963 kicks off the new "Superman Meets Clark Kent" story arc and picks up with Clark Kent investigating (read: I mean breaking into) a company named Geneticron. When I say Clark, I mean Clark, not Kal-El. No, it's not Superman pretending to be an ordinary human.
Lex Luthor's Daily Planet newspaper recently outed Clark Kent as being Superman, but as true as that's been in the past, at this moment in the DCU, it's not. In all the confusion one thing for sure, this Clark Kent is not OUR Superman.
Dan Jurgens gives us a well-paced issue with flashbacks that help provide context to the story. This is an exciting issue for any Superman fan, and a wonderful place to jump into the Action Comics series. The story has a very Golden Age feel to it. Patrick Zircher and Arif Prianto both do a great job with the art and colors, and exemplify what we've come to expect from DC comics. Great layout, bright colors, and solid linework. [Martin M. at TFAW.com]
JOIN ACTION COMICS TODAY
SEE EVEN MORE SUPERMAN PRODUCTS AT TFAW
SEE OTHER ISSUES THAT KICK OFF NEW STORY ARCS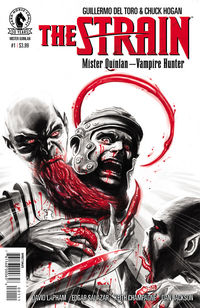 The Strain: Mister Quinlan – Vampire Hunter #1
By: Guillermo del Toro, Chuck Hogan, David Lapham
Edgar Salazar, Keith Champagne, Dan Jackson
Born as a mistake of a powerful vampire known as the Master, Mister Quinlan seeks to destroy the monster that sired him. This gory feud has lasted ages and can be traced back to the ancient Roman Empire.
If you've enjoyed The Strain novels, television series, or comic books, you're going to fall over yourself to learn more about Mister Quinlan in the new five-issue The Strain: Mister Quinlan – Vampire Hunter miniseries.
The thing is: you don't have to know anything about The Strain to enjoy this book. Lapham and team lead the reader down a journey of one boy's birth in blood toward his destiny. It's a fun and entertaining story in its own right and actually serves as a good entry into this universe — be careful, you will be drawn into this story.
On their own, Salazar, Champagne, and Jackson are tremendously talented in their own right, but together, their art comes together in such a way that you can't help but take a second look at the book once you finish. My only criticism is that I have to wait another month to see the next installment of The Strain: Mister Quinlan – Vampire Hunter. This is the best book I've read this month. [Josh C. at TFAW.com]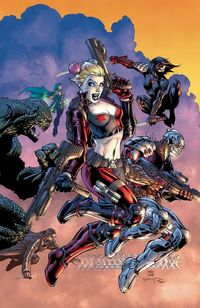 Suicide Squad #2
By: Rob Williams, Jim Lee
The Suicide Squad is once again on a mission they can't hope to survive. From the emptiness of space to the frigid waters of the Artic Ocean, Task Force X can't seem to catch a break. They're hunting a cosmic artifact and — of course — they aren't told what it is. When they find out what it is, we see that they were sorely unprepared for it!
The team has gotten out of more dangerous situations than this in the past, but Rob Williams may have just caused Task Force X to go extinct. Suicide Squad #2 also includes a short story that gives us insight into Boomerang's past. It's a fun piece by Rob Williams, Ivan Reis, and Marcelo Maiolo.
Things are just starting to rev up, but it's not too late to join the Suicide Squad! [Martin M. at TFAW.com]
SEE MORE SUICIDE SQUAD COMICS & GRAPHIC NOVELS
START A SUICIDE SQUAD COMIC BOOK SUBSCRIPTION AT TFAW
LEARN MORE ABOUT SUBSCRIPTIONS AT TFAW
How'd we do? What comics did you enjoy this week. Join the conversation by commenting below or hit us up on Twitter or Facebook.
Please follow and like us: