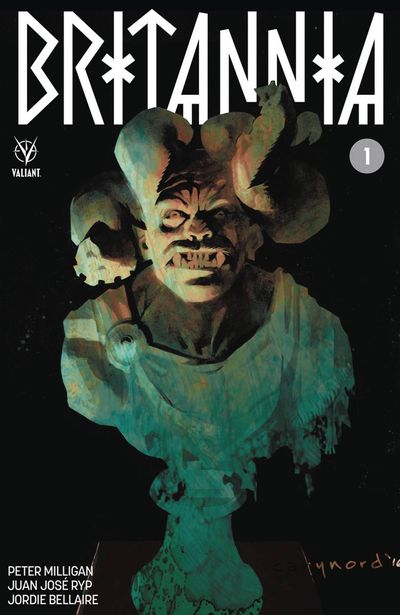 Rome has a long, and storied history of dominance across the world stage. Britannia is set during the rule of Emperor Nero, and follows a Roman Centurion named Antonius Axia.
Political intrigue winds its way through the threads of fate for Antonius, set in motion by the Great Vestal Virgin, Rubria who appears to have plans that run much deeper than any of the cast could imagine. Antonius is being steered toward the land of Britannia, while a cult following the Lord of the Cave, Orkus appear to be looming in the shadows, out of view.
Antonius is bestowed a codex, some greater depth of knowledge by the Vestals and it seems as though they are the ones truly guiding his path ahead. To what end? There is a dark, supernatural force lurking beyond Orkus, and the cult who revere the deity.
This book has gripped me, though I strongly urge that this is strictly for mature audiences only. If you enjoy tales of characters such as Conan, Valiant's own Eternal Warrior, and the like, you should definitely check out this new title by Peter Milligan (Animal Man, The Discipline) and Juan Jose Ryp (Clone, Wolverine).
Crisp, direct, and expressive artwork was popping on the uncolored review copy which I read, but with the depth that is sure to sweep through the title in final copy, you can bet that the series is going to dig hooks in to you and draw you back for more.
With this introduction, you need not worry about having to have read any previous comic titles as this is setting out an all new path that is so often claimed in comics these days, but unlike other titles, Britannia actually delivers.
Swords and sorcery tales typically have a very different feel, but with Britannia being set during the Roman Empire, the series is set to deliver new feeling to the genre entirely. What are the Vestal Virgins attempting to do with Antonius, and Nero? Looks like we will have to wait and see as details emerge further with each new issue. I am ready for this journey.
SEE OTHER VALIANT ENTERTAINMENT BOOKS
Please follow and like us: