It's our favorite time of the week, and that means we've got another installment of New Comic Book Day for you! Here are a few of this week's new releases that stood out from the crowd. Check out our other blog articles so see our thoughts on other books. Be sure to comment or share our post on Facebook or Twitter if you like our articles!
SPOILER ALERT — We try to keep from posting spoilers, but one may sneak through to our reviews now and again. Read with caution, true believers.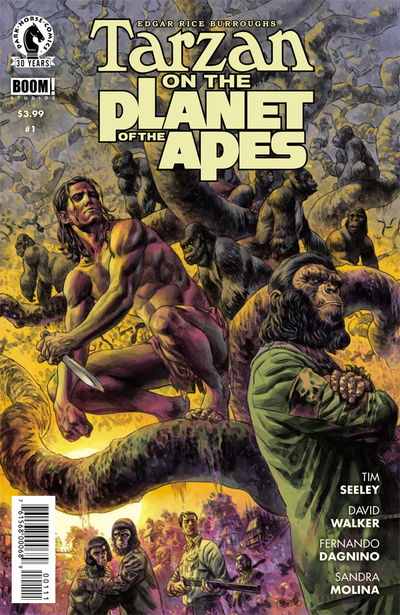 Tarzan on the Planet of the Apes #1
By: Tim Seeley, David Walker, Fernando Dagnino, Sandra Molina, Duncan Fegredo
In a change of events from the end of Beneath the Planet of the Apes film, Cornelius and Zira travel back in time to 1901 West Africa instead of 1970's North America. Here they found a young Tarzan and raised him as their own along with their son, Milo. When the Ape King Kerchak is abducted by hunters, Tarzan and family rush to his rescue, only to place themselves in further danger.
Writers Tim Seeley and David Walker prove to not only be fans of both Planet of the Apes and Tarzan but both imaginative in finding a loophole in bringing these two worlds together in a way that honors both franchises. All while creating a new exciting direction. Fernando Dagnino's pencils perfectly capture the feel of both worlds, and dynamically crafts action sequences worthy of the characters. If you're looking for a fresh new take on classic stories, Tarzan on the Planet of the Apes is a must read. [Mikey N. at TFAW.com]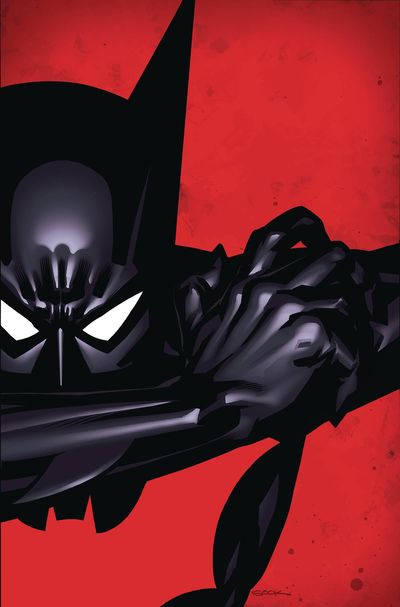 Batman Beyond Rebirth #1
By: Dan Jurgens, Ryan Sook, Tony Avina, Jeremey Lawson
Terry McGinnis is back from the dead, and he may not be the only one. Batman Beyond Rebirth #1 gets you up to speed if you've never watched the animated television series or read any of the Batman Beyond comics. With a quick recap of Terry's Batman origin pulled straight from the cartoon, the issue also gives us some insight on what has happened to Terry's world while he was gone.
The main story we get from Batman Beyond Rebirth #1 is that Neo-Gotham's "Jokerz" gang is up to something much bigger than they have ever done in the past, and Terry needs to figure what that plan is before it's brought to life.
Dan Jurgens does a great job setting up what is sure to be an exciting first arc in the Rebirth of Batman Beyond. I always loved how the Batman Beyond series took inspiration from past Batman stories. You can see elements from all over Bat-Lore. It's almost as if history repeats itself.
Ryan Sook, Jeremy Lawson, and Tony Avina all do a great job with the hard lines and neon colors of Neo-Gotham. Even if you didn't watch the show or read previous Batman Beyond comic books, you should jump on this schway series! [Martin M. at TFAW.com]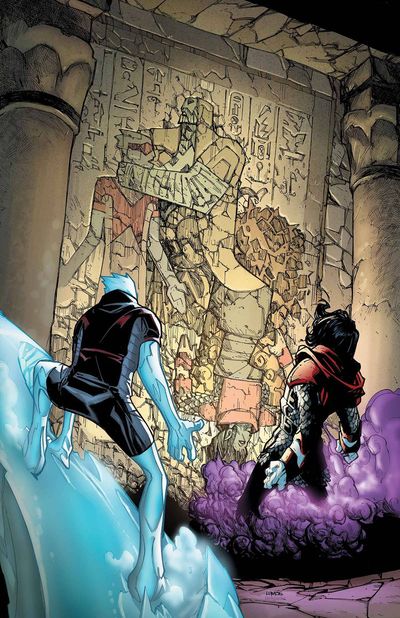 Extraordinary X-Men #14
By: Jeff Lemire, Victor Ibanez, Humberto Ramos
Still dealing with the aftermath of their recent encounter with Apocalypse, the X-Men are all now split dealing with different issues. Iceman and Nightcrawler encounter Colossus who's now transformed by Apocalypse. Forge is left with Apocalypse as he tries to find a way to reverse what happened to Colossus. Storm and Magik look for their missing student, Sapna. Finally, Logan and Jean Grey share some quiet moments being away from their in-danger teammates.
Jeff Lemire splits the group expertly. With so many things happening simultaneously, it can often feel like nothing is really happening, but Lemire is able to keep all these scenes focused on the big picture of the main story, with all of them being meaningful with character defining moments. The art from Victor Ibanez is incredibly expressive. Just the way he draws subtle emotions on Apocalypse's face is enough to haunt me. Once again, Extraordinary X-Men proves to be one of the most exciting books published by Marvel. [Mikey N. at TFAW.com]
Flash #14
By: Joshua Williamson, Carmine Di Giandomenico, Ivan Plascencia, Steve Wands
[Josh C. at TFAW.com]
Epic. That's my summation of this issue (and Joshua Williamson's story thus far). My heart is beating fast. We now know the identity of Godspeed, and it makes things more tragic. After a quick battle against Godspeed in the first four pages of The Flash #7, Barry has to flee the fight so he can recover from a pretty hefty beat-down.
A few consistent themes exist over the course of The Flash's run:
timing — being in the wrong/right place at the wrong/right time, or being fast enough to save somebody
addiction — the Speed Force has proven especially addictive to villians
yearning to right past wrongs
Williamson expertly weaves these elements together in this issue — he's crafting a story that is tense and exciting. This story matters; it has emotional weight that you can feel. I'm especially intrigued by how I identify with Godspeed, whose intentions are actually kind of pure. It comes down to how this person is willing to compromise to get to those ends that makes them a villain.
If you're just catching up with the story, this will be a fun issue that will quickly grab your attention and spark your love for this character, the writing chops of Josh Williamson, and the awesome artwork that Carmine Di Giandomencio and Ivan Plascencia are putting on the page. Di Giandomencio is laying down some really great stuff — it's clear he's studied how to depict movement in this medium, and it's paying off in spades in this issue. Plascencia's colors are gorgeous, especially when it comes to depicting the Speed Force. Just outstanding work all around. #TeamFlash [Josh C. at TFAW.com]
HURRY OVER TO OUR FLASH THEME PAGE
What did you think of these books? What should we review next week? Let us know below!
Please follow and like us: