The year is…well, it's unclear what year it is. All we're told is it's been more than half a century since the Earth's temperature dropped, leaving once-balmy regions like Los Angeles steeped in sub-zero conditions. Welcome to the world of Frostbite, the new Vertigo comic book series from Joshua Williamson (The Flash, Nailbiter, Birthright) and Jason Shawn Alexander (Empty Zone, The Secret).
To survive amid the severe change of climate, most people have congregated in large cities, resulting in over-crowding, rampant crime…you know, the standard state of affairs in dystopian urbania. What's more, the chilly conditions have brought about a new disease known as "frostbite," an apparently contagious ailment that causes the infected to freeze from the inside out.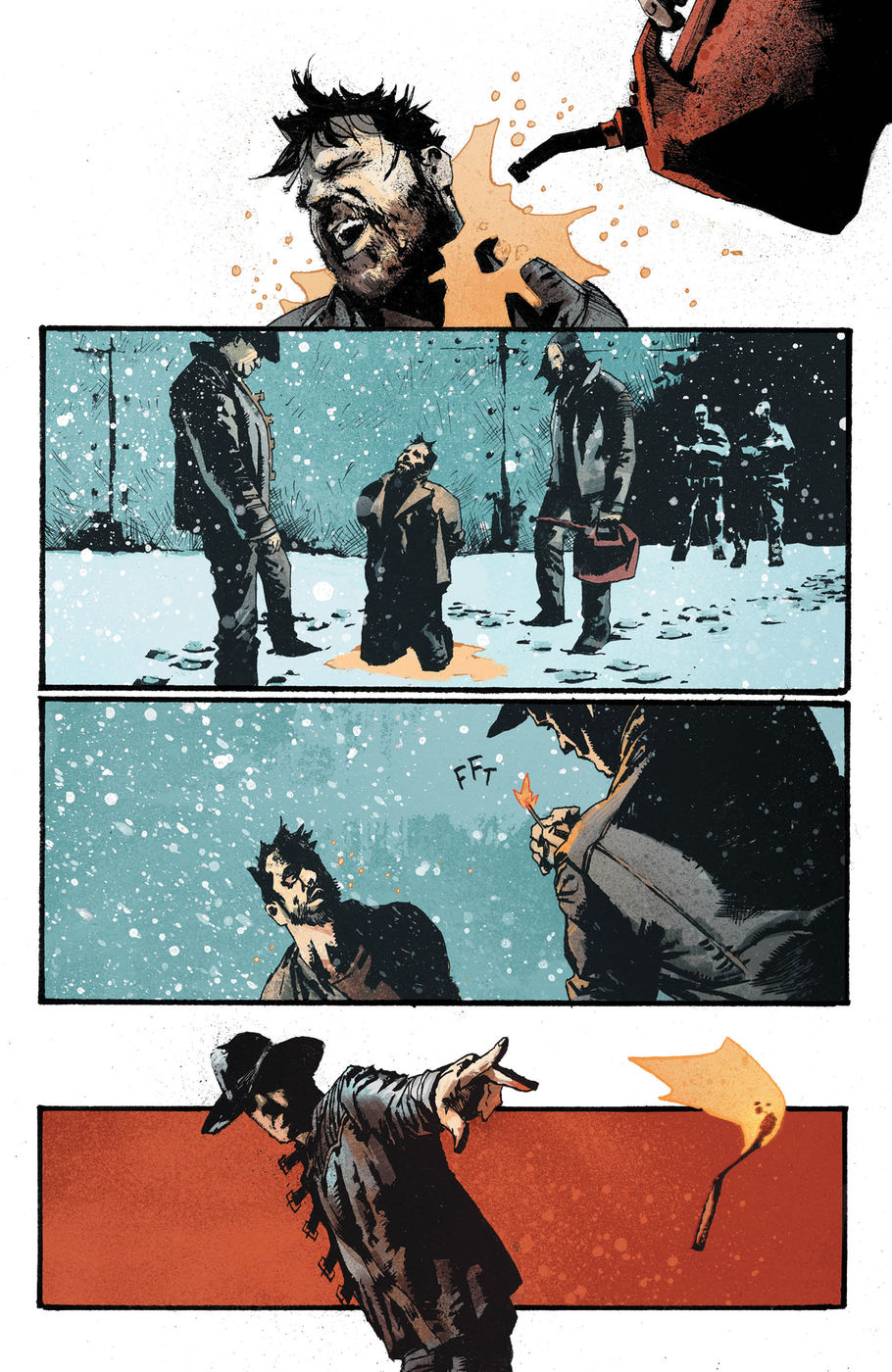 Following an ominous introduction, we are introduced to a small team of transporters (smugglers?), headed by the female protagonist, Keaton. Readying for their next long haul, the group is approached by a pair of doctors, father and daughter, who are seeking transport from L.A. to Alcatraz Island. The pair's quality attire makes Keaton question why they'd want to hitch a ride with a hauler rig, but she ultimately agrees. Her suspicions are substantiated when the team is suddenly attacked by a unit of assassins, under orders from the sinister and mysterious crime boss known simply as "Fuego."
The artwork culminates in a stunning minimalism that nicely fits the simple, yet stark reality the story is set within.
Turns out these doctors have something Fuego wants, and are willing to kill to obtain it. Now, without supplies or means of transportation, Keaton and her team must find a way to get their precious human cargo to Alcatraz before Fuego catches up with them.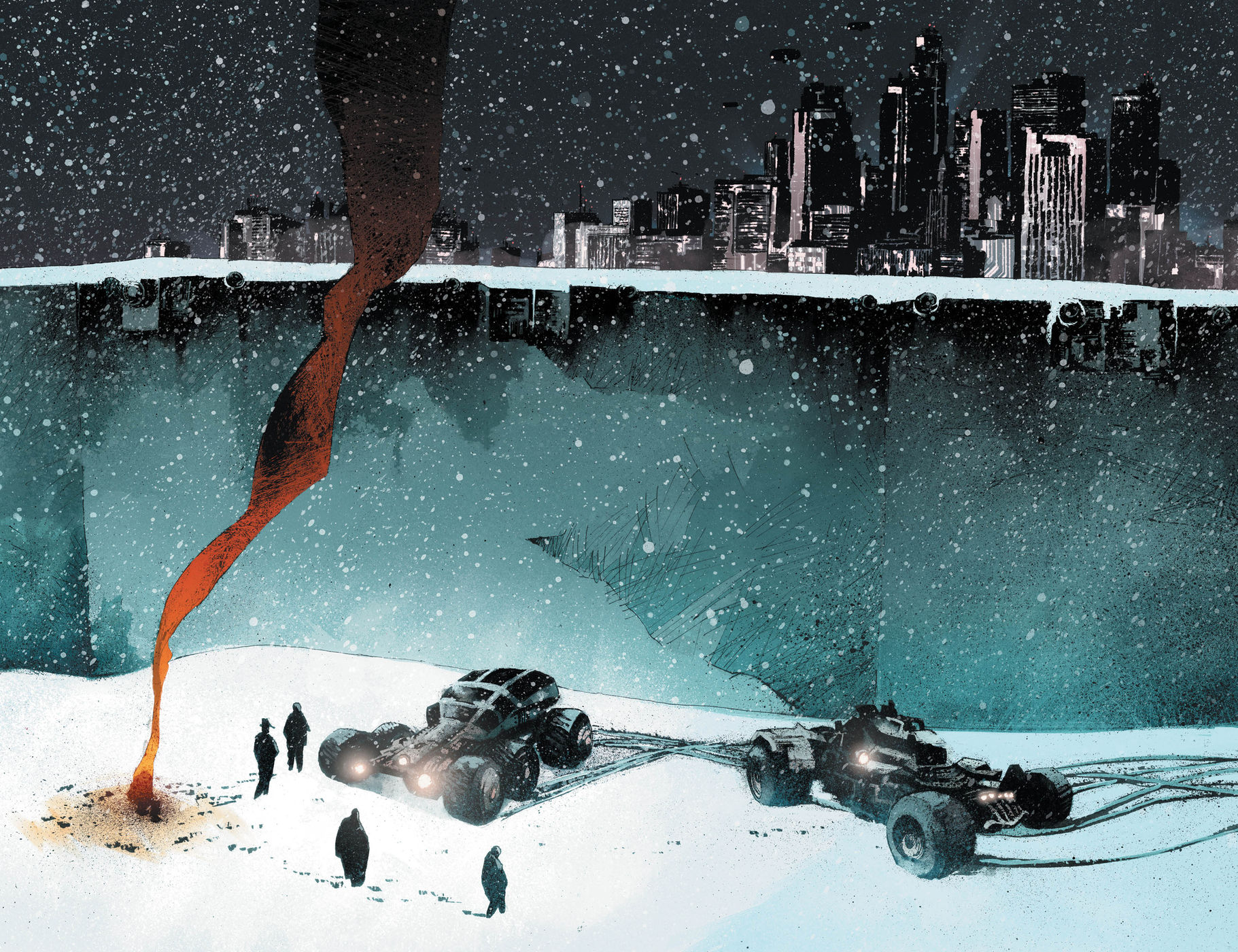 In both concept and execution, this book rides the current zeitgeist of female-fronted dystopian sci-fi. Every element here feels familiar, like someone combined the best elements of Mad Max: Fury Road, Judge Dredd, and Snowpiercer.
As intriguing as the story itself is, where this book really shines is in the artwork. Artist Jason Shawn Alexander's scratchy, shadowy inking is great to look at, especially when he zooms in on a character's face and amps up the detail. Even better is the watercolor work by Luis NCT, which relies on a spare color spectrum (basically blue, orange, red, and brown), and every few pages features a really cool ink spatter effect. Altogether, the artwork culminates in a stunning minimalism that nicely fits the simple, yet stark reality the story is set within.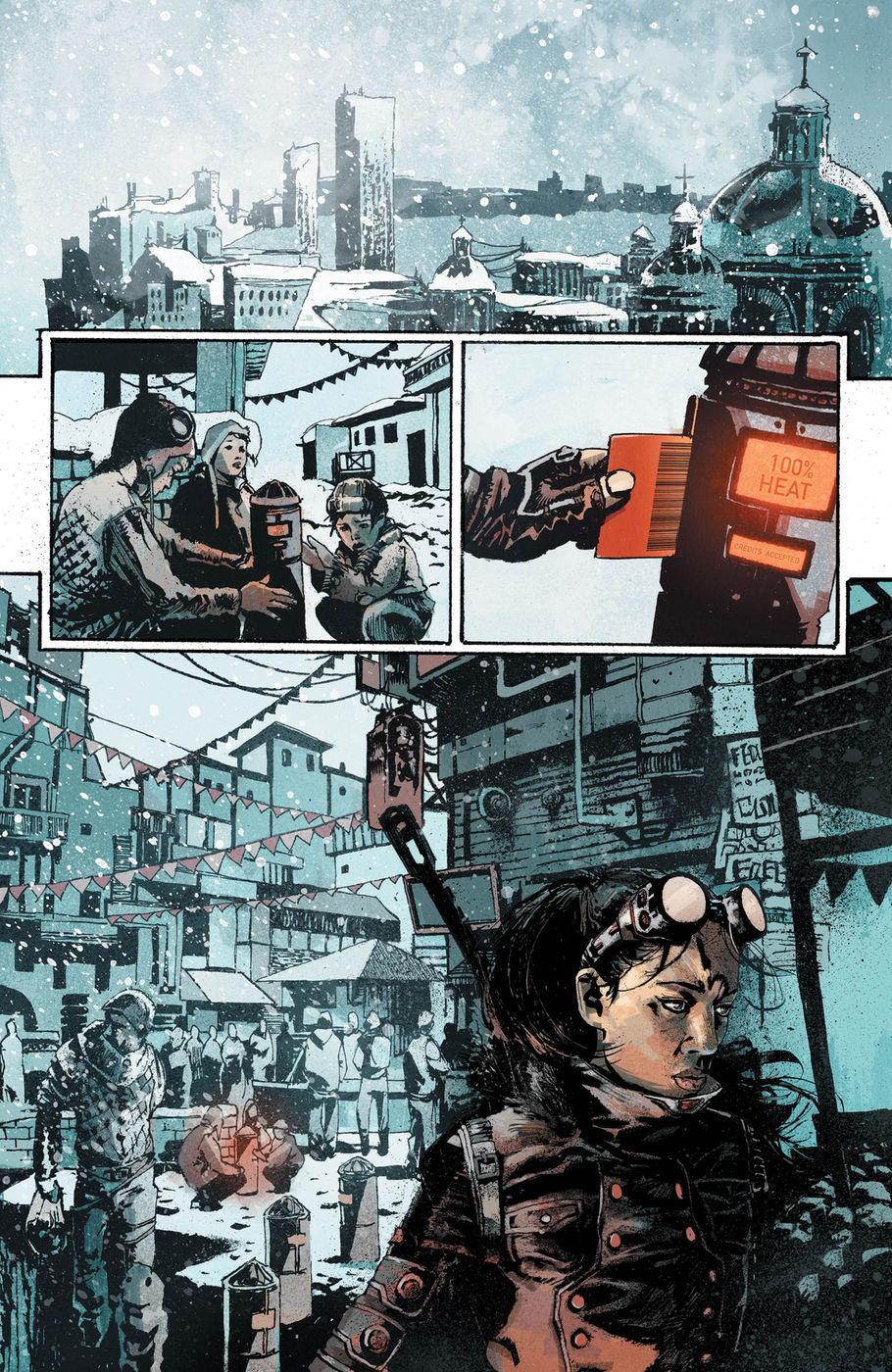 I look forward to seeing what the creative team does with the premise going forward.
Frostbite #1, Vertigo Comics, Released Sept 28, 2016, Written by Joshua Williamson, Art by Jason Shawn Alexander, Colors by Luis NCT, Letters by Steve Wands.
Review by James Florence.
Please follow and like us: