Every Wednesday, we pick a few of this week's new releases that stood out from the crowd for our ongoing New Comic Book Day blog series. Check out our reviews of some of this week's best comics below and be sure to comment below or share our post on Facebook or Twitter if you like our reviews!
SPOILER ALERT — We try to keep from posting spoilers, but one may sneak through to our reviews now and again. Read with caution, true believers.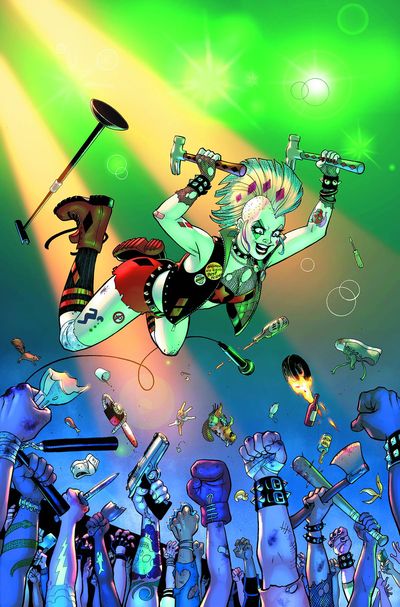 Harley Quinn #5
By: Amanda Conner, Jimmy Palmiotti, John Timms
Holy cannoli! Amanda Connor and Jimmy Palmiotti never fail to show us a new side of Harley Quinn. This issue kicks off with Harley being robbed of her personal property from Arkham.
She isn't the only one being robbed and since the cops can't (or won't) catch the perps, it's up to our lovable wild card to take them down!
When Harley finds out that the robbers are a part of a punk band, she just has to join in. What does one do when they need to fit in? Makeover! That's right, Harley Quinn gets a brand new makeover and forms a band of misfits. [Darcey M. at Universal Citywalk TFAW]
Jessica Jones #1
By: Brian Michael Bendis, Michael Gaydos, David Mack
After the success of her Netflix series, it was only a matter of time before Jessica Jones made her way back to her own solo book. Brian Michael Bendis and Michael Gaydos are back together in this new series with the same tone and grit as their original, Alias. Be warned, Marvel is serious with that parental advisory on the cover. This one's not an all ages book at all. The language is salty and there is a definite vibe throughout that things will get worse for Jessica long before they get better.
The art and writing work extremely well to show a very real look at the Marvel Universe from the street level. From the general public not understanding alternate dimensions to the Champions flying overhead. (side note, Champions #1 comes out today and looks amazing, full review coming soon.)
This is a book loaded with potential. It's going to be dark and a bit of a downer but the characters, Bendis' writing and Gaydos' art this book will hook you instantly. [Dustin M at Universal Citywalk TFAW]
FOLLOW JESSICA JONES' INVESTIGATIONS
DISCOVER OTHER NEW MARVEL COMICS SERIES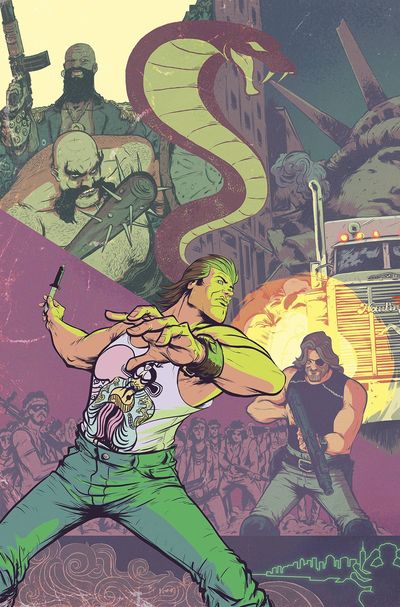 Big Trouble in Little China/Escape From New York #1
By: Greg Pak, Daniel Bayliss
I never thought I'd see the day when two separate characters from John Carpenter's filmography would come together, let alone characters played by the same person — Kurt Russel. With Boom Studios holding the comic rights to both Big Trouble in Little China and Escape From New York, it was inevitable — and I'm so glad it happened.
The premise is pretty simple, in the world of Escape From New York, the year 2001, someone uses a magical object to bring "Snake Plisskin" across the country to help aid in a mission. Except it's misread and instead brings good Ol' Jack Burton from Big Trouble in Little China's universe (and 1987 for that matter).
I can't wait to see how the rest of this 6-issue series pans out — because you know Lo Pan is going to try and work his magic to get back at Jack. [Martin M at TFAW.com]
ORDER BIG TROUBLE IN LITTLE CHINA/ESCAPE FROM NEW YORK BOOKS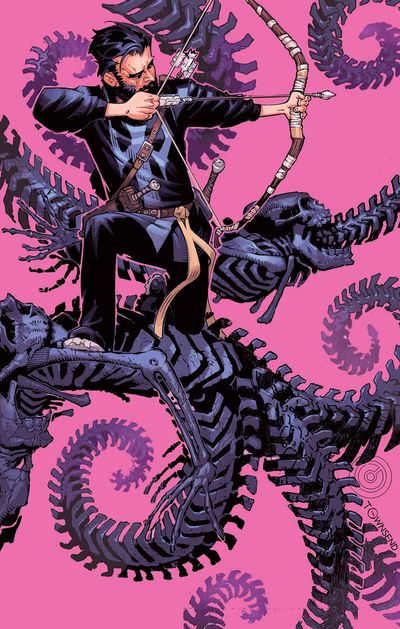 Doctor Strange #12
By: Jason Aaron, Leonardo Romero, Kevin Nowlan
A new story arc spinning out of the aftermath of Doctor Strange's battle with Empirikul sees that almost all magic on Earth is gone. Because he's now severely limited in magic power, Strange is left to rely on his massive arsenal of magical items and weapons to combat the mystical threats. Now that he's at his weakest, Baron Mordo, who still seems to be fully powered, is making his move against Strange, who may or may not have been led to the arms of a very unlikely ally.
Jason Aaron continues to redefine what it means to be the Sorcerer Supreme, by now recreating the good doctor as more of a magical gadgeteer, showing that he's more than just a one magic trick pony. Chris Bachalo once again proves himself as one of the most unique pencillers, but ultimately one of the most visionary draftsmen, crafting incredibly complex flowing pages that are surprisingly easy to follow. [Mikey N. at TFAW.com]
What did you think of these books? Have you been anxiously awaiting the Big Trouble in Little China / Escape From New York crossover as much as we have? Let us know below!
Please follow and like us: