We're excited to announce that we are hosting writer Chris Roberson for a special Serenity: No Power in the Verse comic book signing from 6-8PM on October 26th at our Portland Things From Another World comic book shop. We've also partnered with the PDX Browncoats and the Oregon Food Bank, and are inviting the community to help us support a great cause.
Food Drive Supports Oregon Food Bank + Gives You a Chance to Win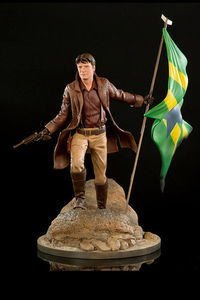 Beginning October 12, and running through October 26, we'll be collecting nonperishable food items that will go toward supporting the Oregon Food Bank and the Oregonians who depend on its ongoing efforts.
Beyond the great feeling you'll get by donating to an awesome cause, we'll also give you a raffle ticket for each item you bring in from October 12-26. TFAW will be giving away a Serenity Malcolm Reynolds 1:6 Scale Statue (pictured here) valued at $249.99–it's sure to become the centerpiece for your Firefly/Serenity collection.
Oregon Food Bank's Most Wanted Foods:
Shelf-stable milk
Foods high in protein – canned meats like tuna, chicken, or salmon, canned or dried beans
Foods high in nutrients – canned fruits and vegetables (preferably with reduced sodium and reduced sugar)
Whole-grain foods – brown rice, whole grain cereal and whole-wheat pasta
Soups, chilies and stews (preferably with reduced sodium and reduced fat)
100 percent fruit juice (canned, plastic or boxed)
Unsaturated cooking oils
Other nutritious foods (preferably with reduced fat, sodium and sugar)
Chris Roberson will be picking a raffle winner at the Serenity: No Power in the Verse signing on 10/26. Winner does not need to be present to win (though it would be more exciting for everyone if they are).
No Power in the Verse Comic Book Signing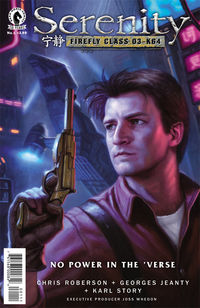 We invite you to join us at the Portland TFAW on Wednesday October 26 as we celebrate the launch of the newest serenity series, Serenity: No Power in the Verse, written by iZombie co-creator and all-around awesome guy, Chris Roberson.
We'll be kicking off the event with a Q&A with Roberson, followed by the raffle winner announcement and a comic book signing.
About Serenity: No Power in the Verse
The Verse is a complicated and dangerous place, and Mal Reynolds and his outlaw crew aboard the Serenity are experiencing tough times. When tensions rise among the crew, a call for help becomes a welcome interruption: they must track down a missing friend and the answers to the mystery surrounding her disappearance.
The six-issue comic book miniseries is published by Dark Horse comics and written by Chris Roberson (iZombie, Hellboy) with art by Georges Jeanty (Buffy Season Eight), Karl Story (Nightwing, Tom Strong), and Wes Dzioba (Aliens, Star Wars Invasion).
Can't make it to the signing at our Portland, Oregon store? Order your Serenity: No Power in the Verse comics and get them shipped to your door.
ORDER SERENITY NO POWER IN THE VERSE COMICS
DISCOVER A UNIVERSE FULL OF GREAT SERENITY/FIREFLY PRODUCTS
RSVP TO THIS SIGNING VIA FACEBOOK
Please follow and like us: