Presto! Bandette is back and this time she is after clues to an elusive secret society filled with wisdom and riches in The House of the Green Mask. However, famed villain, The Voice is after the same thing and so he has stolen Bandette's greatest treasure to leverage her help.
For those unaware, Bandette is series from Paul Tobin and Colleen Coover about the greatest thief of all time. Set in Paris, Bandette is a beautiful blend of Robin Hood, The Pink Panther, The Great Muppet Caper and Tin Tin. It is a series that balances suspense and levity, genre and sincerity, cutesiness with reliability.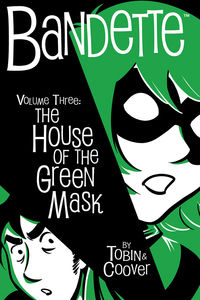 The newest volume of Bandette is as light on its feet and whimsical as ever. True moments of mystery and magic show us a new side to the Bandette oeuvre. Not tasked with the introduction of characters, you are able to spend time exploring relationships.
Tobin excels at conversation that cracks open the hearts and minds of the ensemble to reveal deeper and more meaningful moments than can be had with straight exposition. Coover brings the script to life effortlessly. The romance is explosive, the chases are enveloping, and the humor is enchanting. There is a real love that shines through in the their work. The mastery that they bring makes this a thrilling read that will stay relevant and sought after for years to come.
As an all-ages comic, Bandette is full of heart and encourages everyone to live life on the edge where it's more exciting. She never second guesses her feelings. She seizes the day. She radiates passion and excitement! As a beautiful and timeless melodrama, no character is bogged down with self-doubt or loss of conviction, instead they are bursting with vitality and form a sort of Commedia dell'arte heist adventure. I would feel comfortable giving this book to anyone. Take a small break with a large candy bar and enjoy this book.
ORDER THE NEW BANDETTE VOLUME TODAY
SEE OTHER ALL-AGES COMICS
Bandette Vol. 3, Dark Horse, rated 12+, Released October 12, 2016, Written by Paul Tobin and Colleen Coover, $11.99
Please follow and like us: