Let's face it, people love to be scared. There is a catharsis in scary stories — they allow us to face our fears but in a safe setting. It's one of the reasons horror movies are popular and profitable.
So, it's no surprise that comics have a long tradition of horror stories. Going back to classic anthology series like Creepy or Eerie, comics readers have always had a fascination with macabre and the terrifying.
Every medium has its own strengths and weaknesses in regards to telling stories in specific genres. Films tell horror stories use the unique combination of picture and sound to create atmosphere and build scares. Comics obviously lack the ability to create terror aurally or with rapid editing. This in no way makes horror comics less terrifying, it simply means they must rely on a different bag of tools to scare the pants off of readers.
Comics are a medium built on turning two-dimensional drawings on a page into fully realized characters and worlds. In reading comics we as readers are asked to bring a lot to a story. We dictate the pace of the panels, the speed of the dialogue, and how long we linger on certain images. Our emotional investment must be extremely high to create a willingness to engage with the comic. To be scared we have to give ourselves over to the horror crafted by the creative team of book.
Horror as the Backdrop for Morality
There's no way to talk about modern horror comics without bringing up The Walking Dead, written by Robert Kirkman and drawn in its first six issues by Tony Moore and subsequently by Charlie Adlard. The Walking Dead is unquestionably one of the most popular and successful comics of the modern era. While being a horror story, this is a book with mass appeal. Just look at the monster success of the television adaptation. One of the big keys to the book's success is that the zombie apocalypse is a backdrop for a moving and deeply tragic morality tale. The Walking Dead is about struggling to survive through hopelessness.
In issue 24 of the comic, our protagonist Rick Grimes ends an epic speech with the line: "We are the Walking Dead." It's true, the characters of this book are doomed their only fate appears to be death or becoming part of the mass of flesh eating zombies. While this may seem incredibly grim, it actually allows Kirkman the opportunity to write a book examining the qualities of humanity that individuals and society hold most dear. While there is certainly dread in the frequent death or zombification of beloved characters, the book's main focus is on the cost of survival. The moral debate at the center of the story is about what's the point of surviving if we lose our humanity in the process.
VISIT OUR SPECIAL WALKING DEAD SECTION
Real Villains and the Potential for a Happy Ending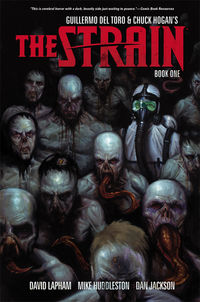 The struggle for humanity takes on a much more literal meaning in The Strain. Based on the series of popular novels, writer David Lapham and artist Mike Huddleston bring the story to comics. The Strain is about the apocalyptic spread of a virus that turns people into vampires.
Unlike the faceless cause of zombies in The Walking Dead, The Strain has a tangible villain at the core of its story. The Master is a centuries-old creature of evil with a plot to take over the world. Our heroes are not doomed. The Strain instead takes on more of a war story vibe. This is about humanity's struggle against an oppressor and conceivably this battle can be won. There is a potential happy ending possible in this world.
It's that hope that can actually be terrifying in The Strain. Instead of a world that's already ended for all intents and purposes we see our world slipping into darkness and desperately root for our heroes to return things to normal.
DISCOVER A NEW KIND OF VAMPIRE IN THE STRAIN COMICS
The Setting Amps up the Fear
While The Walking Dead and The Strain are urban nightmares about the dissolution of society, there is also room for more gothic horror in comics. Harrow County by Cullen Bunn and Tyler Crook is a creepy and wonderfully unsettling piece of Southern Gothic storytelling. Focusing on a small town's fears of a young girl becoming a witch, there is a streak of paranoia that runs throughout the book. Of course, there's the classic (and historical) image of a mob of frightened townsfolk trying to burn a witch. But there's also the paranoia of one's own destiny. If you're told you're going to be evil and do wicked things, does that mean your fate is sealed?
Playing on the classic horror trope of the fear of the matured woman and the power she can wield, Bunn and Crook also bring in plenty of eerie imagery. Images of a skinless boy and of course, his now sentient skin crossed with fiery ghosts and mulit-eyed monsters will stick with readers long after they put the book down. Especially, when they are presented in Crook's dreamy hauntingly beautiful watercolor panels.
PLAN YOUR TRIP TO HARROW COUNTY
Delving into Madness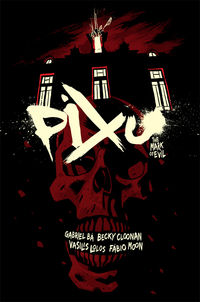 Playing into it's own disturbing imagery though in a much more stark manner is Pixu from the Eisner winning team of Gabriel Bá, Becky Cloonan, Fábio Moon, and Vasilis Lolos. Pixu delves deep into a Lovecraftian tale of madness and ever-encroaching darkness. The book bounces around a collection of tenants in an apartment complex. The disparate stories start to intertwine as the madness of the characters grows. This book plays on one's fear of losing one's sanity, a potent and always horrific concept especially in the hands of such masters of the medium.
Humans Aren't the Only Heroes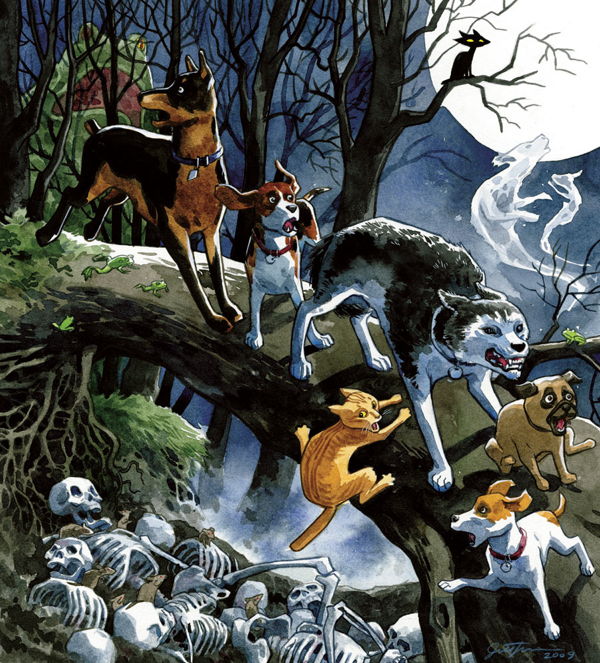 For those looking for something a little more off the beaten path, there is Beasts of Burden from Evan Dorkin and Jill Thompson. It's your classic paranormal investigation team story, except all the investigators are dogs and cats. While this may sound like a cute and cuddly kids book, it's straight up horror (with a bit of a wink). These household pets battle with a cannibalistic frog, cat witches, and even team up with Hellboy in one story. For those looking to balance their monsters and supernatural entities with adorable animals here is a book for you.
LEARN MORE ABOUT BEASTS OF BURDEN
So, it's clear horror is alive and well in the comics world. There are plenty of stories out there to give you creeps, but hopefully now you might have a greater understanding of why they scare you. Monsters and creepy imagery are a hugely necessary part of a horror story, but the sign of a great one is an emotional resonance that sticks with you long after the story is finished.
What's your favorite horror comic? Join the conversation by posting your comments below!
Please follow and like us: