For New Comic Book Day this week, Dark Horse Comics blows up a new issue of World of Tanks, Unworthy Thor begins, and Justice League starts a new arc "OUTBREAK." It was hard narrowing down this week's new releases to arrive at this week's reviews, but that's the job. 😉 Be sure to comment or share our post on Facebook or Twitter if you like our articles!
SPOILER ALERT — We try to keep from posting spoilers, but one may sneak through to our reviews now and again. Read with caution, folks.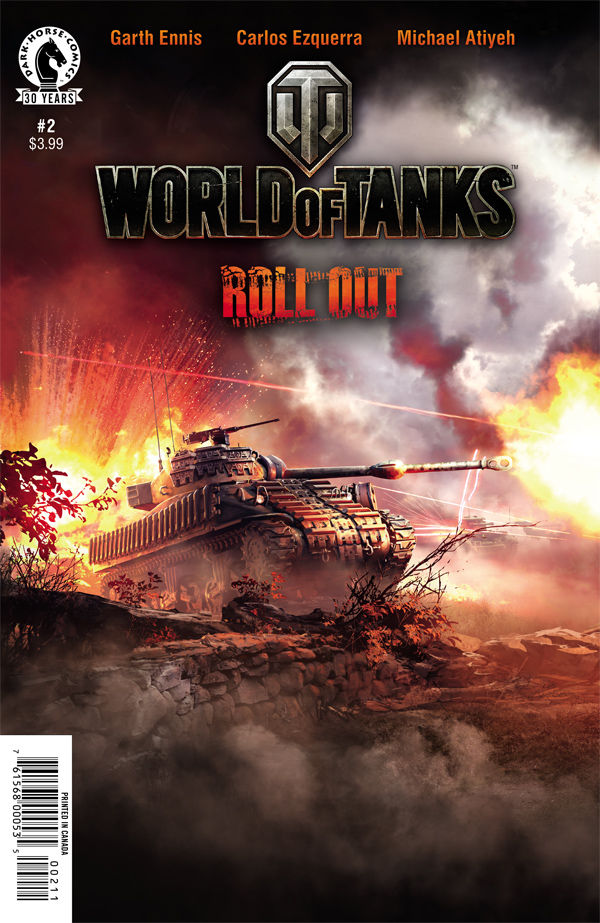 World of Tanks #2
By: Garth Ennis, Carlos Ezquerra, Michael Atiyeh, Isaac Hanford
After the explosive first issue, our WWII tale of a British tank team fighting against their German counterparts gets more intriguing. The comic splits up parts between the two teams, taking viewpoints from both sides. The book does an especially good job at highlighting where each team is and what pressures await on the battlefield.
When it comes to comics about war you can't go wrong when Garth Ennis is writing it; this series is no exception. The artist Carlos Ezquerra has worked with Ennis before on Battlefields, so the series in in highly capable hands. With a style full of grit, you can almost feel the dirt and grim on the pages.
This series, based around the hugely popular MMO World of Tanks, is sure to satisfy you off the screen and drag you into the trenches. [Martin M. at TFAW.com]
The Unworthy Thor #1
By: Jason Aaron, Olivier Coipel, Matthew Wilson, Russel Dauterman, Joe Sabino
Though the reason has yet to be revealed, Thor was deemed UNWORTHY in the pages of Original Sin. He has since relinquished the name of Thor and searches for redemption as The Unworthy Thor, and the first issue of the 5-issue miniseries is a fantastic entry–great for new readers and longtime fans of Jason Aaron's take on the character.
For my money, there's no better Thor writer than Jason Aaron. Period. This series is a snapshot of the Odinson at his lowest point. He's depressed, drinking way too much, and self-loathing. This is the equivalent of a major star getting embroiled in controversy and falling from grace.
I'm not going to ruin the issue by revealing the events of the last few pages, but I am excited to be along for the ride for what I am calling "Thor Gets His Groove Back."
One last thing: I've gushed about Aaron's writing (albeit not as much as I want to), but I would be remiss if I didn't say that Olivier Coipel's art and Matthew Wilson's colors are out of this world. I've come to expect a lot from these artists, and that's because they bring it. Every. Single. Issue. Highest marks for this one, true believers. [Josh C. at TFAW.com]
VISIT OUR SPECIAL THOR PAGE TODAY!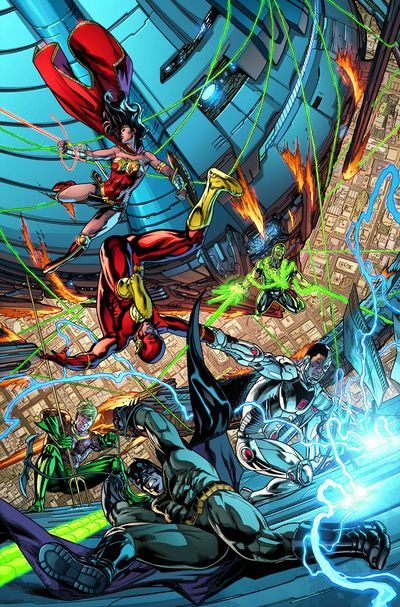 Justice League #8
By: Bryan Hitch, Neil Edwards, Fernando Pasarin
After the Justice League's victory over the Kindred, the team has saved the world, and although many were spared, one innocent civilian lost their life. While various members deal with what this means, someone (or something?) hacks into the Watchtower and the Batcave, ultimately putting the entire team — and the world — in danger.
Told from the point of view of Cyborg, Bryan Hitch does a great job of demonstrating why Victor Stone is one of the most capable and underestimated additions to the League. In a world ruled by connection-based technology, the man who has access to it all could be the greatest hero, but also the most vulnerable to corruption. Neil Edwards' pencils do a wonderful job of highlighting the somber moments, but hits with a bang in action scenes. He's an artist who frames shots similar to the way Hitch does in his art, making them a great collaborative team.
Justice League #8 continues to be a great book featuring the most powerful super team in comics. Be sure to pick up this great jump on point. [Mikey N. at TFAW.com]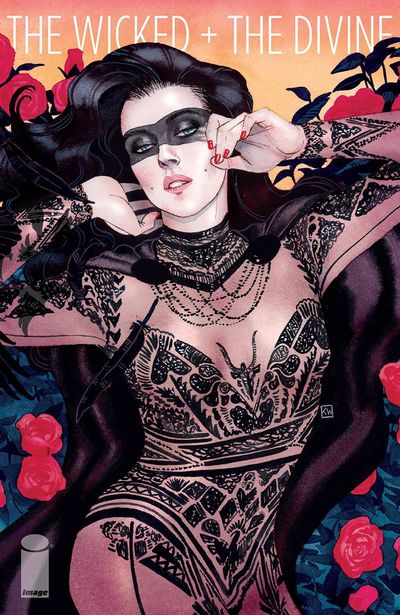 The Wicked and the Divine #23
By: Kieron Gillen, Jamie McKelvie, Kevin Wada
Every ninety years, twelve gods incarnate as teenagers. They are loved. They are hated. In two years, they are dead.
The team behind critically acclaimed Young Avengers and Phonogram have taken us on a hell of a ride for the past two years in The Wicked and The Divine, and the series just keeps getting better. We were able to get our hands on a copy of the WicDiv #23, and I'm here to give you the skinny on the issue and lay out the case for why this is the best series on the shelves.
I couldn't think of a better case study to attest to Gillen's talents as a writer. I've been a fan of The Wicked and The Divine from day one, but this issue has really amplified my love of the series. I was reminded of Marvel's Front Line series of the past decade in that this issue gives us a different perspective of characters like The Morrigan, Baal, Amaterasu, Lucifer, and Woden. I like that the team is experimenting with these one-off issues because they make the reading experience unique. [Josh C. at TFAW.com]
FIND OUT WHY WICKED AND DIVINE IS BETTER THAN ANY OTHER COMIC BOOK
BUY WICDIV COMICS & GRAPHIC NOVELS
Did our review spark your interest in any of these books? Have you read previous issues? Join the conversation and share your experience with us below!
Please follow and like us: