Our Guardians of the Galaxy get grounded, Spider-Man tries to get back normal in the wake of Civil War II, and Briggs Land heats up. All in this week's New Comic Book Day. Remember, these are only a small batch of this week's amazing New Releases! Check out our other blog articles to see our thoughts on other books. Be sure to comment or share our post on Facebook or Twitter if you like our articles!
SPOILER ALERT — We try to keep from posting spoilers, but one may sneak through to our reviews now and again. Read with caution, true believers.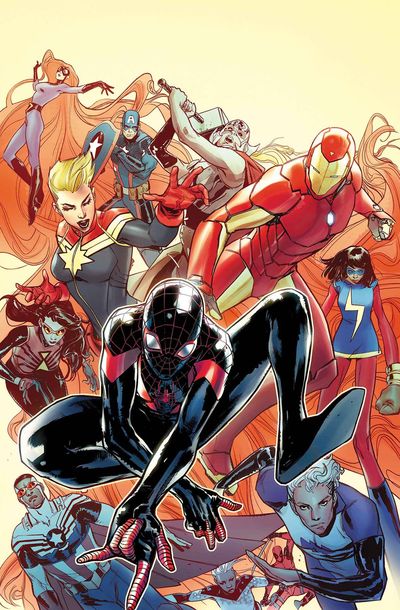 Spider-Man #10
By: Brian Michael Bendis, Nico Leon, Sara Pichelli
Set after the events of Civil War II, Miles meets up with his friends to tell them about what happened in Washington D.C. While this issue is rehashing things we'll see in the last 2 issues of Civil War II, it does so from Miles' perspective, giving us insight ultimately into why Miles decided to confront the vision the Inhumans had for him.
This issue is equal parts revealing and heart-breaking. Brian Michael Bendis continues to do a great job of setting this Spider-Man apart from his predecessor, making him a unique gem in the modern Marvel Universe. Nico Leon paces this issue wonderfully by providing clear distinction between the flashbacks and present story, not sacrificing a moment of drama in exchange for the exposition.
If you have been picking up Civil War II, Spider-Man #10 is a great companion issue. [Mikey N. at TFAW.com]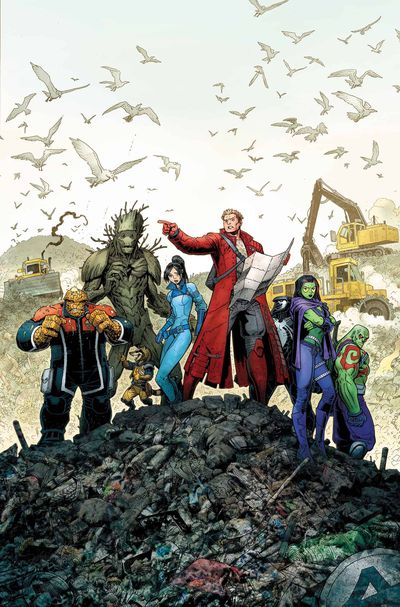 Guardians of the Galaxy #15
By: Brian Michael Bendis, Kevin Maguire
Spinning out of the events of Civil War II, the Guardians of the Galaxy have a blown up their ship, and are now stranded on Earth. This new story arc, Grounded, will be following each member of the team while they redefine themselves given their current situation. This issue is focused on ex-Fantastic Four member, Ben Grimm (aka The Thing).
Ben is approached early on by S.H.I.E.L.D. Director, Maria Hill. She makes him an offer that's pretty tough to refuse. Before Ben signs up though, he needs to see the current state of the world. This issue lets the reader see how things have changed, but mostly how this really isn't the world he remembers.
Brian Michael Bendis provides a very definitive voice for The Thing, hitting all the comedic beats, but providing the subtle shame Ben feels for his physical condition. Long time Guardians artist, Valerio Schiti gives us some very dynamic pages, which is amazing considering how it's a much more personal story. Overall, a great jump-on point for people interested in joining the Guardians of the Galaxy. [Mikey N. at TFAW.com]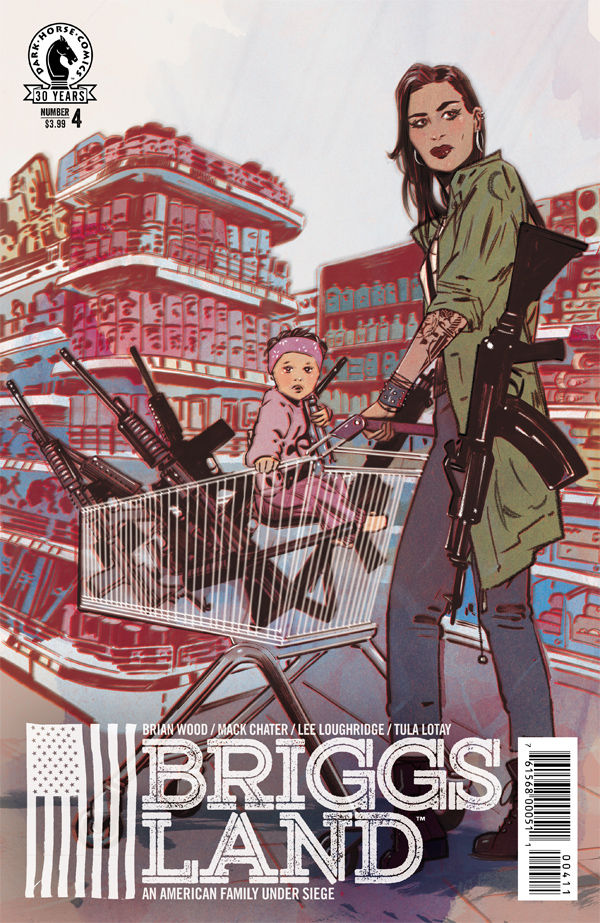 Briggs Land #4
By: Brian Wood, Mack Chater, Lee Loughridge, Tula Lotay
After reading Briggs Land #4, I can tell why AMC wants this as a show. It's compelling and controversial. Caleb Briggs wants to take over a local store but buying it seems to be more trouble than he originally planned. The owner, Mr. Hillson, wants to keep the business in the family and Caleb won't stand for it. We see how far he'll go to intimidate Mr. Hillson into falling in line.
Brian Wood is masterful at dialogue. In some panels, you really get a sense of time when people are talking. Those long pauses and stare downs that happen when two people don't agree are particularly wonderful. Mack Chater and Lee Loughridge show that even without Brian Wood's dialogue they can pull off the same emotion. Briggs Land is yet again proving to be top-tier comics. [Martin M. at TFAW.com]
What did you think of these books? What should we review next week? Let us know below!
Please follow and like us: