This week we look at two Guardians, Titans, our favorite Slayer and the terror of the deep, Hook Jaw. There were many more comics that came out this week. Check out our other blog articles so see our thoughts on other books. Be sure to comment or share our post on Facebook or Twitter if you like our articles!
SPOILER ALERT — We try to keep from posting spoilers, but one may sneak through to our reviews now and again. Read with caution, true believers.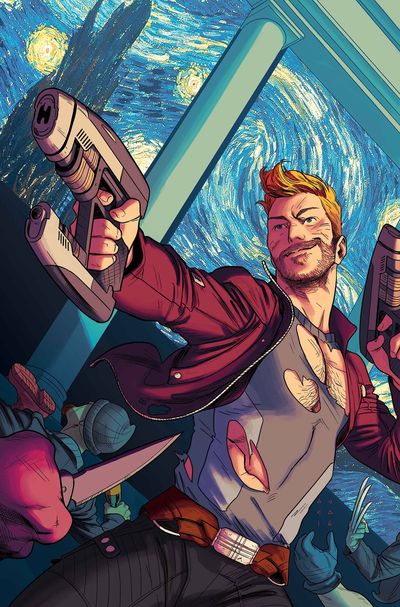 Star-Lord #1
By: Chip Zdarsky, Kris Anka, Matthew Wilson
Things are tough for Peter Quill. After the events of Civil War II, the Guardians are stranded on Earth and have gone their separate way for the time being. Kitty Pryde has broken things off with Peter, and the only other person he knows who isn't missing, dead, or crazy is Howard the Duck. Yeah, you'd be depressed too.
Chip Zdarsky is in a fine form combining his incredible sense of humor with such relatable and human scenarios. He makes you forget you're reading a superhero comic when you're obviously reading a superhero comic. Kris Anka's pencils expertly transition from the comical and conversational aspects to stunning bar battles with ease.
Packed full of guest stars, Star-Lord #1 is a great day-in-the-life book. Just in time to get people primed for the new Guardians of the Galaxy movie in just a few months. Don't miss it. [Mikey N. at TFAW.com]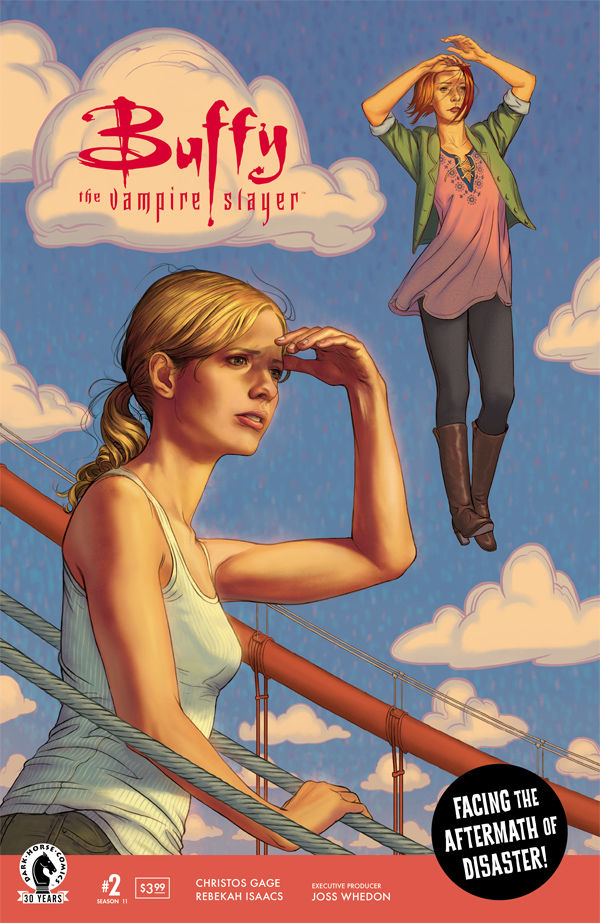 Buffy the Vampire Slayer: Season Eleven #2
By: Joss Whedon, Christos Gage, Rebekah Isaacs, Dan Jackson, Steve Morris
This issue is all about the aftermath of Buffy Season Eleven #1 (still in stock at press time, BTW).
And "Safe Zones."
Buffy Season Eleven is going to be one of those comic book series that challenges what comics can do to encourage thought and dialogue. Christos Gage (Angel and Faith, Amazing Spider-Man, Avengers Academy) is using Season Eleven as a vehicle to get people to think about civil rights.
This is a natural extension of the Buffy TV show, and I'm excited to see where they take us this season. As always, Rebekah Isaacs' (Angel and Faith, Buffy Season Ten) art is unique and fun, but remains true to who the characters are. I'm excited to see **** and Buffy in a relationship where they bring out the best in each other. She deserves that. [Josh C. at TFAW.com]
PS: I am freaking loving Steve Morris' covers for the Buffy Season Eleven covers. Absolutely gorgeous!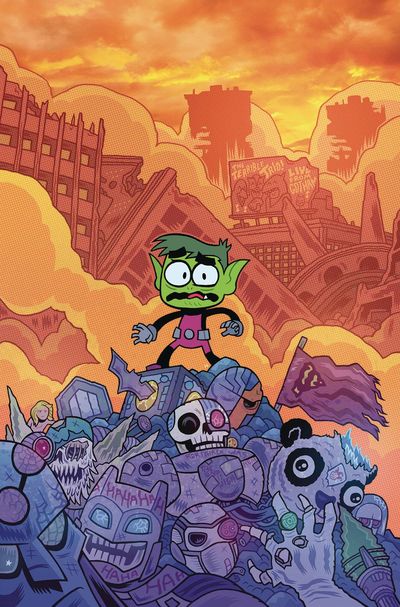 Teen Titans Go #19
By: Heather Nuhfer, Paul Morrissey, Ivan Cohen, Marcelo DiChiara, Dan Hipp, Jeremy Lawson
Beast Boy snifs out the future in the first story, and ends up partying with Raven's Dad! With a few LOL moments, Paul Morissey and Heather Nuhfer made a fun 6-page story that fits right in with the TV shorts.
"The Herring King" is the second short we get in this $2.99 issue. We find out Beast Boy has a pet Herring (Mentioned in "Coming Soon Comics" issue #12 which has the cover of Teen Titans Rebirth). His herring is sad and they're taking him home to Springenstandt where they meet characters that resemble Thor and work for a S.H.I.E.L.D. type organization.
Artist Marcelo DiChiara and Jeremy Lawson work on both stories. They do a fantastic job matching the show's tone. Both artists really surprised me on how versatile there styles can be. Take a look at Marcelo's Deviant art page and Jeremy's website for more!
This is perfect for comic readers young and old. [Martin M. at TFAW.com]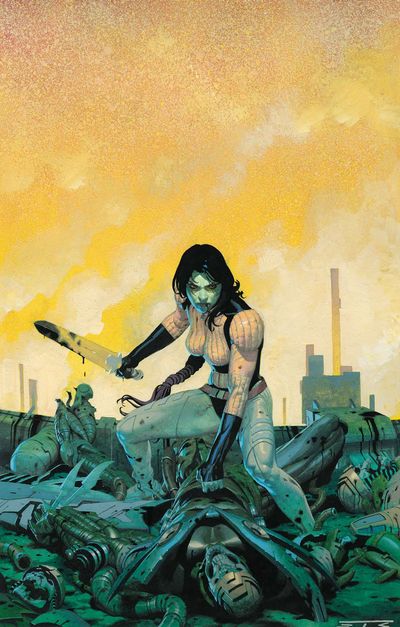 Gamora #1
By: Nicole Perlman, Marco Checchetto, Esad Ribic, Andres Mossa
Set long before she ever became of Guardian of the Galaxy, Gamora #1 explores the life of the daughter of Thanos. Back when they were still on speaking terms. A lot of times prequel stories can come across as forced, or containing information that's not really needed. Gamora, on the other hand, I feel is a great character to explore since not much has been revealed about her time with Thanos. What we get to see in this book is going to be a definitive mission for the character.
Nicole Perlman captures the voice and tone of the character perfectly. Gamora walks the line between the most dangerous person in the galaxy, split between morality and loyalty to the father she hates. Exploring this is one of the most exciting aspects of the book. Marco Checchetto's art just keeps further defining him as one of the best pencilers currently working in the industry.
If you're looking for a brutal book that gets into the past of one of Marvel's rising stars, Gamora #1 is a must read. [Mikey N. at TFAW.com]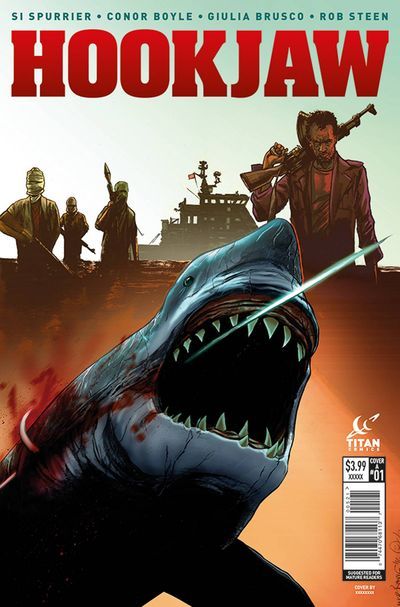 Hook Jaw #1
By: Simon Spurrier, Conor Boyle, Giulia Brusco
From the pages of the British anthology comic Action (which only lasted a year due to its controversial violence) comes Hook Jaw. A new series from Titan Comics. Who's no stranger to revitalizing old British Comics (see Johnny Red).
Hook Jaw introduces us to a crew of a research ship who are trying to prove that Great White Sharks have cooperative behavior. The blood-soaked first issue also gives us a 2 page history of Action and Great White 101. Now I know what you're thinking. "Isn't this JAWS as a comic?" and you could say that. What separates this series from JAWS, is that Hook Jaw speaks. Now I don't mean a Finding Nemo kind of way. We get a tidbit of what's going on in their head.
I was intrigued by the premise when I heard about this series months ago and Si Spurrier, Conor Boyle and Giulia Brusco did not disappoint. I will definitely be keeping up with Hook Jaw as they tear through our ship of survivors. [Martin M. at TFAW.com]
What did you think of these books? What should we review next week? Let us know below!
Please follow and like us: