Cullen Bunn (Harrow County, The Sixth Gun, Regression) and Brian Hurtt (The Sixth Gun) met at a comic book store where they both worked many years ago. They used to pass the time by talking about comics they would someday work on together. A little over a decade ago, Bunn and Hurtt pitched their horror noir story to Oni Press. Oni wisely snatched it up, and The Damned was born.

While Bunn and Hurtt both moved on to other projects over the years, The Damned is something Cullen Bunn has always wanted to revisit. "The Damned was my first professional comic book project, and it is a book that I am very proud of. I'm thrilled that Brian Hurtt and I can come back to this project (now with Bill Crabtree on colors) and share the epic horror noir story we've always had in mind."
Set in the Prohibition era, The Damned centers on a man named Eddie and his demonic curse. While Eddie can and frequently does die, the problem is that he can't STAY dead.
Once Eddie's corpse is touched by a living being, Eddie is resurrected and the poor soul who touched him takes his place in the afterlife. The only evidence of his recent mortality are the deep scars that line his face, neck, and body.
In The Damned, the mob runs everything, and most of the mobsters are closet demons. The only people who can see demons in their true forms are the ones who made deals with the mob for their ever-living, never-dying souls.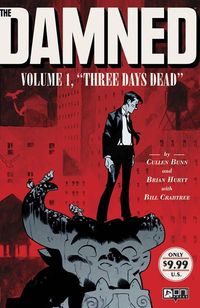 Oni Press has also kindly reprinted The Damned Vol. 1: Three Days Damned to get you up to speed. The new series stands on its own as a perfect jumping on point, but I highly recommend picking up the trade paperback for only $9.99. You will want to read the entire collection. It's that good.
The Damned #1, Oni Press, available May 3, 2017, rated mature 16+, written by Cullen Bunn, illustrated by Brian Hurtt, colored by Bill Crabtree, $1.00
Please follow and like us: