Bane was first drawn in the pages of Batman: The Vengeance of Bane (January 1993). Typically, DC portrays Bane as a genius with an accelerated healing factor and Venom-enhanced strength and durability. Bane's biggest stage to date was the Batman event Knightfall, in which Bane broke Batman's back. Over two decades later, DC Comics has finally given Bane his own miniseries, which begins with Bane: Conquest #1.
Bane: Conquest #1 opens with a shipment of spent plutonium warheads headed toward Gotham. Bane chases down the freighter carrying the missiles and and is accompanied by his classic cronies: Trogg, Zombie, and Bird. He commandeers the vessel and swiftly dispatches the redshirts on board.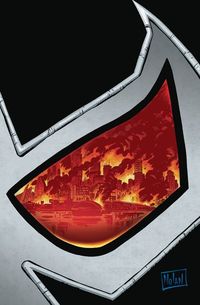 In Bane: Conquest #1, it's all about CONQUEST
Based on the initial events in this first chapter (of twelve) of Bane: Conquest, Bane could almost be seen as a hero. Almost. Bane sees the incoming shipment to an unknown entity as a threat to his territory, and Gotham is his and his alone to smash. He has big plans that begin with Gotham and end in global domination.
It's refreshing to see Chuck Dixon and Graham Nolan teamed back up on the character they co-created back in the '90s. Neither has lost a step. The book has a throwback feel and look from that era. The plot moves quickly, with bursts of action. Nolan updated Bane's look without losing that retro mood.
Bane: Conquest #1 serves as a re-introduction to a character most readers are at least conversationally familiar with. It's a great jumping on point for new readers and a great jumping back on point for readers from the Knightfall era. Overall, it's just a fun book to read.
Make sure to subscribe to Bane: Conquest so you never miss an issue!
Bane: Conquest #1, DC Comics, released May 3, 2017, rated Teen+, written by Chuck Dixon, art by Graham Nolan, colors by Gregory Wright, letters by Carlos Mangual, $3.99
Please follow and like us: