Those familiar with the Dragon Age series know that the world of Thedas has a rich undercurrent of stories that are just waiting to be told, and one such tale is the subject of Dragon Age: Knight Errant #1. Even if you haven't played through the popular Bioware franchise, this comic stands up on its own merits. While there are elements that people who are completely new to the world will not understand fully, I have hope that the subtle storytelling of the writers will integrate the information in later issues to better introduce new readers to their world. For long-time fans of the series, there are several nods to previous events in the games and to the first comics miniseries by Dark Horse, Magekiller.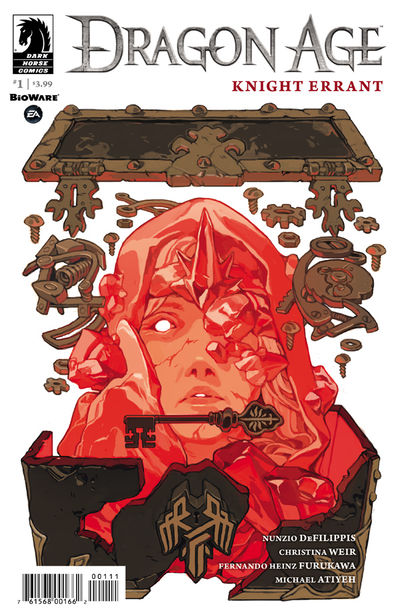 In the latest team-up between Bioware and Dark Horse comics, Dragon Age fans are introduced to a young rogue named Vaea. Vaea is squire to the much venerated knight Ser Aaron Hawthorne, who is drunk not just on wine, but also on his imaginings of his own glory. However, Vaea is more than just a simple servant to the grandiose man; she is also an elf motivated by the plight of her people. Using Ser Hawthorne's influence to travel, Vaea steals in order to share with the disenfranchised elves who are sequestered in the alienages of Thedas.
Dragon Age: Knight Errant #1 Sees Many Popular Characters Return
We first meet Vaea as she and her patron are on their way to Kirkwood to visit fan favorite Varric Tethras as he's on the edge of being appointed Viscount of the troubled city. While Ser Hawthorne is busy spinning drunken tales to a party held in Varric's honor, Vaea sneaks out to meet up with a former Templar named Ser Nevin Faramore. Faramore had worked directly for Knight Commander Meredith before she was destroyed by Red Lyrium at the end of the second Dragon Age video game.
Faramore hires Vaea to sneak into the Gallows to retrieve a box of treasures that Commander Meredith had hidden before her death, to which only he possesses the only key. What follows reveals Vaea's true character as she instead steals the key away from Faramore in order to bring the treasure to the elves of Kirkwood.
Vaea's Robin Hood-esque endeavors don't go unnoticed, however. Almost immediately, Varric shows interest in the woman, quickly recognizing that she is up to more than she seems and giving her the nickname of "Fingers." Vaea is also approached by a mysterious woman, who insinuates that Vaea has stumbled into a situation much larger than she had originally bargained for through veiled threats about the Inquisition.
Politics and Action Combine in Dragon Age: Knight Errant #1
This story promises to explore the schism between elves and humans in the world of Thedas, a schism that has been the source of unending strife since the beginning of the franchise. In one scene, the reader is shown a blithely racist conversation happening amongst a bunch of well-to-do humans while Vaea has to placidly stand by. In addition to this, there are conversations about slavery, poverty, and the wars that have marred the landscapes of Thedas for generations.
Whether you're a long time fan of Dragon Age or completely new to the series, this comic is engaging and lures you deeper into the world that Bioware has made for their incredible games. While this first issue is peripheral to the main storyline of the series, the overall tale hints that it will reveal some secrets left over after the end of the last game.
Between the compelling new characters and at least one returning fan favorite, Dragon Age: Knight Errant #1 will draw you deeper into Kirkwood and the dangers that hide in its shadows.
Hungry for more Dragon Age products? We've got playing cards, graphic novels, patches, and more!
Dragon Age: Knight Errant #1, Dark Horse, Released May 10th, 2017, Writer: Nunzio DeFilippis, Christina Weir, Artist: Fernando Heinz Furukawa, Colorist: Michael Atiyeh, Cover Artist: Sachin Teng, $3.99
Please follow and like us: