When one thinks of the Guardians of The Galaxy it's impossible not to immediately conjure up images of Rocket. He's everyone's favorite roguish raccoon (though don't let him catch you saying that). Fresh off his critically acclaimed appearance in Guardians of The Galaxy Vol. 2, Rocket launches into a new solo series all his own, the appropriately titled Trash Panda #1 Rocket #1.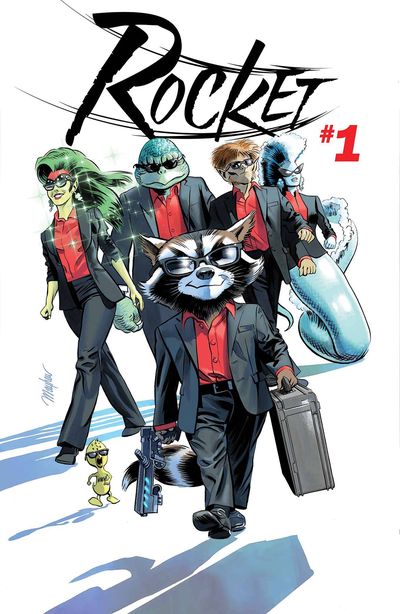 We initially find Rocket in a bar regaling the bartender with tales of his recent Earthbound adventures. Into the bar walks Otta, an old flame from Rocket's past who left him jailed and heartbroken last he saw her. Of course, she needs his help, which involves Rocket returning to his criminal ways. Rocket is obviously suspicious, but with the fate of Otta's planet at stake he just can't help but get involved.
Writer Al Ewing crafts an extremely clever intergalactic crime story in Rocket #1. This book is as much Ocean's 11 as it is Guardians of The Galaxy. The idea of Rocket using his natural raccoon abilities of hypersensitive touch and hearing to be a safecracker is ingenious. Ewing also uses the plot to paint Rocket as a reformed thief trying to avoid getting pulled back into the game. It's a nice reminder that the Guardians characters exist in a darker, more crime-ridden part of the Marvel Universe.

Rocket #1 Is Some Of Ewing's Best Work Yet

Artist Adam Gorham obviously has a ball creating a ragtag crew of animal inspired aliens. Seeing Rocket and his crew in stylish matching suits plays into the fun, caper vibe of the comic. It's exactly the kind of story and attitude we expect of Rocket and it's clear from this first issue that he's in the hands of a perfectly matched creative team.
If you've seen the movies or loved the Guardians comics and just can't enough of this acerbic raccoon, then Rocket #1 is the perfect jumping on point for his solo adventures.
Rocket #1, Marvel Comics, Released May 10th, 2017, Written by Al Ewing, Art by Adam Gorham, Cover by Mike Mayhew, $3.99
Please follow and like us: