Donny Cates (Redneck, God Country, Ghost Fleet) is back at it again. This time, he's partnered with Garry Brown (Black Road, John Carter: The End) to bring us Babyteeth #1, a story of the not-so-immaculate conception and birth of the Antichrist. Where does this not-so-immaculate conception take place? In Salt Lake City Utah, of all places.
Sadie Ritter is a pretty normal teen, except for one thing. She's pregnant, and her baby is the Antichrist. While you might expect this story to unfold in the exact opposite manner as the Nativity, it's actually pretty innocent. That is, if you can get past the mystery of the baby's father and the massive earthquakes that coincide with Sadie's contractions. There's also the matter of the destruction of the barriers between earthly and demonic planes.
Sixteen Years Old, Nine Months Pregnant with the Antichrist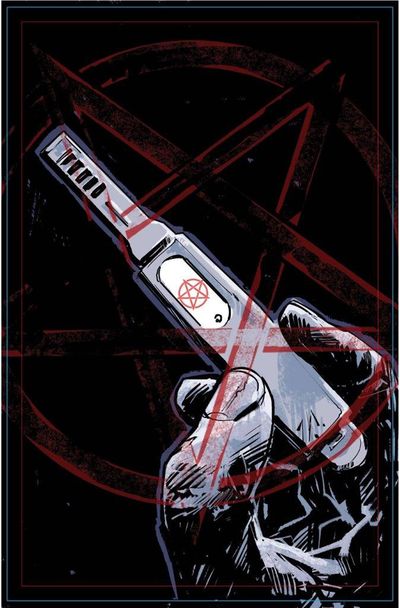 When asked about Babyteeth in an exclusive interview with TFAW last month, Donny Cates gave us the elevator pitch. "Sadie Ritter is sixteen and pregnant with the Antichrist. Once the baby is born, all hell comes with it. It's very sweet."
Garry Brown's art style is well known for beautiful brutality. The depth of detail Brown provides in the landscape and scenery makes the modern day setting of Salt Lake City jump off the page. The expressive detail he lends to the characters' faces sells Cates' script beautifully and helps make Babyteeth a highly emotional read.
Donny Cates Knocks It Out of the Park in Babyteeth #1
Everything Donny Cates is writing these days is pure gold. With God Country currently in its fourth printing, Redneck already going back to press for it's second run, and the brilliant showing here by Cates and Brown, Babyteeth #1 will undoubtedly fly off the shelves as well.
MAKE SURE TO CHECK OUT THE REST OF BABYTEETH!
Babyteeth #1, Aftershock Comics, release date June 14, 2017, co-created and written by Donny Cates, co-created and art by Garry Brown, color by Mark Englert, letters by Taylor Esposito, logo by John J. Hill, $3.99
Please follow and like us: