It can be difficult to classify a comic like Dept H. One part murder mystery, one part disaster movie, one part "ragtag misfits out to save the world,". The story takes you through a labyrinthine saga that proves just as deep as the very ocean the characters are exploring.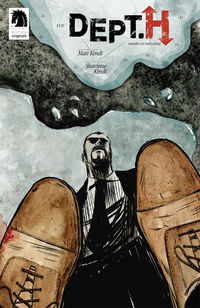 The best thing to do is to simply say it's great.
The story itself isn't terribly unique – taking obvious cues from movies like Deep Blue Sea and/or The Abyss. What makes it so enjoyable is how Matt Kindt and Sharlene Kindt tell it. The characters are fully realized, and in issue 14 we finally learn just how deep (pun intended) Jerome is. He's either not as insane as we thought, or he might be a good deal more. Genius tends to have that effect on people. Yet Matt and Sharlene's storytelling makes him so relatable to the point where we, the readers, understand why he does what he does (I won't reveal it here, for fear of spoilers).
By issue 14, we already know that Dept H was initially formed to explore space. But was changed to head to the bottom of the ocean (an equally unexplored void). Issue 14 gives the readers a terrifyingly relevant, and believable, reason why that gives so much more gravity (pun intended) to the characters and their actions. Hari's kindness may have been his own undoing, but until the killer is finally revealed, we'll never know if it was Jerome (who is the obvious suspect) or any of the other characters with a reason to sabotage Dept H.
As far as the art is concerned, I'll be honest, at first threw me off because it doesn't fit into the standard superhero style. The lines aren't always clean, the colors can be muddy and washed out, and there's a lot of sheer darkness. This is, I realize, all on purpose. After all, how else would you illustrate a murder mystery that takes place on the sandy floor of the ocean itself? If some of the panels weren't drab, how else would the gorgeous colors stand out? Pages 19-22 alone are a class in color and scope, and my early fears about the artwork are obliterated. Matt's pencils are good, but it's Sharlene's colors that take the images and makes them fascinating.
Dept H. blends genres in an enticing way that makes it more approachable than a lot of comics. It's one of the best things about this series. Fans of serial adventure, exploration, mystery, character-driven plot, and realistic intrigue are going to be sure to find Dept H. a solid read that's well worth their time.
If you haven't been following it so far, pick up Vol. 1 and 2 and you'll be ready to dive right in (pun intended).
Dept H. #14, Dark Horse Comics, Released May 24th 2017, Written and Drawn by Matt Kindt and Sharlene Kindt, $3.99
Please follow and like us: