In the history of comics, few characters offer a more complex history than Cable. Much of this is due to the character's penchant for time travel. In Cable #1, Cable is back in his own ongoing series as part of the ResurrXion relaunch. The comic sees Cable embrace the elements that make him great while trimming the confusing bits down.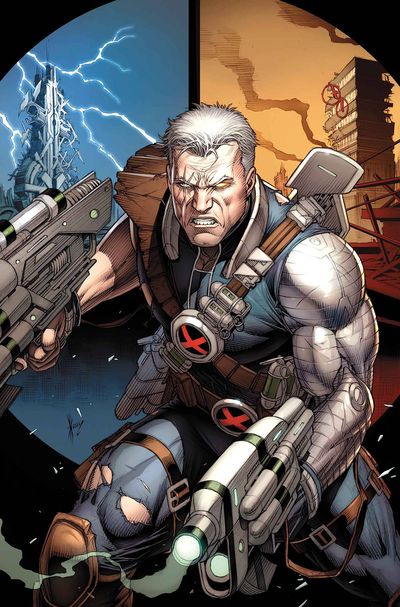 The first issue opens up in Arizona, 1872. It's a classic western setup, as a group of outlaws have overrun a town of innocents. They're in a bar celebrating their wickedness when a mysterious drifter enters through the swinging doors. The catch is that this mysterious drifter is actually everyone's favorite time-traveling mutant: Cable. Surprisingly, these outlaws aren't packing six guns but instead have laser blasters; unlucky for them, Cable's are bigger.
Right from page one this book announces itself as exactly what fans are looking for. Cable as a time traveling avenger wandering through different eras defending those who can't defend themselves. Following his takedown of the old west bandits, Cable travels to feudal Japan. We see him assure the frightened survivor of a razed village that he will root out the evil that devastated her home.
Cable #1 Sports an Incredible Creative Team
James Robinson's script perfectly captures the grit and edge of Cable but also shows off his heroism and humanity. Another standout of the book is the art from Carlos Pacheco, who mixes kinetic action and character design with the stunning vistas of the various time periods Cable travels through. One of the appeals of a time travel book is the ability to escape to varying locales and eras, and the detail Pacheco puts into each setting gives the book a sense of authenticity in addition to its sci-fi heroics.
Cable is a character born out of the '90s comics' obsession with extreme badassery, but he's managed to endure longer than a lot of other characters crated at the same time. There's an edginess to him, sure, but underneath is nobility that makes him compelling and infinitely readable. That's something that shines through in this first issue.
Longtime Cable fans will no doubt enjoy their hero's newest adventure, but for new readers it's a fun story without an emphasis on previous continuity. All in all, Cable #1 is a great introduction to a classic Marvel character.
Cable #1, Marvel Comics, Released May 31st, 2017, Written by James Robinson, Pencils by Carlos Pacheco, $3.99
Please follow and like us: