It's notoriously difficult to get work as a young RN straight out of nursing school. In order to put in their dues and get the experience they need to get better jobs, many nurses have to take less than ideal jobs at facilities they'd rather not work at. However, that isn't the case in Cullen Bunn's new horror story, The Unsound #1.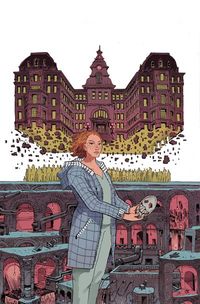 Ashli takes a job at Saint Cascia because she's young and naïve enough to believe she can make a difference in a broken system. Saint Cascia was founded in 1816 and ran continuously as an asylum until it was closed in the '80s due to lack of funding. It was recently reopened and suffers from a lack of funding, improper staffing ratios, and overpopulation.
The situation is creepy enough at face value, and we quickly learn there is more going on here than meets the eye.
Delve deep into the nature of reality, perception, and insanity in Unsound #1
Cullen Bunn gives us a behind-the-scenes look at the story of Unsound #1: "On the surface, The Unsound is about a young nurse taking her first job… at a haunted insane asylum. But as we go beyond the surface–as our characters will in this series–we discover this other world, a weird society that exists "beneath" the asylum. This world is one where the laws of nature have been supplanted by the "laws of madness." Our heroes will find themselves caught in a weird labyrinthine world where they cannot trust what they are seeing and experiencing."
Looking at Cullen Bunn's body of work, you can make a solid argument that horror is his genre. Readers of Harrow County, The Sixth Gun, Regression, and The Damned will definitely want to follow Bunn down this new rabbit hole.
Jack T. Cole provides the artwork in this cerebral tale. I asked Cullen Bunn about working with Cole, and he replied, "The Unsound is a slow burn creep-fest. It is intended to unsettle the reader. Jack's art does a perfect job of reflecting that tone and fulfilling that goal."
PICK UP UNSOUND #1 FROM TFAW TODAY!
Unsound #1, BOOM! Studios, publication date June 7, 2017, written by Cullen Bunn, art and cover by Jack T. Cole, $3.99
Please follow and like us: