Few names are more recognizable in comic books than Alan Moore. He has created some of the most iconic and inspiring works in the entire industry. His memorable works include The Killing Joke, From Hell and The League of Extraordinary Gentlemen. But unlike most other comic writers, Moore has used his comics as a means to criticize injustices.
The man behind the comics was often maligned and criticized for alternative worldviews in the early days of his work, Much of his career has been spent fighting against inequality. An anarchist and outspoken supporter of minority sexualities and religion, Moore explored these themes in his decades-long career.
JUMP INTO ALAN MOORE'S NEWEST PROJECTPROVIDENCE
Many other writers of his time were afraid to include such themes. Moore was not. He included LGBT characters regularly in his writing. He often focused on grappling with social inequality, distributions of power and even touching on the ephemera of consciousness. Even when challenged by the mainstream, Moore held steadfast to his convictions. The result–some of the most powerful comic series ever created.
The Struggle Against Tyranny
Perhaps best known for his work in the Image comics title V for Vendetta, Alan Moore used this work as a vehicle for his political views. When he was writing it, an extremely right of center government was in power in his English homeland. Moore used the party as creative fodder, exaggerating their policies to extreme proportions. He took it further by installing the resulting tyrannical government as the leaders of a near future London.
V for Vendetta chronicles the struggle against this tyranny. It follows the enigmatic title character V as he drives to inspire a resistance in a country exhausted by their leaders' brutality. V's efforts have were inspired by true events and V, has, in turn, inspired others to action.
V was modeled (highlighted by the mask that he wears) after the infamous rebel Guy Fawkes. He played a key role in the Gunpowder Plot that took place on November 5, 1605, where he was arrested for guarding explosives intended for blowing up the British parliament. Dressed in black and donning a Guy Fawkes mask, V represents the fight for British freedom from a government oppresser.
V Adopted by Other Groups Fighting Oppression
Even after the initial fame of the series, V took on an entirely new kind of notoriety. It became something of a totem for activists on several different platforms. Probably most notable, the Guy Fawkes mask made famous by the character has been used by the hacker group Anonymous to conceal its identity as they work to right cyber wrongs. The mask has also become a mantle of sorts for Occupy Wall Street, the Bahraini protesters during Arab Spring, and many others.
In response to the use of his characters real life manifestation in the political discourse, Moore said in a 2008 Entertainment Weekly interview: "
"I was also quite heartened the other day when watching the news to see that there were demonstrations outside the Scientology headquarters over here, and that they suddenly flashed to a clip showing all these demonstrators wearing V for Vendetta Guy Fawkes masks. That pleased me. That gave me a warm little glow." – Alan Moore
That same year, he defended his belief in anarchy in a short video, dispelling any doubt that he was in line with the movement that was taking up his imagery.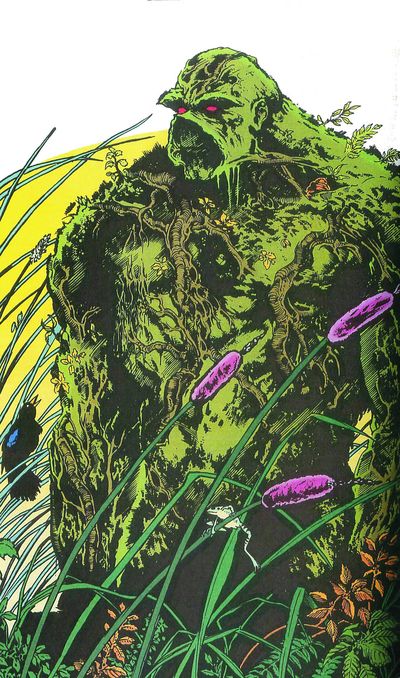 But V does not stand alone in Alan Moore's arsenal of activist comic book characters. During his run with The Saga of the Swamp Thing, Moore transforms the character into what we know him as now–an eco hero. Swamp Thing went from a has-been monster man to a deeply internalized comic hero. He could critically examine the relationship between man and nature in the way only a sentient plant could. Through him, Moore found a way to challenge such topics as pollution, climate change and the usurpation of natural resources. His position has been so notable that several serious literary critics have discussed Swamp Thing and his role as an insurgent ecological force for change.
Moore's Watchmen Takes on Power Imbalance
And of course, no conversation about Alan Moore would be complete without discussing Watchmen. Considered by some to be the greatest comic book of all time, Watchmen is Moore's masterwork. Much like he did with V for Vendetta, Moore built a new history for the world of Watchmen that shares deep roots with our own world, but varies in some key ways.
PRE-ORDER THE WATCHMEN COLLECTORS EDITION BOX SET
Watchmen takes place in an alternate universe where superheroes were introduced much earlier than most modern comics (with a few notable exceptions like Captain America and the X-Men), with the "golden age" of heroes taking place between the 1940s and 60s. The plot takes place in a mirror world that echoes the Reagan administration's run in the US. This is intended to illustrate the catastrophic power imbalances that have lead the United States to the brink of a third World War.
Moore admitted that much of his motivation for Watchmen was to be a criticism for the Reagan administration's. In a 1987 conversation with Neil Gaiman and Dave Gibbons for The Comics Journal, Moore said, "This is not anti-Americanism, it's anti-Reaganism…"and "…at the moment a certain part of Reagan's America isn't scared. They think they're invulnerable…"
The series brings humanity terrifyingly close to complete destruction. This echoes Swamp Thing's continual assertions of the fragility of human life. it also places the power to end everything into a disturbingly small number of hands, striking harshly against this feeling of invulnerability.
FIND OUT WHO WATCHES THE WATCHMEN
Although other comics writers have used their art to further conversations about political and social issues, few have done so as prolifically and expertly as Moore. In so doing, he has also helped to build a comic book legacy that includes political criticism and social change. So, this November, remember, remember that comic books can have much deeper meaning than what meets the eye. Brilliant creators like Alan Moore prove it.
WANT MORE FROM MOORE? PRE-ORDER A COLLECTION OF 10 SHORT STORIES: BRIGHTER THAN YOU THINK YOU ARE
Please follow and like us: