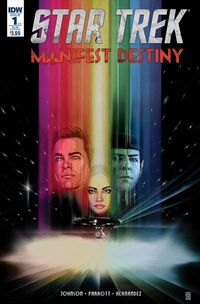 The crew of the Enterprise is about to embark on their five-year mission to explore the unknown, but that doesn't mean you have to wait until July for follow their exploits! IDW Publishing has been publishing stellar Star Trek comics for years, and the upcoming four-issue Star Trek Manifest Destiny looks amazing.
We had the chance to chat with series writers Mike Johnson and Ryan Parrott, artist Angel Hernandez, and the book's editor, Sarah Gaydos, about their favorite Star Trek memories, where the idea for Star Trek Manifest Destiny came from, and what kind of action we can expect from the series. Read on!
TFAW: How did the idea of Star Trek: Manifest Destiny come about?
Mike Johnson: We aren't doing a movie prequel this year, but we wanted to do another event-worthy series to celebrate the 50th Anniversary of Star Trek. What could be more event-y than a showdown with the Klingons? And this time both sides are out where no one — human OR Klingon — has been before.
Ryan Parrott: The Klingons are seminal but we really haven't gotten to see a lot of interactions between them and our crew in this particular reality. Since the comics have always been great for filling in the cracks or expanding on moments, it just seemed like there was an appetite for a story that could help justify all the upcoming bad blood.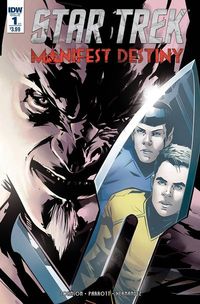 TFAW: Can you give us a behind the scenes tour on how you two worked together to write the story?
RP: Our stories always begin differently — one of us has an image we want to see or an idea we want to explore. This one started with — who's the Klingon "Captain Kirk?" What does their "Enterprise" look like? How does the Empire explore? So we did some research into the Vikings and Mongols, just to establish a base — which helped flesh out our characters — then Mike and I start throwing the story back and forth until we're both happy . . . or one of us just gives in.
TFAW: None of you is a stranger to the world of Star Trek comics, how does this story relate to or build upon your previous work in the Star Trek universe?
Angel Hernandez: My first contact drawing Star Trek comics was the Star Trek Green Lantern crossover. I felt very comfortable with the universe of that project. I had been drawing several series of superheroes at DC Comics and it was an exciting change. I really wanted to continue working in this universe and this project has given me the opportunity to keep doing it, and I love it.
MJ: We've shown the Federation and the Klingons mixing it up before, but this story raises the stakes because both sides are on their own, far from any reinforcements. The Klingon ship is a match for the Enterprise in size and power. This is probably the most intense battle we've shown in the comics yet, and the most personal.
RP: Up to this point, I've only ever done stories set at Starfleet Academy — so the opportunity to write the real crew on the five-year mission was a dream come true . . . and I finally got to cross "Scotty" off the bucket list.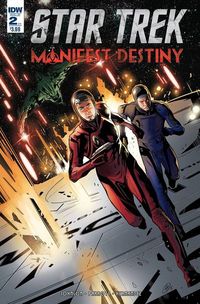 TFAW: I really dug Angel Hernandez's art on Star Trek Green Lantern. Can you talk about your collaboration with him on Manifest Destiny?
MJ: I was lucky enough to work with Angel on Trek/Lantern and I quickly learned that he can draw anything a writer can dream up. We're excited he's on board for this event, and he's already producing pages that make our jaws drop.
TFAW: What can you tell us about the new villain, Shotok?
RP: There are some great villains in the original series, but outside of Khan, they're mostly races — Klingons, Romulans, etc. So our goal was to try and create a worthy adversary for Kirk — someone personal, who thinks and acts like he does. Shotok is an outsider who doesn't conform to the traditional Klingon code of honor. And because of that, he's dangerous, unpredictable, and a bit of a wildcard when he first encounters the Enterprise.
TFAW: How much research did you have to do for this story so you felt comfortable that you'd have a viable story set in the canonical Star Trek universe?
MJ: We really want the book to feel like a big summer action movie, so it's not so much research but we've been thinking in terms of what cool epic scenes we want to see, how we want to pace it in a way you don't always see in comics, things like that.
RP: Like I mentioned before, when we knew we wanted to see how Klingons explore, it was pretty obvious they wouldn't do it the same way the Federation does. So we looked at examples in real history, aspects from all the different series and even stuff from expanded Klingon mythology — like "The Klingon Art of War." Then based off all of that — we built the version that made the most sense to us.
TFAW: IDW is also producing Klingon Language Editions for the series? Who came up with that idea, and how can we thank them?
Sarah Gaydos: I can't claim that we're the first one to translate a Trek comic into Klingon (see: IDW's Star Trek: Klingons: Blood Will Tell, and more!) but we just could not resist. We really want to highlight how badass the Klingons are, but also how incredibly deep their culture is — to the point where they have this fully fleshed out language. We're working with several great folks from the Klingon Language Institute to make this possible!
TFAW: What kind of creative freedom did you have on this book, Angel?
AH: I have had total creative freedom. I had worked with Mike before, therefore I already knew where the lines were, but I have always understood very well what I wanted to convey in every page of script and within those parameters I have been able to move with absolute freedom. To agree with the rest of the team about the visual issues allows you to work more comfortably on the other aspects of the project.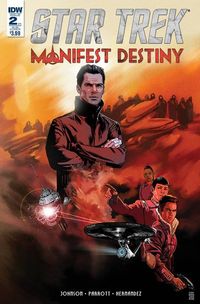 TFAW: What influences did you draw upon for character designs in this series?
AH: Visually, I followed the parameters of the new films (J.J. Abrams) but I have referred to the classic saga in order to capture the essence of some species. And I don't want to tell more to avoid spoilers.
TFAW: Was there a panel or page that was particularly challenging to draw?
AH: There is not any particular panel that has been more difficult than another, but in this comic there are many action scenes involving a large number of characters. Ensuring that it does not become a mess and that the reader can follow the sequence correctly is always a challenge for an artist. And this comic includes many of those challenges.
TFAW: Artists often sneak Easter Eggs into their work, whether it's a wink to the fans, or including likenesses of friends/family as background characters. Can you clue us in on any you included?
AH: I do not normally include personal references in the comics I draw, but in this case I have included some environments that surround me, especially in the landscapes that can be seen in some scenes. I come from a volcanic island in the middle of the Atlantic Ocean (Canary Islands) and many Hollywood productions come to shoot here. It was logical that I successfully exploited those spaces to include them in the comics I draw and the places visited by the crew of the Enterprise often match with places that I can really visit.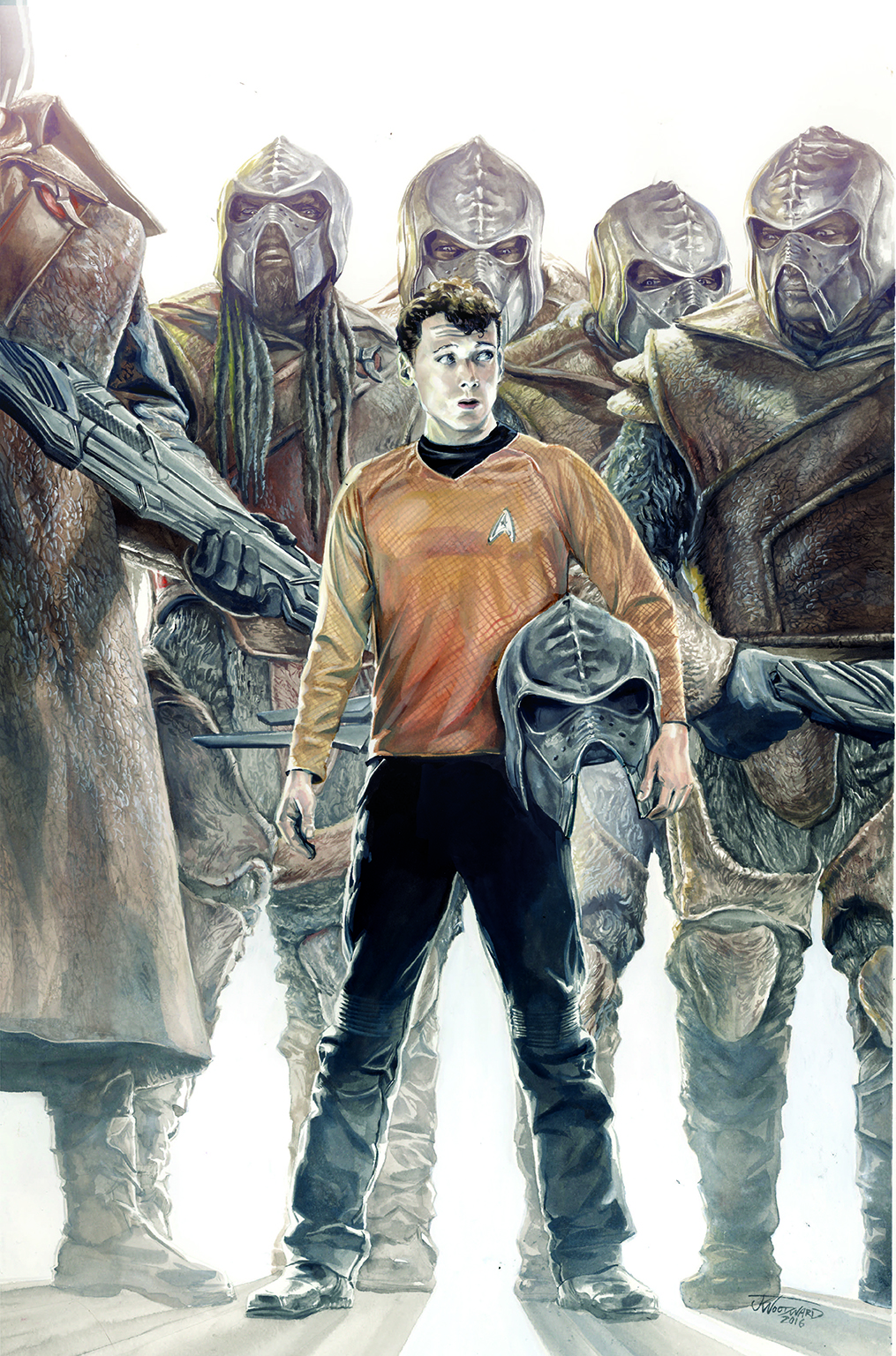 TFAW: What is your favorite Star Trek memory?
AH: There are many special moments in the saga as for example, Spock's death or the destruction of the Enterprise. I also find memorable the death of Spock's mother and everything that happens around that. I think it is very emotional and, at the same time, a very spectacular moment. But, certainly, the encounter with the Klingons in the film of 2013, the whole scene is a moment that I love.
MJ: My favorite memory is playing with the big Original Series Mego figures when I was a kid. Real cloth uniforms! Giant blue phasers!
RP: For me, it will always be, "There Are Four Lights!" The majority of Star Trek episodes end at the exact same place they started — with everything pretty much back to normal. But that story — what Picard went through and his mental state at the end — it felt like it had resonance. It was such a strong performance (by both Patrick Stewart and David Warner), I just knew I'd never forget it.
TFAW: Who is your favorite Captain?
AH: Chris Pine. For professional reasons I have developed a very close link with him, he is almost like a coworker.
MJ: Can't lie: Picard.
RP: Picard, 100% — but Pine's slowly creeping up the ladder.
TFAW: What comics are you reading right now?
AH: Lately I do not have much time to read, but as soon as I have a moment, I'll start with Saga and Fables. And I have accumulated Blacksad, Magneto, O'Boys, Hellboy on the shelf because I do not have time to read everything I would like, and that it is a lot.
MJ: I just read the new Asterix book. My favorite series growing up, and it's still going strong.
RP: I can't get enough East of West and Casanova.
We want to thank Michael, Ryan, Angel, and Sarah for an excellent interview! Make sure to order your copies of Star Trek Manifest Destiny, including the Klingon Language version, today!

PRE-ORDER STAR TREK MANIFEST DESTINY ISSUES

ORDER STAR TREK/GREEN LANTERN BOOKS
*buy' ngop means "that's great news" in Klingon, literally translated as "the plates are full." Gotta love the Klingon Language Institute!
Are you looking forward to Star Trek Manifest Destiny? What's your favorite Star Trek comic to date? Post your comments below!
Please follow and like us: