New Reviews of This Week's Releases!
It's Wednesday, which must mean it's time for more comic book reviews! This week, TFAW.com reviews Ant-Man & Wasp #1, Batman: The Return of Bruce Wayne #6, Avengers Prime #4, Chew #15, Angel Illyria #1, Scott Pilgrim Precious Little Box Set, Star Trek Khan: Ruling in Hell #2, Cowboy Ninja Viking #10, Monster Hunters' Survival Guide #1, Elmer GN, the Ame Comi Supergirl and Steel figures, and the Cover Girls of the DCU Harley Quinn Statue.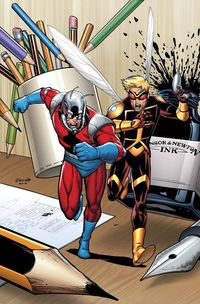 CHECK OUT THIS WEEK'S ARRIVALS

WATCH MORE COMIC BOOK REVIEWS

SUBSCRIBE TO OUR YOUTUBE CHANNEL
Have you checked out any of these titles? What did you think? Post your comments below!
Please follow and like us: