New Comic Book Day is upon us once again. With Justice League's final issue before Rebirth, Bitch Planet still continuing it's awesome work, and Deadpool going head-to-head with Gambit. Remember these are only a few of this week's new releases that stood out from the crowd. Check out our other blog articles so see our thoughts on other books. Be sure to comment or share our post on Facebook or Twitter!
SPOILER ALERT — We try to keep from posting spoilers, but one may sneak through to our reviews now and again. Read with caution, true believers.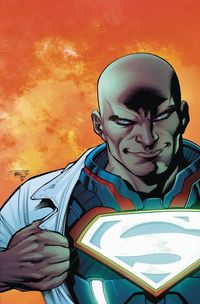 Justice League #52
By: Dan Jurgens, Paul Pelletier, Tony Kordos
The Darkseid War rocked the Justice League. Putting each of them through trials which found fresh perspectives, and illuminated some things that they did not realize were in the shadows. In recent history, we saw Superman save the world from a corrupted energy version of himself by ultimately sacrificing himself for the survival of DC's Earth.
Superman's willingness to put the world before himself is one of his most enduring character elements and even Lex Luthor has to recognize that. In true Lex fashion, he pays what form of respect that he has for our hero by adopting the House of El's shield on his redesigned battle armor. Setting out on a mission to acquire the fallen Superman's cape to wear with it, so that he can become the new savior of Metropolis. Lex Luthor experiences his own Rebirth, and though the members of the Justice League are unsure of where Lex's rebirth will lead, so far they aren't out to stop him. After all, there is another, true Superman which he is unaware of. Chalk up another victory to DC's Rebirth line for taking their comics to great new frontiers! I'm excited to see where we're going. [Casey D. at TFAW.com]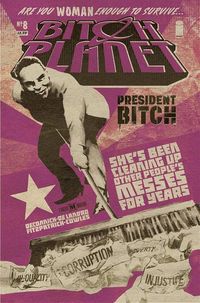 Bitch Planet #8
By: Kelly Sue DeConnick, Valentine De Landro
Bitch Planet #8 hits all the notes you'd expect from the DeConnick—De Landro team. The art is on point, and the characters are every bit as endearing as ever.
The story of Meiko's father takes a surprising turn which manages to escalate Kamau's search for her sister. Unbeknownst to them, we—the readers—get a shocking and (in true DeConnick fashion) uncomfortable glimpse into what Kamau is currently up to.
The best elements of De Landro's art are on display in this issue. At a glance, faces and backgrounds appear simplified and stripped down, but digging deeper, he reveals details that have astonishing implications for the overall story implications for the overall story. DeConnick's writing isn't different in that regard. Many of the conversations are designed for the astute reader to pick up on references to previous issues. On the flipside, new ideas are seeded (such as a strange cult-like meeting in the basement of a bar) as we see more and more of the horrifying world of Bitch Planet. [Tim S. At TFAW.com]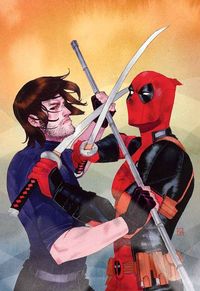 Deadpool vs Gambit #1
By: Ben Acker, Ben Blacker, Danilo Beyruth, Kevin Wada
From the writers who brought you Thunderbolts and one of the artists behind Gwenpool, comes the all-new five issue mini-series, Deadpool V Gambit: The V is for VS.
I have always been keen on the writers who take on Deadpool, and Ben Acker and Ben Blacker definitely know what they are doing with the Merc with a Mouth. If you don't know much about Gambit, that's okay! This issue gives you a good feel of what he's like and what powers he possesses.
Now on to the fight! We love seeing this Mercenary fight with anyone that will bring him the big bucks! However, this issue will surprise you as it's not your traditional VS (or is it V now?) mini-series. Gambit the Cajun magician and Deadpool the Merc who needs money, bring you this amazing, hilarious issue. I am actually really intrigued where this issue is going… I give it five tacos and five chimichangas! [Darcey M. at Universal Citywalk]
What did you think of these books? What should we review next week? Let us know below!
Please follow and like us: