Over the last few weeks, we highlighted some of the best selling, most talked about series of the year for our Best Comics of 2015 posts. During a week-long voting period, fans got to weigh in and choose their favorite and help us crown the Best Comic of 2015!
Archie vs. Predator Wins as Best Comic of 2015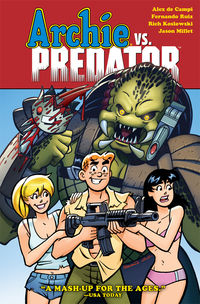 Congratulations to Alex de Campi, Fernando Ruiz, Rich Koslowski, Jason Millet, John Workman and the rest of the team who put in long hours to bring us such a fun series to read.
Thank you to everyone who voted, we couldn't have crowned the winner without you!
If you haven't picked up your copy of the Archie Vs. Predator HC yet, or picked up the individual issues and are looking for a really great collection to add to your book shelf, we've got you covered!

ORDER YOUR COPY OF ARCHIE VS. PREDATOR TODAY


SEE OTHER BOOKS THAT MADE IT TO OUR BEST COMICS OF 2015 LISTS
Please follow and like us: