Four comics reviewed this week and all are team-ups! Remember these are only a few comics that came out THIS WEEK! Check out our other blog articles so see our thoughts on other comics. Be sure to comment or share our post on Facebook or Twitter if you like our articles!

DON'T FORGET: SAVE ALL MONTH LONG WITH OUR WE LOVE COMIC BOOKS MAY SALE
SPOILER ALERT — We try to keep from posting spoilers, but one may sneak through to our reviews now and again. Read with caution, true believers.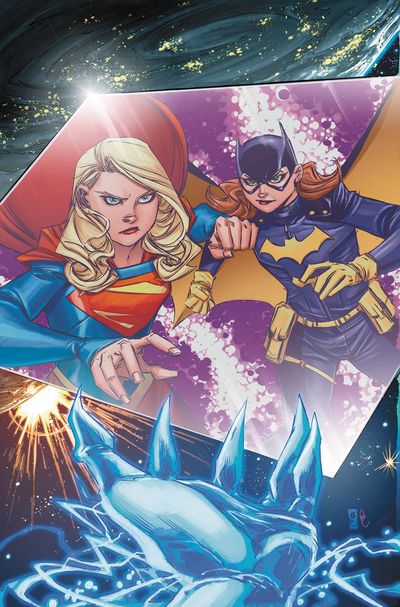 Supergirl #9
By: Steve Orlando, Brian Ching, Michael Atyeh
Escape from the Phantom Zone Part One kicks off an arc that I've been dying to see since Rebirth started. A Barbara Gordon and Kara Danvers team up.
The concept is simple. The Tychotech company in National City is unveiling a new clean energy concept to the world. As Supergirl, Kara has been invited due to her attachment to the technology used. Of course, something goes wrong and the machine goes haywire sending Barbara's friend Ben into the Phantom Zone. Naturally, Batgirl and Supergirl head into the Phantom Zone to find him and get him out.
Writer Steve Orlando did pull off something that I didn't see coming. The villain who turned-on the machine was Magog, who hasn't made a ton of appearances (that I'm aware of) since Kingdom Come. Brian Ching does a good job with this world and has since Rebirth started. Michael Atyeh's colors are perfect for any "Super" book: Nice and bright. [Martin M. at TFAW.com]
MISSED OUT ON THE FIRST 6 SUPERGIRL ISSUES? PICK UP VOL 1 AND GET CAUGHT UP!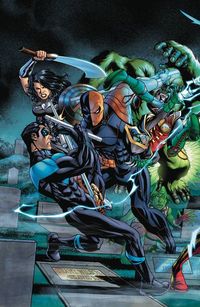 Titans #11
By: Dan Abnett, Brett Booth, Benjamin Percy, Mike McKone
Since the beginning of Rebirth, Titans has always stood at the center of it all thanks to Wally West, the one hero who kickstarted this whole event. With Titans #11 and the first chapter of The Lazarus Contract, Wally and the rest of his team find themselves set to change the DC Universe yet again.
Like all great Titans stories, Titans #11 centers on Deathstroke, who seeks to bring his son back from the dead. Slade believes the key is through Wally West and time travel, which could have potentially devastating effects on the already fragile state of the universe. In particular, the last page of this comic will shake things up in a big way for both the Titans and Teen Titans.
Titans #11 is the start of yet another exciting mini-event for DC Comics and looks to shake everything up once again. The superstar writing team of Ben Percy, Dan Abnett, and Christopher Priest are well on their way to knocking this one out of the park. [Josh P. at TFAW.com]
DON'T MISS AN ISSUE OF THE LAZARUS CONTRACT!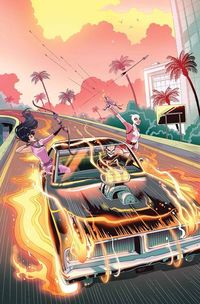 The Unbelievable Gwenpool #15
By: Christopher Hastings, Myisha Haynes, Paulina Ganucheau
Weird team-ups! Hijinks! 4th-wall breaking! It's all here in The Unbelievable Gwenpool! This whole series is nothing but obscure adventures and breaking the 4th-wall, and no surprise, it's been awesome.
Gwenpool's friend is trapped is a gem, and she's working with Hawkeye (Kate Bishop) to help free him. Well, first she's got to get her friend back from Ghost Rider, then save him from the dwarves that want the gem. Then, she has to somehow get him out, all while Ghost Rider does his thing and Kate Bishop a.k.a. Hawkeye, just shoots arrows.
This is a really fun series that you can't take seriously at all: It's zanier than good ol' Deadpool. Less blood and guts, but more wacky fun. [Martin M. at TFAW.com]
SHE'S UNBELIEVEABLE AND NOT OF THEIR WORLD, PICK UP THE ADVENTURES OF GWENPOOL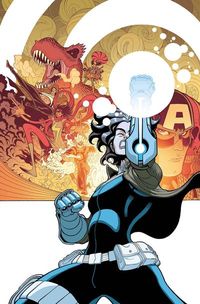 Secret Warriors #1
By: Matthew Rosenberg, Javi Garron, Tradd Moore
i>Secret Empire #1 revealed a shocking truth about the state of the Hydra-controlled world: Inhumans were being rounded up into camps. While this is only touched on briefly in that book, Secret Warriors #1 dives headfirst into the subject.
Writer Matthew Rosenberg assembles a dream team of Inhumans for this latest incarnation of the Secret Warriors, including Ms. Marvel, Moon Girl and Quake. The comic features equal amounts mystery, suspense, drama, and action, and Rosenberg nails all of it. Artist Javi Garron does a fantastic job bringing the characters to life.
If you've read the solicits for Secret Warriors, you won't find any surprises in this book. However, if you're following Secret Empire #1 or you're a fan of the Inhumans, I highly recommend this book due to its strong writing and the impact it's going to have on Secret Empire as a whole. [Josh P. at TFAW.com]
What did you think of these books? What should we review next week? Let us know below!
Please follow and like us:
First, I should start off by saying that I have been waiting for Titans to pick back up as soon as it was announced. When I was younger, I lived and breathed Titans (specifically Nightwing and Wally's Flash). I loved the comics, I loved the show, and I have continued to love the characters even after the team disbanded and they went their separate ways. So my expectations for this title were pretty high…
As I dove into Titans #1, I noticed two things right away. First, it gives readers what they want right up front, and that is some quality Wally West time now that he is back in the DCU! Secondly, the layouts look fantastic. Rapmund and Booth really strike readers visually with their layouts in this issue, and it is just as easy to follow as it is pleasing to the eye.
Abnett puts readers in an interesting place. He rewinds Wally's timeline just a bit as well as the timeline of his true love, Linda Park. Wally needs to piece his timeline back together and remind the world, his love, and his friends who he really is! With the help of Lillith and the Titans, he hopes to make it all happen! As Lillith reaches deeper into Wally's memory hoping to recover something, she finds that an old foe has taken up arms once again, and it is up to the Titans to stop him once more!
This issue takes a good step in the right direction. It shows us that Wally is now back as an important member of the Titans, it sets up a larger arc in attempting to give Wally his life back, and it also rewinds his clock without making him a "teen" titan. Overall, the issue was well written. The dialogue is believable for every character. Furthermore, it reintroduces an old Titan foe we love to hate, and it excites me to see where this series is going!
Titans #1, written by Dan Abnett, art by Norm Rapmund & Brett Booth, and colors by Andrew Dalhouse. Published July 27, 2016.
Review by Alex Mitts
Please follow and like us:
Has it really been a week since our last New Comic Book Day comic book review? Man, time flies. Here are a few of this week's new releases that stood out from the crowd. Check out our other blog articles so see our thoughts on other books. Be sure to comment or share our post on Facebook or Twitter if you like our articles!
SPOILER ALERT — We try to keep from posting spoilers, but one may sneak through to our reviews now and again. Read with caution, true believers.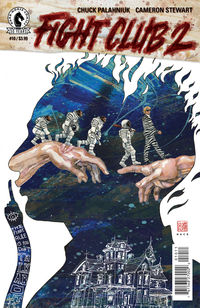 Fight Club 2 #10
By: Chuck Palahniuk, Cameron Stewart, Dave Stewart, David Mack
The End. With Tyler seemingly seizing control, Sebastian and all of Tyler's followers are hunkered down with the world's most precious art in a salt mine and the world is ending. Tyler won. We start over.
Not quite. What happens after, is a weird twist/ex-machina, that turns the written world of Fight Club into our own. Seemly putting Palahniuk on the stand for the crime of his own creation. Fans were not liking the way things turn out to force themselves to create "a better" ending.
It's a great finish for Fight Club 2, a series that took on a life of its own from fans of the film and book. Chuck gives this an existential twist that really makes you think about not only the original story and what it meant, but the purpose of literature. To be free. To become something else entirely. To escape. [Martin M. at TFAW.com]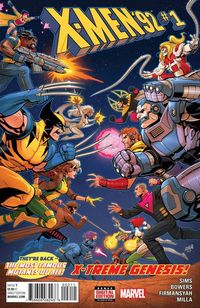 X-Men '92 #1
By: Chad Bowers, Chris Sims, Alti Firmansyah, David Nakayama
If you love the classic X-Men with mesmerizing art, then this comic is definitely the one for you! When there's a big shakeup like the one we just had in the Marvel Universe (Marvel's Ultimate Universe died), it's always nice to go back to the classics.
The series starts off with Hank McCoy's first day of teaching and he's already late! He finally arrives and just as he's about to start teaching he is interrupted by Maverick bursting through the window with a frantic warning to the X-Men. Shortly after, the X-Men are fighting The People's Protectorate. Omega Red wants top secret information that Maverick has! What information does Maverick possibly have that causes a war outside of the school?! You'll just have to read X-Men '92 #1 to find out! [Darcey M. at Universal TFAW]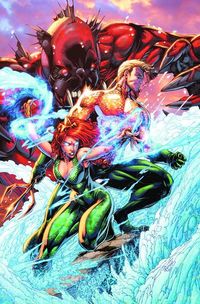 Aquaman #50
By: Dan Abnett, Brett Booth, Norm Rapmund
Let's play a bit of catch-up before we jump into Aquaman #50: it has been decided that Atlantis should establish an embassy to the surface world to present land dwelling humans with a bridge between cultures, with Mera serving as the perfect public face for Atlantis in her new role as Aquawoman.
In this issue, Aquaman must face a new mysterious force that is capable of coming through any water like a portal, whether it be a swimming pool on top of a skyscraper, a fountain in the middle of town, a puddle in the road, and this foe comes from a dark new place where we are likely to see more from in the future.
Of course, Aquaman will do whatever he can to save the day for any threat intent on harming the innocent, and he does so with the moral compass of a great King. He's not only regal, and willing to protect all life, but he does so without becoming hardened to the darkness of our world. Fantastic story for our hero, and this issue gives me high hopes for the future of the King of Atlantis. [Casey D. at TFAW.com]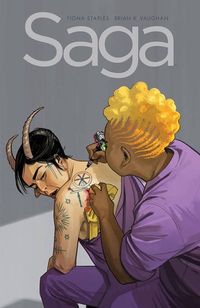 Saga #35
By: Brian K. Vaughan, Fiona Staples
In the last issue of Saga, we left off with Marco and Alana finding Prince Robot IV and Ghus (and of course Friendo) and coming up with a crazy plan to go rescue Hazel and Marco's mother, Klara, from a Landfall prison. Meanwhile, The Will has kidnapped journalists Upsher and Doff to find the whereabouts of the person that killed The Stalk. In the midst of all that, Hazel is caught between her grandmother trying to protect her and her schoolteacher trying to break her out of the prison…
In this new, exciting issue of Saga, we learn about the plan that Marco, Alana, and Prince Robot make as journey to find Hazel and Klara. Prince Robot wavers between helping them or turning them in to get back his former life as royalty. The Will struggles with working with his new captives get the much-needed information he needs to exact his revenge — oh, and The Stalk (who is still very dead) is egging him on to kill everyone that gets in his way. What is in store for Hazel? Will her teacher get her safely out? Will her parents be able to rescue her? Will their attempts tragically fail? You'll find out this and much more in this amazing issue of Saga, written by the iconic Brian K. Vaughan and featuring the beautiful, one-of-a-kind art of Fiona Staples. [Steve M. at Milwaukie TFAW]
What did you think of these books? What should we review next week? Let us know below!
Please follow and like us: