We're back again with reviews of a few books that we really enjoyed from this week's new releases. Check out our other New Comic Book Day blog articles to see our thoughts on other books. Be sure to comment below or share our post on Facebook or Twitter if you want us to do more of these types of reviews!
SPOILER ALERT — We try to keep from posting spoilers, but one may sneak through to our reviews now and again. Read with caution, true believers.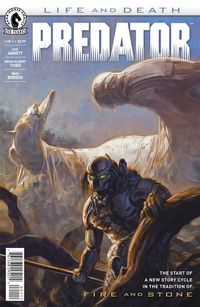 Predator: Life & Death #1
By: Dan Abnett, Brian Thies, Rain Beredo, David Palumbo
The next Predator/Alien/Prometheus event begins and stirs up some blood in Predator: Life & Death #1. This issue gives us a basic set we need. Where are they, why are they, and the hunt itself.
Looks like the Wayland-Yutani Corp wants to start some more terraforming of planets but before they send their people down, they send the USMC to make sure there are no pirates already taking the planets resources (yeah, pirates–guess they learned from LV-426).
It's a good setup to what could be a fantastic Predator story. The pacing is good with strong characters. Brian Albert Thies' art works very well, accompanied by Rain Beredo's colors. I look forward to finding out more about this planet, its secrets, and why this mysterious ship is there. [Martin M. at Milwaukie TFAW]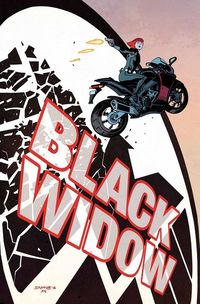 Black Widow #1
By: Chris Samnee, Mark Waid
This is one of the best hooks for a series I have read in awhile. Black Widow #1 is packed with action and so many questions that you just have to read the rest of the series. I fell in love with the art and color scheme as how well it matches the tone of the first issue. Mark Waid is back at it again, and has ceased to disappoint me every series he creates.
Natasha is not a character that will disappoint you in any way, shape or form. She plays by her rules, no matter what those might be. If you love espionage, action, and one of the best female spies in the Marvel universe, I highly recommend picking up this issue immediately! [Darcey M. at Universal TFAW]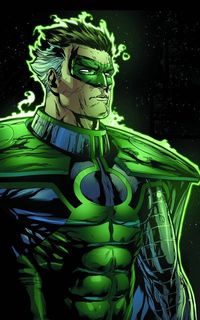 Green Lantern #50
By: Robert Venditti, Billy Tan, Juan Gimenez
Everyone has differing ideas of when their life took a turn, and when they were their best version of themselves–able to overcome adversity despite the odds. This experience of inner conflict is regularly explored in the DCU. Hal Jordan faces himself at one of his lowest points in Green Lantern #50. This all happens because of the magic of the DC Multiverse and the return of Hal's previous incarnation as Parallax.
Hal has other plans and this Multiversal bleed appears to be leading him to some strange new Rebirth along with the rest of the DC Universe! If the rest of the DC titles begin to experience this change, shifting them towards something familiar yet new, the entire Rebirth initiative will be something quite tremendous to witness. [Casey D. at TFAW.com]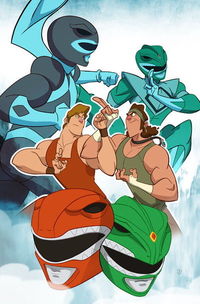 Mighty Morphin Power Rangers #1
By: Kyle Higgins, Hendry Prasetya, Matt Herms
It's been about two months since issue MMPR #0 first hit the shelves and after reading Mighty Morphin Power Rangers #1, I can tell you that it's still really good. Kyle Higgens does a great job developing the characters we grew up with in a way that feels the same as they ever were but, updated so that new readers won't get lost in mythology.
I really, really enjoy Hendry Prasetya's character designs and Matt Herms' colors. Even the small glimpse of a past foe was a really cool nod to the show. If you're a Power Rangers fan–old or new–this is a great comic for you!
PS: Be sure to pick up the MMPR #1 TFAW Exclusive Variant (pictured here); only 500 were produced, and they're going fast! We teamed up with one of our Sean "Cheeks" Galloway (Hellboy Junior, WoW: Pandaria, Teen Titans Go, Wednesday Comics) for what we think is a pretty incredible cover. [Martin M. at Milwaukie TFAW]
What did you think of these books? What should we review next week? Let us know below!
Please follow and like us: