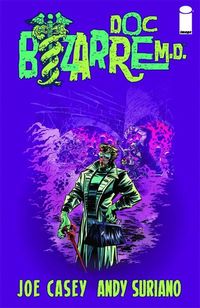 In stock now! Make sure to check out the new Doc Bizarre M.D. hardcover from Image Comics. This hilarious, action-packed adventure by Joe Casey (Vengeance, Haunt) and Andy Suriano (Batman The Brave and The Bold) is chock-full of supernatural medical mysteries, and you can preview it here at TFAW.com!
For monsters crippled with pneumonia or demons suffering from incontinence, only one man claims to possess the skills and the training to cure what ails them . . . Doc Bizarre, M.D.
He'll make globe-hopping house calls for sick creepers, medically challenged myths, and ghouls at death's door! It's over-the-top, comedic horror from Joe Casey and Andy Suriano!

READ OUR SIX-PAGE PREVIEW OF DOC BIZARRE M.D.

ORDER DOC BIZARRE M.D. NOW
What did you think? Post your comments below!
Please follow and like us: