"There is a feeling you get at the beginning of an adventure…"
Thus begins DC's epic summer event, Metal. The prelude, Dark Days: The Forge, is the perfect introduction, and sets the stage for the magnitude of what is to come.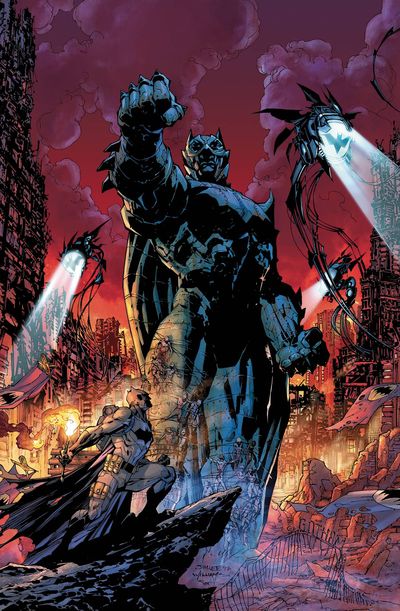 Comics publishers often overuse the term "all-star" in their books, but in this case, it fits perfectly. DC has recruited its top talent, including writers Scott Snyder and James Tynion IV, for this one-shot story. However, the talent doesn't stop there, as the book also packs superstar artists Jim Lee, John Romita Jr. and Andy Kubert. Even the cast is epic, featuring Batman, Superman, Green Lantern, Hawkman, Aquaman, Mister Miracle – even the Outsiders.
Dark Days: The Forge #1 Will Keep You Coming Back For More
The issue gives just enough intrigue to keep you turning the pages with anticipation. Batman has discovered a mysterious substance in the Earth's metal. Unfortunately, no wants this information to come to light, including the Guardians of the Universe and the Immortal Men.
As Snyder's and Tynion's story unfolds – from the depths of the ocean to the Batcave on the moon – the mystery deepens. What is this mysterious metal? Where did it come from, and why is Batman obsessed with it now? The artwork is stunning and dramatic, exactly what's you'd expect from this superstar team. If that wasn't enough to keep you coming back for more, check out the final page. This final page is beautifully rendered by Lee and will seal the deal for this event.
That feeling you get at the beginning of an adventure? It's glee. Pure glee for what's to come.
Dark Days: The Forge #1, DC Comics, Released June 14, 2017, Written by Scott Snyder and James Tynion IV; Pencils by Andy Kubert, Jim Lee and John Romita Jr.; Inks by Scott Williams, Klaus Janson and Danny Miki; Colors by Alex Sinclair and Jeremiah Skipper; Letters by Steve Wands; $4.99.
Please follow and like us: