In 2012, Mike Mignola (Hellboy, Lobster Johnson, Baltimore) teamed with Christopher Golden (The Myth, The Boys Are Back in Town) to co-create and co-author the novel Joe Golem and The Drowning City. The tale takes place in an alternate timeline Manhattan, which is currently under thirty feet of water.
Simon Church is a Victorian-era detective who is kept alive for more than a century via a complex combination of bio-mechanical magic, clockwork gears, spit, and shoelaces. His assistant, Joe Golem, has bizarre dreams that speak to him of a former life. He has visions of being mud and stone and hunting witches. Unfortunately, he can't quite piece together his own origin.
Four years after the release of the illustrated novel, Mignola and Guest revisited The Drowning City with a five part prequel comic book miniseries, The Rat Catcher and The Sunken Dead.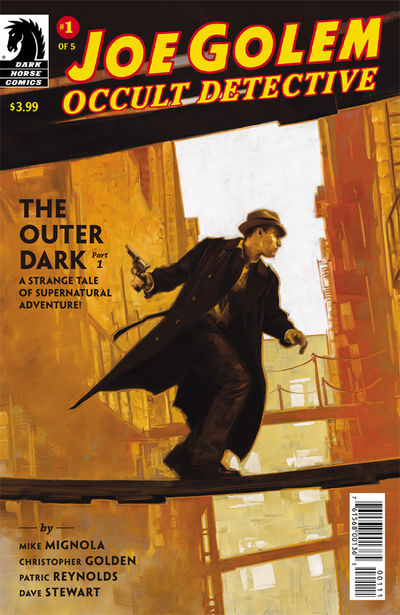 Mignola's latest book The Outer Dark takes place two years after Rat Catcher. Three Germans on a water taxi attack passengers and police. One of the Germans, Bodo Wegener, escapes after killing two people with his bare hands while screaming in German about the otherworldly voices in his head. The local detectives usually end up on Mr. Church's stoop when things get a little too weird, and this case is definitely "Simon Church weird."
Joe Golem — The Outer Dark Sports an All-Star Creative Team
Patric Reynolds (Aliens: Fire and Stone, Hellboy and the BPRD: 1954) did the art for Rat Catcher and is also the artist for this new series. Reynolds brings an aesthetic to the project that looks like it's straight from a pulp mystery novel. The Drowning City doesn't exactly look like a place I'd want to raise children but I'd definitely want to explore it in daylight.
Mignola and Golden give us a script that will appeal to fans of horror, pulp, noir, steampunk, monsters and magic. There is enough backstory that a new reader can easily pick up the series. However, if you haven't already read The Rat Catcher and The Sunken Dead, I'd recommend picking up the hard copy. Readers of series like The Goon and The Damned will feel right at home with Joe Golem.
Joe Golem: Occult Detective — The Outer Dark #1, Dark Horse Comics, May 31, 2017, Written by Mike Mignola and Christopher Golden, Art by Patric Reynolds, Color by Dave Stewart, Cover by Dave Palumbo, $3.99
Please follow and like us: