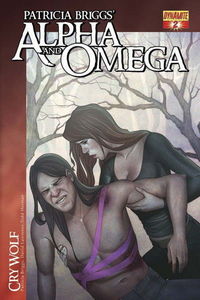 We first spoke with writer David Lawrence about Patricia Briggs' Alpha & Omega: Cry Wolf back in 2009. An adaptation of Briggs' popular werewolf series, the comic book was scheduled to be released by Dabel Brothers, the publisher that had also released adaptations of Briggs' Mercy Thompson books. Plans hit a snag when Dabel Brothers ceased production, but the project was picked up by Dynamite Entertainment, which released issue #1 back in 2010.
Since then, fans have been eagerly awaiting the next installment of the adventures of werewolves (and mates) Anna and Charles, and their patience is about to pay off! The revamped series returns with issue #2 (titled, fittingly enough, "Second Chances") next month, featuring longtime Patricia Briggs collaborator David Lawrence and a brand-new artist, Todd Herman. We interviewed Lawrence as part of Dynamite Month, and he explained why the series went on hiatus, whether new readers will be able to jump right in, and why it's now better than ever. Plus, we have a five-page preview of Alpha & Omega: Cry Wolf #2 to enjoy!
TFAW.com: It's been quite awhile since the first issue of Alpha & Omega: Cry Wolf was released.
David Lawrence: It sure has. Long enough to have a baby, I think. And sometimes it seemed like giving birth might have been simpler. But I think it was worth the wait.
TFAW.com: Will new readers be able to jump right in?
DL: God, I hope so. I've certainly done my best to structure the story that way. It's a fine line, giving the reader the essential information while not bogging things down with a long recap. I've tried to be creative about it. I'd say if you haven't seen the first issue, don't be afraid, come on in. And if you have seen the first issue, the extra time and work has resulted in a much better, more entertaining comic.
TFAW.com: a specific reason for the long delay?
DL: Nobody likes to admit this about their work, but that first issue was not very good. More than anybody else I have to take responsibility for that. I can give you a lot of reasons. It was published by Dynamite, but the book was produced in the dying days of Dabel Brothers Publishing, and there was a lot going on. I was spending a lot of time trying to get business matters straightened out, for myself and other creators. I think, unfortunately, the book reflected that.
I'm grateful that instead of simply killing the project, or continuing down the wrong road, the nice folks at Dynamite chose a different path. They took a lot of time and spent a lot of money to get it right.
The scripts are 100% better because I got to focus on this instead of the business problems at DBP. The art is really wonderful and really unique. Todd Herman has this kind of Mike Ploog-Mike Mignola type of vibe that is perfect for this book. He wasn't the safe choice, but he was the right choice, in my opinion. I feel bad for the original artist and I'm not saying the problems with the book were his fault. But this is comics, and part of starting over is inevitably giving the book a different look.
We've even done a new issue #1, by the way, but for a variety of complicated, contractual types of reasons, it will only appear in the graphic novel, not as a single issue.
Whew! You still awake after that answer?
TFAW.com: How much input does Patricia Briggs have with these adaptations?
DL: I hope it doesn't sound flip if I say "As much as she wants," but that really is the answer. First, these are Patty's stories and Patty's characters. I'm adapting them pretty faithfully and what Patty says goes. She reads everything. She looks at all the artwork. Patty and I have worked together for about three years now. Cry Wolf is our third trip to the park together. She understands very well the difference between telling a story in words and telling it with pictures, and I appreciate and am touched that she has a great deal of trust in me both as a writer and as a person who has the best interests of her characters at heart.
If Patty is very busy and everything is good she might not say a word, or she might just send thanks to me or the artist. But if she sees something that needs to be fixed, it gets fixed.
TFAW.com: One of your previous adaptations, Mercy Thompson: Moon Called has been collected in graphic novel form. What was the most memorable part of working on that project?
DL: From a selfish point of view, it might have been the moment Patty told me she liked my ending to the story better than hers. Coming from a writer of her ability that's quite a compliment.
But in reality I'd say it was working with Amelia and watching her grow as an artist and a storyteller. I always felt that our first Mercy series, Homecoming, wasn't really a fair reflection of her ability. She jumped on board halfway through with no time to prepare, and the artist switch left her facing just impossible deadlines. I'm glad she got a fair chance to show what she can do.
And what she can do is just gorgeous. I can give her descriptions like "the wolf looks confused" and she just nails it. What the hell does a confused wolf look like? I have no idea when I write that down. But time and again Amelia figures it out.
TFAW.com: What resonates with you about her books?
DL: I'm really a character guy more than a detailed plotter. For me, the story flows from the characters, not vice-versa. So it's really her characterizations that most appeal to me. I have a reaction to her characters. Some of them I like very much. Mercy, of course. Zee, the metal-working gremlin, is another favorite. But even her villains are real enough to me that I understand them. Usually I pity them more than I hate them.
TFAW.com: So many of the characters in Mercy Thompson's world aren't quite what they seem: they have hidden sides and personas. Even Mercy herself is a bit of a dichotomy! How do you keep track of these complex characters?
DL: Part of the answer is that I keep it simple. I don't look too far ahead. People are surprised when I tell them I read the novels one at a time. At this point Moon Called is the only novel in the Mercy series I've read. Cry Wolf is the only novel in the Alpha & Omega series I've read, and the opening novella, of course. Characters grow and change over time. If I've got the Mercy and Adam of book four in my head it's tough to go back and write the Mercy of book one.
But the bigger part of the answer is that Patty creates well-rounded, compelling characters who are easy to keep straight in my head. Even the walk on parts are distinctive enough that you remember them.
TFAW.com: Patricia's Alpha & Omega books have a lot more romance than her Mercy Thompson books, which you've also adapted for comics. How does that affect your creative process?
DL: I don't think my work is affected so much by the presence of a love story at the core as it is by the fact that this is a story with two co-equal lead characters. In Moon Called and the Mercy books, Mercy Thompson is the star. Here I have to give roughly equal weight to two characters and two points of view. That can be tricky. But on the other hand, it's easier sometimes when you have two characters who can talk to each other instead of one operating alone.
But even beyond that, I think this is more of an ensemble book than the Mercy series. I'm not saying it's the Justice Society of Werewolves, but there are several other characters who play very large, key roles in the story.
TFAW.com: Can you introduce Cry Wolf's Anna and Charles?
DL: Anna and Charles are really polar opposites. Charles was born a werewolf, which makes him a one-of-a-kind creature in Patty's world. Werewolves are made, not born. It took a great deal of love and magic to make it happen. Everything about being a wolf comes very naturally to him and he is very good at it all. He's powerful and dominating, but maybe because of his uniqueness he's always stood just a bit apart from everybody else.
Anna was changed to a werewolf against her will, a major no-no among the wolves of Patty's world. It's a crime comparable to rape to change someone without their permission. And that was only the beginning of the abuse she faced in a renegade wolf pack. She was rescued by Charles and is just beginning to learn about herself. As a wolf and as a woman.
TFAW.com: How well do they function as a couple, and how does their relationship affect the flow of the story?
DL: Not very well at all, at least at first. They've kind of been thrown together. Charles is a loner. Anna is scarred and scared. It will take them some time to grow accustomed to each other. Even to the idea of each other. But this being good drama, in the end their fate, and the fates of others, will depend on their ability to do so.
TFAW.com: What are the differences between an Alpha and an Omega wolf?
DL: An Alpha is territorial, aggressive if threatened, used to being in command. An Omega is not really the opposite of an Alpha. That would be a submissive. An Omega more, and it seems like I keep coming back to this, stands apart. She doesn't take orders. She doesn't give orders. She has strong protective instincts without an appetite for aggression.
TFAW.com: What makes an Omega wolf so valuable?
DL: Omegas are very rare. A werewolf could live centuries without encountering one. They are natural peacemakers. They have a sort of mystical ability to smooth discord. This could be a very valuable gift in the violent world of a wolfpack. Despite being functionally immortal, by human standards, most werewolves don't live very long because they have the nasty habit of fighting and killing each other. Someone like Anna could bring that to an end.
TFAW.com: Why do you think no one recognized Anna's status before Charles?
DL: Actually, her status was recognized. She was transformed precisely because the Alpha of her first pack had use for her special abilities. But he also found it useful to keep Anna in the dark.
TFAW.com: Anna is different than a lot of take-charge heroines; she'd been victimized for years by her pack before being rescued by Charles. How do you prepare to write a character like that?
DL: Anna is no pushover. Just because she's not spoiling for a fight doesn't mean she won't stand up for herself. Or others. She's been through a lot, but there is a spine of iron in that girl. It's just going to take her a while to discover it.
TFAW.com: What are the major differences between writing for Mercy and Anna?
DL: The biggest difference goes back to something I already mentioned. Mercy is a solo act. For all of the strong supporting cast she is the single star of the show. With Anna and Charles we've got two characters sharing the spotlight. Their interaction takes center stage more than either of them as a lone character does.
TFAW.com: In Cry Wolf, a rogue werewolf is slaughtering humans. Do human know about werewolves in this world? If so, how do they typically relate to each other?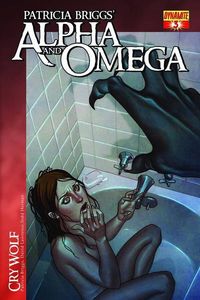 DL: Humans don't know about werewolves. Yet. One of the underpinnings of Cry Wolf and Moon Called is that the Alpha of the whole North American continent realizes they can't keep the secret much longer. He knows he has to go public but it's a matter of when and how.
TFAW.com: First vampires had a pop-culture resurgence, thanks to books like Twilight, and now it seems like werewolves are more popular than ever. What do you think people find so appealing about werewolves?
DL: Seems like in troubled times humans often turn to monsters. Consider that the whole classic Universal cycle of Frankenstein, Wolfman, and Dracula began in some of the darkest days of the Great Depression.
It's almost a cliche to say that we are drawn to the monsters not because they are different, but because of what they reveal about ourselves. Werewolves are really sort of a Jekyll and Hyde story on steroids. We all have that stuff that we try to keep bottled up, and we fear that it might explode sometimes. We fear the loss of control. Maybe these stories help us to understand and embrace it.
Or maybe I just talk too much. Never dismiss that possibility.
TFAW.com: Are you and Patricia planning to bring the other books in her Alpha & Omega series to comics?
DL: I have a hard time imagining not working with Patty. She's a great writer and a better person. I can't imagine her characters not having a bright future in comic books and I hope to be a part of that for a long time.
We want to thank David for taking the time to answer all of our questions. You can pre-order Patricia Briggs' Alpha & Omega: Cry Wolf comics here at TFAW.com and save 20%! Plus, stay tuned to our exclusive interview with Cry Wolf artist Todd Herman this Friday, in which he shares some behind-the-scenes details, including his original character designs!

PRE-ORDER PATRICIA BRIGGS' ALPHA & OMEGA: CRY WOLF AND SAVE 20%

VISIT OUR DYNAMITE MONTH PAGE
Are you a Patricia Briggs fan? Are you excited to see Cry Wolf in comic-book form? Post your comments below!
Please follow and like us: