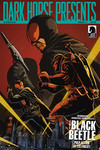 As part of our monthly Product Review Contest, we've picked three reviews and are awarding $25 gift certificates to the people who posted them.
Bill from Mansfield, MA is the first of this month's winners. He wrote some really thoughtful reviews last month, but the one that caught our eye was for Dark Horse Presents #11:
A good anthology book is hard to find these days but Dark Horse Presents never fails to deliver. It offers up stories from a variety of genres so you're always bound to find something you absolutely love while being introduced to stories you may not have otherwise tried.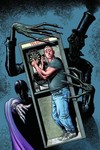 Luke from Enterprise, OR also wrote a couple of reviews last month. His review of Dial H #1 caught our eye:
The legendary Mieville makes the leap into comic books and lands neatly bringing his own niche of "New Weird" fantasy imaginatively into the graphic medium. The shifting hero concept is great. The first is no dissapointment.
The book is a neat mix of noir and steampunk, with a potential for so much more. The designs from Mieville's mind to Santolouco's translation are fitting and epic. Very cool stuff going on here. Small complaint is that the characters are not as three dimentional (metaphorically speaking, although 3d book from Mieville would be a trip). Overall this should go in your buy pile if you like Steampunk, Noir, or a little bit of weird in your life.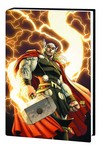 Once you see Matheus' review of J. Michael Straczynski's Thor Omnibus HC, you'll know why we picked his review. Here's what he had to say:
At the time of Avengers Disassembled, was screwing Thor in Asgard, and experiencing the dreaded Ragnarok the gods, in a difficult decision he broke the cycle and made the Asgardians not come back again, to finally rest in peace (actually recommend reading this arc, Oeming be writing a lot). But the gods REALLY die? Answer: no.
And with that Marvel called J. Michael Straczynski and Olivier Coipel to count the rebirth of Thor and all his supporting cast. The beginning of the work is spectacular, with the reason for the back (as long as people believe in gods, they do exist), the pursuit of Thor by his friends to bring them back (and unwittingly bringing the enemies as well), the most evil Loki ever, the conversation with Odin, the beating that the Homeric Iron Man takes, and tied amazing that the writer makes Loki: the death of Bor, the real reason for going to live in Asgard Loki and the spectacular 600th edition.
But problems began after editing 600. JMS is known to hate that interfere with their work, and then Marvel was preparing ground for Siege, and of course the main characters were the Asgardians, and the main topic of all was the fall of Asgard. Only JMS had led the gods to Latveria and did not intend to undo it anytime soon. Outside the plot would be applied Grounded in Thor (yes, really. Even make more sense). Then the author made the edits tantrum 601-603 plus Finale kinda sloppy.
It is noticed that everything was rushed, the excessive emphasis on Bill, Loki returned to its original body without any reason, he taking the Odin Force Thor (prank perhaps?), The question of the body of Sif (the original body was Loki because when she returned the body had no sign?), using the Strange as magician supreme being at that time nor was he let out all the roll of Latveria to the next writer.
Regardless of all this, the art team is wonderful, Olivier Coipel redefining all Asgard, and drawing as well as ever and still has the Marko Djurdjevic reservation. Finally, 13 issues were wonderful and 4 with a bitter taste.
Wow, what an in depth review, Matheus! Good stuff. We want to thank everyone again for sharing their product reviews last month. You guys really do a lot to help other customers each time you submit a review. Thanks for your efforts! You don't have to like the product to snag a winning review, so feel free to rant or gush.
So submit your reviews and help your fellow collectors, and us, sort out the "HOT" from the "NOT"! Who knows, you may be one of next month's winners.
HOW TO SUBMIT A PRODUCT REVIEW:
It's simple! Just visit any product page and look for this:
Click on it and our product review form will appear in a popup. Just fill out the pertinent information and submit your review, and you're done! We'll take a look at your review and get it up on the product page soon thereafter!
There's also a really easy way for you to call up everything you've ever ordered from us and review it. Simply log in to your account and go into the Order History Section. Next to each item, you'll see a "Review it!" link.
Questions? Comments? Let us know below!
Please follow and like us: