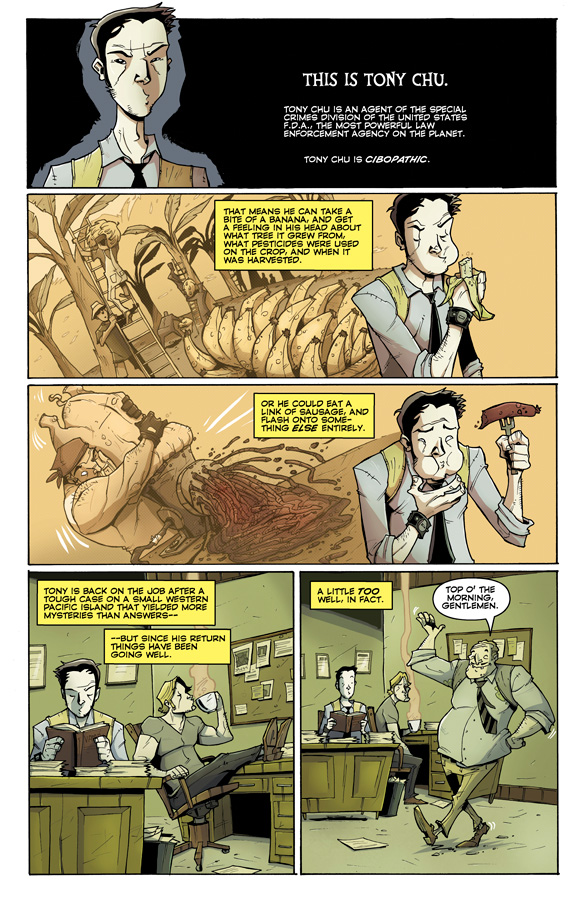 We're really excited to announce our exclusive 22-page first look preview of Chew Vol. 3: Just Desserts!
Things are looking up for Tony Chu, the cibopathic federal agent with the ability to get psychic impressions from the things he eats. He's got a girlfriend. He's got a partner he trusts. He even seems to be getting along with his jerk boss. But his ruthless ex-partner is still out there, operating outside of the law, intending to make good on his threats against Tony and everybody Tony cares about. It's just a matter of time before their investigations collide, blood spills and—inevitably—body parts are eaten.
You gotta check out this comic series about cops, crooks, cooks, cannibals and clairvoyants (which also won the Eisner Award for Best New Series this year, BTW). It's definitely my favorite ongoing series right now.

CHECK OUT OUR EXCLUSIVE 22-PAGE FIRST LOOK PREVIEW
Please follow and like us: