Capitalizing on the success of its newest blockbuster, Marvel has given Groot the starring role in his own comic with I Am Groot #1. Like in Guardians of the Galaxy Vol. 2, Groot is not a full tree; instead, he is an adorable adolescent twig. Unfortunately, his maturity matches his size, and this causes him to get in the way of his fellow guardians. To make up for it, the anthropomorphic tree tries to help. However, he ultimately fails, leaving him stranded at the other end of the galaxy.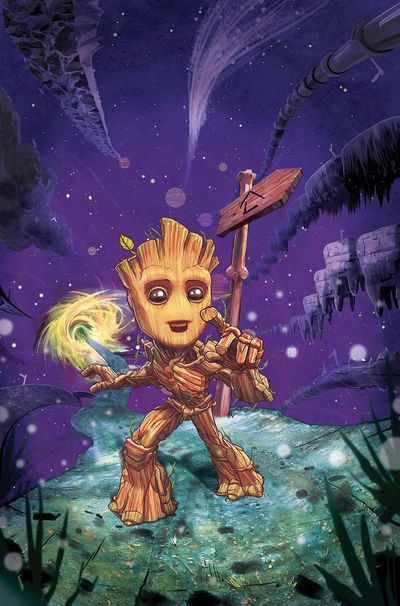 I Am Groot #1 Features a Strong Creative Team
Writer Christopher Hastings wisely includes Groot's teammates in the comic. This addition means that we aren't constantly inundated with "I am Groot" – though there's plenty of that. The comic also features new characters as well. One such character is Buddy, a dog-like creature that Groot meets on the other side of known space.
Flaviano provides the gripping otherworldly artwork. He gets to show off his skills with a variety of scenes ranging from the close confines of a spaceship to the vastness of space to some pretty funky alien landscapes.
However, it's colorist Marcio Menyz who really shines in this inaugural issue. Menyz showcases his considerable talent in the space scenes. Some of the standout colors include the glow of rocket engines and interstellar phenomena illuminate the pitch blackness of space. With colorful characters like Gamora, Rocket Raccoon and Drax, Menyz has a broad pallet to work with.
I Am Groot #1 is only the first chapter of a larger story that hopefully reunites our wooden character with the rest of his team. It's a story well worth reading and is highly recommend for fans of the character.
I Am Groot #1, Marvel Comics, Released May 24, 2017, Written by Christopher Hastings; Art by Flaviano; Colors by Marcio Menyz; Lettering by VC's Joe Caramagna; $3.99.
Please follow and like us: