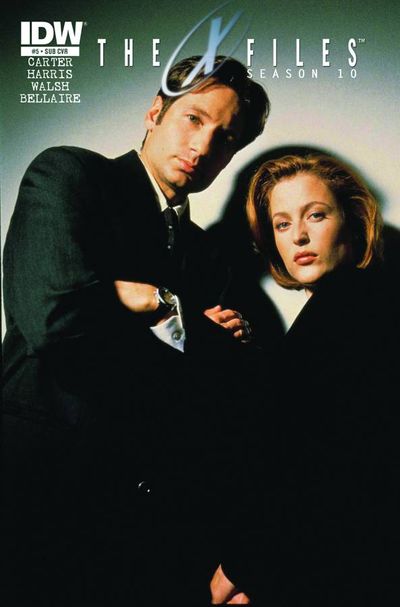 Since The X-Files television show ended in 2002 after nine seasons, millions of fans have wanted to believe it could somehow continue. This fervor for the beloved FBI team of Dana Scully — the skeptic — and Fox Mulder — the believer — and their paranormal investigations have led to two movies (with a third hinted at during New York Comic Con), and now IDW's popular The X-Files Season 10 comic book series, written by Joe Harris (Great Pacific, Fury of Firestorm).
As part of Horror Month, we sent Harris our questions about working on the X-Files, Scully's son William's true parentage, and what's coming next.
WARNING: IMPLIED NUDITY IN IMAGES BELOW. MAY NOT BE SUITABLE FOR READERS UNDER 18.
Enjoy Harris's in-depth responses below, as well as an excellent five-page preview of X-Files Season 10 #6, out November 20.
TFAW: How does it feel to have been given the reins to The X-Files?
Joe Harris: It's been exciting. A little scary and intimidating, to start, but mostly cool at the moment. I try to just go with it and not psych myself out. It's amazing to have gotten to do this, I'll be honest with you.
TFAW: What's your personal history with the show?
JH: I was, I think, right in the prime demographic when the show debuted back in the early 1990s. My brother and some friends got onboard first, and eventually, I relented and started tuning in. The X-Files kept us all company on some lonely teenaged Friday nights. By the time the show really started taking off and finding a broad audience, along with a choice Sunday night time slot, I was in deep.
TFAW: How have Mulder and Scully changed, since the TV show and the movies?
JH: Well, they've got some experience on them. They've been through the wringer, like, 10 or 20 times, and they're aware of what they're up against, in the actual and the broader, overall landscape.
TFAW: What advice, if any, has Chris Carter had for you?
JH: He reminded me that the "science" — meaning the scientific explanation Scully would end up going to when she and Mulder were confronted with whatever paranormal situation happened to be on tap that week, had to be sound. And then he recalled the simple, obvious but essentially crystal clear paradigm the show followed — that Scully has to have reason to be convinced that something paranormal is not going on, and that the paranormally inclined Mulder is always right, in the end.
TFAW: You've got the first arc under your belt now, with the conclusion of "Believers" in X-Files Season 10 #5. Are there any differences to how you're plotting and writing the next one?
JH: I feel like we're rolling a bit now. In terms of story, we've re-set the table and can operate with a foundation under us that's directly comics-based. And so far as writing these characters goes, I think I've got a good read on Mulder and Scully. Going into this, I was drawing on the television episodes for backmatter and research. But they've got new experiences we're going to be building off of too now.
That said, I'm still doing tons of research, shuttling through the shows and films for backmatter and inspiration.
TFAW: As a fan, is there a scene you're just dying to write?
JH: Oh hell yes. As I'm always scanning through old episodes, I make note of little hooks and references that might later work their way into a Season 10 story and cement us a little more within the mythology.
There's a lot I'm looking into right now, and I really don't want to reveal and spoil anything here. But I can give you two examples of moments and bits that would ring some bells with the fans, and which I really want to illustrate as either the center of an upcoming issue, or in a scene somewhere down the line, etc.
The first involves Mulder's trip to a Washington, DC "head shop," as mentioned in the Stephen King co-written episode, "Chinga," where he ends up buying the iconic "I Want To Believe" poster that hangs on his basement office wall. I mean, can you imagine Mulder browsing through the bongs and glass pipes before he gets to the blacklight posters and patchouli?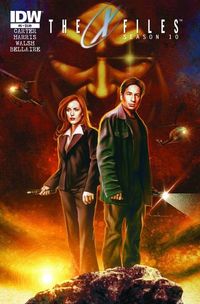 The other involves Monte Propps, the killer who was the subject of young Fox Mulder's famed work as a profiler before founding the FBI's "X-Files" division, and who was mentioned in the very first episode of the show. I'd like to expand and expound upon that bit of lore a little at some point, too.
And I'd love to show more of Mulder and Scully's past, at some point, if it works within the context of what we're doing in the present.
TFAW: How large will Scully's son William figure in the overall series?
JH: I read this question a couple times thinking, at first, you were asking me how big he was these days!
It's all a mystery, wrapped in a puzzle, inside of an enigma. William is, obviously, a core concern for Mulder and Scully — for Dana, especially. And the events of our opening "Believers" arc didn't do anything to lessen that.
But William is also a dear concern for Chris Carter, and I know he has business he wants to get to on that front, himself. So we're touching upon things where appropriate, and when expected . . . but we're being careful for other, very cool reasons too.
TFAW: Are we going to get a definitive answer about his "true" parentage?
JH: You sound like my Twitter feed! See above. 🙂
TFAW: The X-Files has always been an fantastic blend of horror and sci-fi. What are your personal influences in those genres?
JH: I'm a huge horror and sci-fi nerd. I've written a few horror movies and directed a few short films of my own, having grown up on a steady diet of John Carpenter and Friday the 13th sequels and all sorts of other influences. I am a Richard Matheson junkie and a Rod Serling lover, too.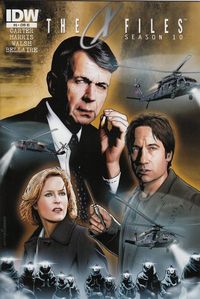 TFAW: Can you give us any hints about the alien invasion, or whatever else is coming next?
JH: If I told you about "the alien invasion" Chris Carter would excommunicate me . . .
But I can tell you that we've got lots of hooks and permutations of the X-Files "Mytharc" to explore, and new conspiracies to dig into. Lots of old friends, enemies, and characters difficult to classify as one or the other will be returning . . . some in unexpected ways, with motivations and secrets that keep this a forward-leaning series, rather than just a trip down memory lane.
We've got everyone's favorite monster, Flukeman, returning in a two-part sequel to the immortally beloved Season Two episode "The Host" beginning in issue #6, and Mulder's mysterious informant "X" makes a return from beyond the grave in issue #8.
Issue #9 is going to spotlight our first original "Monster of the Month" that I'm super excited to reveal. It's going to be a pretty creepy experience, I can promise you that.
After that, we're going to expand on the presumed history of everyone's favorite nicotine addict a bit, both as a love letter to one of my favorite episodes, "Musings of a Cigarette Smoking Man," as well as an uncovering of some new details regarding the mystery of CSM's reappearance in the pages of The X-Files: Season 10.
And all of this will propel us toward the next big, shocking multi-part storyline beginning in issue #11.
Our thanks to Joe Harris for answering all of our questions! You can find The X-Files Season 10 comics and graphic novels right here at TFAW; save 10-20%

BROWSE X-FILES COMICS AND GRAPHIC NOVELS
Are you excited about The X-Files Season 10? Post your comments below!
Please follow and like us: