Our New Comic Book Day got cloned! With a new series from Vertigo, and a super spy. As always these are only a few comics to come out this week Check out our other blog articles so see our thoughts on other books. Be sure to comment or share our post on Facebook or Twitter if you like our articles!
SPOILER ALERT — We try to keep from posting spoilers, but one may sneak through to our reviews now and again. Read with caution, true believers.

Clone Conspiracy Omega #1
By: Peter David, Christos N. Gage, Dan Slott, Mark Bagley, Stuart Immonen, Cory Smith
As the Clone Conspiracy event winds down, it's clear that Spider-Man's life will never be the same again. With the Jackal's clones breaking down across the world, friend and foe alike are suffering from grief and despair. Clone Conspiracy Omega #1 does an excellent job at showing the pain that Peter feels. Especially with the promises he made that he couldn't keep.
Writer Dan Slott provides an emotional ending to this saga. All while threading in some teasers for future stories involving Rhino, Kaine, and The Lizard. The issue features two small back-up stories. One story leads into Ben Reilly Scarlet Spider #1, and the other is a teaser for Amazing Spider-Man #25. Clone Conspiracy Omega #1 is a must-read comic for fans of this arc and provides a satisfying conclusion to this tale. [Josh P. at TFAW.com]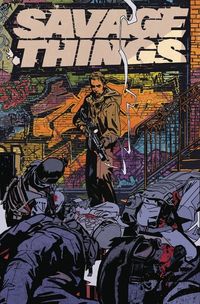 Savage Things #1
By: Justin Jordan, Ibrahim Moustafa, Jordan Boyd, John Paul Leon
This brand new mini-series from writer Justin Jordan, inker Ibrahim Moustafa, and colorist Jordan Boyd; Savage Things is about a covert team trained to do nothing else but kill, and never be caught. So what could go wrong? Well, it looks like someone is trying to expose the truth.
It's an interesting breakdown from past to present in this issue. The first page introduces you to who I can only assume is our "hero". Then jumping to the present we're given the gruesome scenario I've been a fan of Ibrahim for a while now, and Justin Jordan's stories have always been a great read. This covert-team-gone-rouge scenario should be a wild ride. [Martin M. at TFAW.com]
James Bond – Black Box #1
By: Ben Percy, Rapha Lobosco, John Cassaday
James Bond #1 from Dynamite Entertainment is an exciting new entry in the James Bond series. Writer Benjamin Percy, known for his work on Green Arrow and Teen Titans, is joined by artist Rapha Lobosco to create a story that thrusts Bond into the 21st century. In "Black Box Part 1", Bond is attempting to stop a data breach that could put a cavalcade of secrets online. However, while Bond is hunting down the source of the breach, a mysterious assassin is also hunting him.
The action is as gripping as the story, as Lobosco's action scenes are both exciting and easy to follow. Percy does an excellent job capturing Bond's voice, and you'll likely read his lines in the voice of your favorite Bond actor. The only downside about this new James Bond comic from Dynamite Entertainment is having to wait another month to get the next chapter. [Josh P. at TFAW.com]
What did you think of these books? What should we review next week? Let us know below!
Please follow and like us: