Four comics reviewed this week and all are team-ups! Remember these are only a few comics that came out THIS WEEK! Check out our other blog articles so see our thoughts on other comics. Be sure to comment or share our post on Facebook or Twitter if you like our articles!

DON'T FORGET: SAVE ALL MONTH LONG WITH OUR WE LOVE COMIC BOOKS MAY SALE
SPOILER ALERT — We try to keep from posting spoilers, but one may sneak through to our reviews now and again. Read with caution, true believers.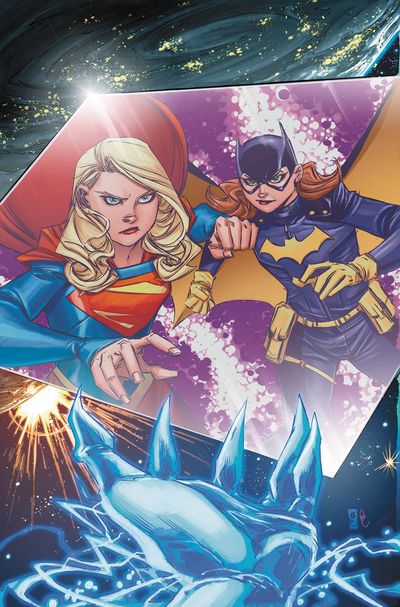 Supergirl #9
By: Steve Orlando, Brian Ching, Michael Atyeh
Escape from the Phantom Zone Part One kicks off an arc that I've been dying to see since Rebirth started. A Barbara Gordon and Kara Danvers team up.
The concept is simple. The Tychotech company in National City is unveiling a new clean energy concept to the world. As Supergirl, Kara has been invited due to her attachment to the technology used. Of course, something goes wrong and the machine goes haywire sending Barbara's friend Ben into the Phantom Zone. Naturally, Batgirl and Supergirl head into the Phantom Zone to find him and get him out.
Writer Steve Orlando did pull off something that I didn't see coming. The villain who turned-on the machine was Magog, who hasn't made a ton of appearances (that I'm aware of) since Kingdom Come. Brian Ching does a good job with this world and has since Rebirth started. Michael Atyeh's colors are perfect for any "Super" book: Nice and bright. [Martin M. at TFAW.com]
MISSED OUT ON THE FIRST 6 SUPERGIRL ISSUES? PICK UP VOL 1 AND GET CAUGHT UP!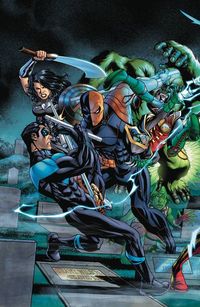 Titans #11
By: Dan Abnett, Brett Booth, Benjamin Percy, Mike McKone
Since the beginning of Rebirth, Titans has always stood at the center of it all thanks to Wally West, the one hero who kickstarted this whole event. With Titans #11 and the first chapter of The Lazarus Contract, Wally and the rest of his team find themselves set to change the DC Universe yet again.
Like all great Titans stories, Titans #11 centers on Deathstroke, who seeks to bring his son back from the dead. Slade believes the key is through Wally West and time travel, which could have potentially devastating effects on the already fragile state of the universe. In particular, the last page of this comic will shake things up in a big way for both the Titans and Teen Titans.
Titans #11 is the start of yet another exciting mini-event for DC Comics and looks to shake everything up once again. The superstar writing team of Ben Percy, Dan Abnett, and Christopher Priest are well on their way to knocking this one out of the park. [Josh P. at TFAW.com]
DON'T MISS AN ISSUE OF THE LAZARUS CONTRACT!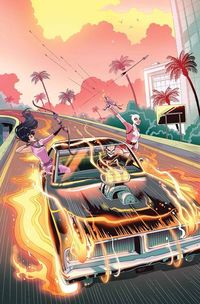 The Unbelievable Gwenpool #15
By: Christopher Hastings, Myisha Haynes, Paulina Ganucheau
Weird team-ups! Hijinks! 4th-wall breaking! It's all here in The Unbelievable Gwenpool! This whole series is nothing but obscure adventures and breaking the 4th-wall, and no surprise, it's been awesome.
Gwenpool's friend is trapped is a gem, and she's working with Hawkeye (Kate Bishop) to help free him. Well, first she's got to get her friend back from Ghost Rider, then save him from the dwarves that want the gem. Then, she has to somehow get him out, all while Ghost Rider does his thing and Kate Bishop a.k.a. Hawkeye, just shoots arrows.
This is a really fun series that you can't take seriously at all: It's zanier than good ol' Deadpool. Less blood and guts, but more wacky fun. [Martin M. at TFAW.com]
SHE'S UNBELIEVEABLE AND NOT OF THEIR WORLD, PICK UP THE ADVENTURES OF GWENPOOL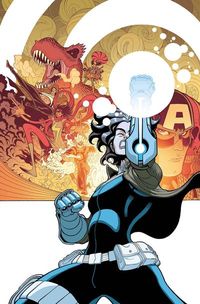 Secret Warriors #1
By: Matthew Rosenberg, Javi Garron, Tradd Moore
i>Secret Empire #1 revealed a shocking truth about the state of the Hydra-controlled world: Inhumans were being rounded up into camps. While this is only touched on briefly in that book, Secret Warriors #1 dives headfirst into the subject.
Writer Matthew Rosenberg assembles a dream team of Inhumans for this latest incarnation of the Secret Warriors, including Ms. Marvel, Moon Girl and Quake. The comic features equal amounts mystery, suspense, drama, and action, and Rosenberg nails all of it. Artist Javi Garron does a fantastic job bringing the characters to life.
If you've read the solicits for Secret Warriors, you won't find any surprises in this book. However, if you're following Secret Empire #1 or you're a fan of the Inhumans, I highly recommend this book due to its strong writing and the impact it's going to have on Secret Empire as a whole. [Josh P. at TFAW.com]
What did you think of these books? What should we review next week? Let us know below!
Please follow and like us:
It's review time for NCBD. This week we're looking at an interdimensional team-up, IDW's Deviation of Orphan Black and finding out where the Inhumans go from here. As always there are only a couple of books to come out this week. Make sure to check out our other blog articles to see our thoughts on other books. Be sure to comment or share our post on Facebook or Twitter if you like our articles!
SPOILER ALERT — We try to keep from posting spoilers, but one may sneak through to our reviews now and again. Read with caution, true believers.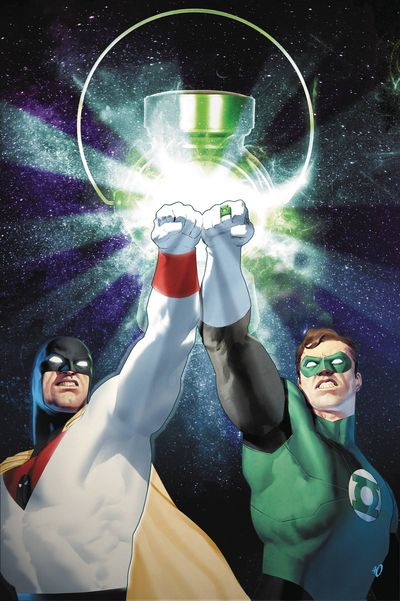 Green Lantern and Space Ghost
By: James Tynion IV, Christopher Sebela, Howard Chaykin, Ariel Olivetti
Green Lantern and Space Ghost is a concept that flows together so well that it's surprising a crossover hasn't been attempted before this comic. Both heroes are space cops, both wield weapons of great power, and both are continually motivated to do the right thing. In Green Lantern / Space Ghost #1 from DC, both heroes meet for the first time in a story that is out of this world.
Written by James Tynion IV and Christopher Sebela, the story follows the familiar tropes of any superhero team-up: The heroes meet, fight, resolve their differences, and team up to stop a larger enemy. While classic GL and Space Ghost villains like Zorak and Larfleeze make brief appearances, the plot and action revolves around completely new characters and villains created just for this story. The artwork by Ariel Olivetti is outstanding, bringing the action on the page to life in stunning detail.
While the main story is an all-ages affair, the back-up story featuring Ruff N' Reddy skews slightly more adult in its tone, so parents buying the book for their children will want to keep that in mind.
If you've grown up with both Green Lantern and Space Ghost, this team-up is a dream come true and one that longtime fans will appreciate. If you're new to these characters, Green Lantern / Space Ghost #1 serves as a great introduction to them. No matter which group you fall into, this story is a blast to read. [Josh P. at TFAW.com]
If you like this book, you'll love the current Green Lantern comics!
Orphan Black Deviations #1
By: Heli Kennedy, Wayne Nichols, Cat Staggs
"Hey! You got Orphan Black in my Butterfly Effect." Or is it the other way around? Orphan Black: Deviations #1 asks the question: What would happen if Sarah had saved Beth, instead of watching her die?
Set in the very same moment the show kicks off, Deviations will be a familiar tale for show watchers, but with distinct differences. On the show, Sarah witnesses the death of a woman who looks just like her, which sends her down a path of self-discovery; the comic sends her down the path of having saved her life instead. Writer Heli Kennedy takes on the difficult task of re-writing a story the fans are familiar with while making it fresh and unpredictable. As it turns out, Beth being alive changes quite a bit in this award-winning series, keeping favorite moments intact but with small tweaks and quirks. Artist Wayne Nichols does a phenomenal job of keeping the clones distinct without the benefit of actress Tatiana Maslany's mannerisms and vocal shifts. Drawing directly from the color palette and costume design of the show, the art will instantly transport you back to season 1, with some new tricks.
This series is set at a much faster pace than the show, which will please the familiar but may alienate those new to the series. What's old is new again, and nobody is safe in this alternate timeline tale. Maybe even a few new clones will show up… [Adam B. at TFAW.com]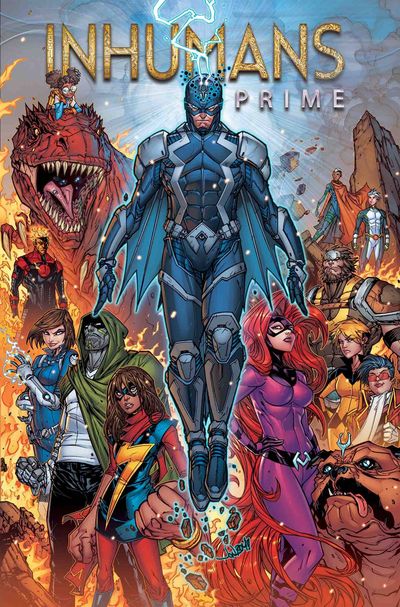 Inhumans Prime #1
By: Al Ewing, Ryan Sook, Jonboy Meyers
If we're being honest, I've never been a fan of the Inhumans. I know of them, I even like some of them, but as a group who was attempting to displace the X-Men? No thank you. Despite all of Marvel's efforts to get me to read them, I simply refused. Now with Marvel attempting to make the Inhumans their own unique group once again and not a replacement for mutants, I figured there was no better time to give the group a try than with Inhumans Prime #1.
Wow, I wish I checked out the Inhumans a lot sooner.
Inhumans Prime #1 does an excellent job of introducing the reader to a wide array of Inhumans and their powers. The book focuses on familiar Inhumans, such as Black Bolt and Ms. Marvel, and new ones such as The Reader. While new readers may find themselves a bit lost in the events that transpire in this book (I had to look up a few things during my read), writer Al Ewing does an excellent job positioning the Inhumans up for a new status quo. I loved every page of it.
With a big reveal at the end, the book is the perfect set-up to Marvel's newest slate of Inhumans titles, including Royals and Black Bolt. I know I'll definitely be adding all Inhumans titles to my pull list ASAP, as well as checking out past stories like the Karnak TPB. If you're an Inhumans fan, this is a must-read book, and if you're like me and have been on the fence about the Inhumans for awhile, I strongly encourage you to check this book out. [Josh P. at TFAW.com]
After reading it, make sure to preorder a copy of Royals and Black Bolt to continue the story!
What did you think of these books? What should we review next week? Let us know below!
Please follow and like us: