This week for New Comic Book Day, we're kicking things off with Jean Grey's long-awaited solo series and a return to DC's Injustice universe. Only two books this week because we're busy prepping for our biggest Free Comic Book Day yet!
As always, this is just a sample of the new books out this week; you can check out everything that came out this week on our website.
Check out our other blog articles so see our thoughts on other books. Be sure to comment or share our post on Facebook or Twitter if you like our articles!
SPOILER ALERT — We try to keep from posting spoilers, but one may sneak through to our reviews now and again. Read with caution, true believers.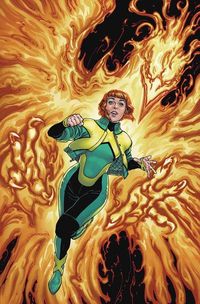 Jean Grey #1
By: Dennis Hopeless, Victor Ibanez, David Yardin
I've always thought that Jean Grey should have her own solo series. Out of all the X-Men, Ms. Grey has always dealt with a host of issues that were generally underexplored in the core X-Men books. In Jean Grey #1, writer Dennis Hopeless gets the chance to give Jean Grey the spotlight and a story that dives into her mind.
Throughout the book, we see Jean Grey struggle with the legacy her older self left behind, namely in terms of the Phoenix. We also see her other struggles, such as being the only female on a team of men and what it means to be a hero. The inner monologue of Jean Grey presents the character in a new light, and Hopeless captures her voice perfectly.
The book isn't all narrative, as Jean Grey faces off against 3/4 of the Wrecking Crew. The art from Victor Ibanez captures the action perfectly.
If you're a fan of the X-Men comics, Jean Grey #1 is a must-read book. Without spoiling anything, I'm positive that this book is going to end up being a game changer for Jean Grey and have repercussions for the larger X-Men books. Without a doubt, this is my pick for book of the week. [Josh P. at TFAW.com]
Injustice 2 #1
By: Tom Taylor, Bruno Redondo, Juan Albarran, Jim Lee, Scott Williams
The Injustice series by Tom Taylor was one of DC's biggest surprises in recent years. Writer Tom Taylor took a simple video game tie-in series and turned it into one of the greatest Elseworlds stories that DC has ever told. With Injustice 2 on the horizon, Taylor is back to pen the tie-in series of the same name.
The Injustice 2 comic tells the story that takes place between the first and second games, which means Taylor is free to explore characters and ideas that won't show up in the game itself. One such idea is Amanda Waller and Suicide Squad, an idea that quickly turns violent much earlier than you'd expect.
Tom Taylor and a collection of artists such as Bruno Redondo are off to a great start with Injustice 2 #1. If they can keep this pace up, DC will have another huge success on their hands. [Josh P. at TFAW.com]
What did you think of these books? What should we review next week? Let us know below!
Please follow and like us: