This week for New Comic Book Day, we're kicking things off with the fantastic Aliens: Dead Orbit, just in time for Alien Day! However, that's not all we've got for you as this week also brings us Old Man Logan fighting through space and time and a coming of age Supergirl story.
As always, this is just a sample of the new books out this week; you can check out everything that came out this week on our website.
Check out our other blog articles so see our thoughts on other books. Be sure to comment or share our post on Facebook or Twitter if you like our articles!
SPOILER ALERT — We try to keep from posting spoilers, but one may sneak through to our reviews now and again. Read with caution, true believers.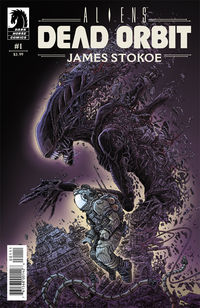 Aliens: Dead Orbit #1
By: James Stokoe
Gonna be upfront and honest here. I've been looking forward to this before any artwork was shown. Knowing James Stokoe from his other works, like Orc Stain and Godzilla – Half Century War, I knew this was going to be a fest for the eyes. I love Stokoe's style. That high color and tiny scratchy detail make it a pleasure to look at. It's also good that he's an excellent storyteller.
This is a new cast of characters on a new ship above a new planet, which makes it an easy jumping on point for anyone. Even if you've never seen Ridley Scott's classic Alien film, you can still buy this comic and enjoy it. Although watching the film will help in understanding the horror of these creatures, it's not a necessity.
From this first issue, Dead Orbit looks to be an exciting slow-paced thriller. We all know what the Xenomorphs are capable of. We know what they can do, but can you watch while someone else finds out? [Martin M. at TFAW.com]
LOVE THE ART LIKE I DO? CHECK OUT ALL OF JAMES STOKOE'S OTHER WORK