This week's NCBD reviews include Greg Rucka's new series, Captain America's lies, and Serenity. As always theses are only a few books that came out this week. Check out our other blog articles so see our thoughts on other books. Be sure to comment or share our post on Facebook or Twitter if you like our articles!
SPOILER ALERT — We try to keep from posting spoilers, but one may sneak through to our reviews now and again. Read with caution, true believers.

Captain America Steve Rogers #12
By: Nick Spencer, Jesus Saiz, Javier Pina, Paul Renaud
Man, do I need to go back and re-read these past 12 issues. THere is a lot coming out of this. Like the cover says Taskmaster knows Steve's secret, and he wants to cash in with S.H.I.E.L.D.
This series has been pretty controversial, and it's easy to see why. But man, is it a compelling story. If you haven't been reading Nick Spenser's Captain America: Steve Rogers because of that HUGE drop in the first issue, I can tell you that this will be a story arc told for ages!
My favorite part of this issue was reading Steve's memories during WWII. It really puts a spin on what we've known and what he believes happened. [Martin M. at TFAW.com]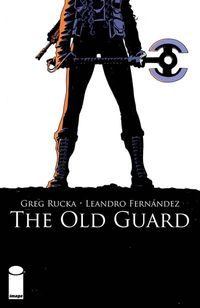 The Old Guard #1
By: Greg Rucka, Leandro Ferndez
A brand new series of Greg Rucka, The Old Guard tells the tale of a small team of men and women who cannot die. Set in our time they seem to be coping in their own way. In this issue, our protagonist is Andy, a hard-headed leader who ok's a mission to save school girls who were kidnapped. Of course, this is issue 1, and things are never so simple.
In a world of technology, it will be hard for Andy and her team to keep their secret hidden.
Greg Rucka again pulls out all the stops for this new series. He proves again why he is on my top 5 writers list. In this short time with these characters, I've already grown attached to them and can't wait to see where this goes.
Leandro Frenández does a fantastic design job with fading panels to emanate lighting, and even how Andy's axe is stored, it's the only panel but it looks so cool. Daniela Miwa's colors fit it so well. Do yourself a favor and don't miss this series! [Martin M. at TFAW.com]
CHECK OUT GREG RUCKA'S OTHER SERIES LAZARUS FOR ANOTHER STRONG READ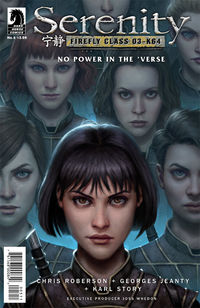 Serenity: No Power in the 'Verse #5
By: Chris Roberson, Georges Jeanty, Karl Story, Wes Dzioba, Dan Dos Santos
River and Iris are being held captive by Operative Kalista, who is ready to turn them back into Agents of the Alliance. This reader doesn't reckon that Mal will take to kindly to losing these girls once again to who knows where. I'm sure Mal has a plan, it ain't likely to be a good one but it will likely get the job done – messy like. Check out Issue #5 of No Power in the 'Verse. [Angela G. at TFAW.com]
What did you think of these books? What should we review next week? Let us know below!
Please follow and like us: