Mass Effect: Discovery #1 is one of the most anticipated comic releases of the year. This comic promises to dive deeper into the Andromeda Initiative introduced in March's Mass Effect: Andromeda video game. Dark Horse is no stranger to Bioware's many video game worlds, but this is one the most promising storylines in their partnership. The first issue alone delivers on several of the promises made to fans during the initial production of the game. Namely, it uncovers significant dangers lurking in the Initiative's long cast shadow.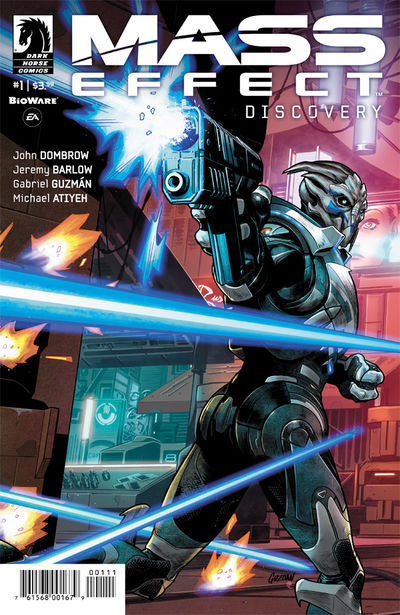 It comes as no surprise that this story is compelling when you look at the creative team bringing it to life. John Dombrow, lead writer for both Mass Effect 3 and Mass Effect: Andromeda, has written a story that ties heavily back into the events of Andromeda. Artist Gabriel Guzman illustrates the comic, subtly luring readers back into the Mass Effect universe. He does this through incredible images that seamlessly recreates the iconic imagery of the games. His attention to detail hints at deeper connections to the greater Mass Effect storyline.
Mass Effect: Discovery #1 Contains a Compelling Story
The story itself is mostly told in flashback. The reader meets a side character from the game, Tiran Kandros, as he is reeling in the aftermath of a battle. Kandros, who is the leader of Nexus' militia in Andromeda, is a much more significant character than the game would have you believe. While Tiran is just another NPC in the game, this comic shows us how he is so much more.
Iran is a spy, infiltrating the Andromeda Initiative through the Nexus colony. The player only receives a few tidbits of information about Tiran's life from before you meet him in the game. However, this comic blows apart any banal conceptions a player might have had of him. Despite his background role in the game, as the comic unfolds, it's clear that Tiran is one of the most integral characters in the story of Andromeda. Through Tiran, we glimpse into not only the Turian perspective on the Initiative, but the resistance against it as well.
Mass Effect: Discovery hits the shelves Wednesday, May 24th. Make sure to grab a copy at TFAW.com and don't miss the beautiful variant cover by artist Kate Niemczyk. Until then, guys, keelah e'lai.
Check out all of our Mass Effect products!
Mass Effect: Discovery #1, Dark Horse Comics, Released May 24th, 2017. Written by Jeremy Barlow and John Dombrow, Art by Gabriel Guzman, Cover by Michael Atiyeh. $3.99
Please follow and like us: