–UPDATE: YOU CAN VOTE FOR YOUR FAVORITE ONCE PER DAY NOW THROUGH 1/14/16!–
As we look forward to the new year, we want to stop and remember the great books that were released in 2015. What follows is the second in a series of five Best Comics of 2015 pieces we'll be posting through January 6. Missed Part 1? Check it out here. Starting January 7, you'll have the opportunity to weigh in and help us crown the Best Comic of 2015!
Marvel Comics is home to Jessica Jones, the Hulk, Spider-Man, Captain Marvel, and a host of other amazing characters. With millions of fans worldwide and decades of quality storytelling under its belt, the publisher is the largest comic book company in the United States.
The Best of Marvel Comics (in no particular order):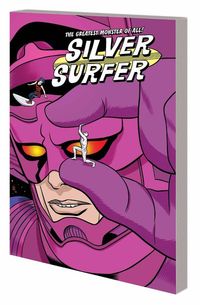 Silver Surfer
By: Dan Slott, Michael Allred, Laura Allred, Joe Sabino
The new Silver Surfer series by Dan Slott, Michael Allred, and Laura Allred has been a complete delight. I've been in love with this series from day one. You tell me that the Allreds are working on an ongoing story and I'm on board, but add in Dan Slott's characteristic wit and you know you're in for a great ride.
The aspect of this series that really shines is that Slott grounds the cosmos-spanning series by pairing Norrin Radd with a loveable companion, Earth's Dawn Greenwood. We get to discover the universe alongside Dawn, and marvel at the enormous power of the Surfer. Slott gives us exactly what we want in the form of Galactus, and as tensions rise, we see the greatness of his storytelling — but you'll have to read the book to find out what I'm talking about.
Like I said, the Allreds are tremendously talented, and I couldn't think of a better artistic pairing that would result in a light-hearted, fun series. If you're a fan of Doctor Who, trust me when I say you'll LOVE this series. Lucky for us, a new story begins in January when Slott, Allred & Allred take us on a new/continuing journey. [Josh C.]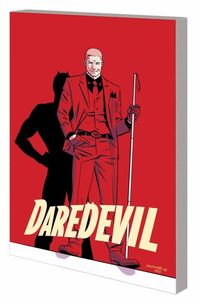 Daredevil
By: Mark Waid & Chris Samnee, Charles Soule & Ron Garney
This was a big year for Daredevil, what with the series debut back in April, and the end of Mark Waid & Chris Samnee's amazing 58 issue run. Then to top it off we had the return of Daredevil just last month after Marvel's Secret Wars crossover event with Charles Soule and Ron Garney as the new creative team.
I started reading Daredevil on a regular basis with Mark Waid's run. It's got that great edgy darkness in the writing that is just enough to please Miller fans. Yet, tied with Samnee's pulp style visuals, it keeps the story from being all dark all the time. Charles Soule' comics hint at the darkness found in the Daredevil television show and nods Brubaker/Benids runs. We're only 2 issues in so far but it's still got me begging for more. Ron Garney's art is definitely more in line with the Alex Maleev/Micheal Lark style, and I dig it. [Martin M.]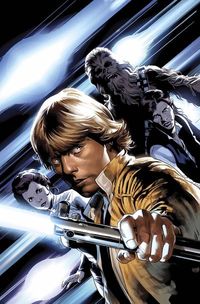 Star Wars and Vader
By: Jason Aaron, John Cassaday, Stuart Immonen, Simone Bianchi, Kieron Gillen, Salvador Larroca
2015 saw the beginning of a new era for Star Wars comics and Marvel exploded out of the gates with superstar talents Jason Aaron and John Cassaday. This ongoing series follows the exploits of Luke Skywalker in the aftermath of his destruction of the Death Star. The whole gang joins him as the Rebel Alliance continues to fight against the Galactic Empire! With a classic mix of action and lighthearted moments, this story feels like Star Wars in every way.
As the year went on, the hits kept coming with A-list artists Stuart Immonen and Simone Bianchi going the book. Bringing Mike Mayhew and Leinil Francis Yu on deck for 2016 (and it doesn't look like Jason Aaron is going anywhere!) make it clear that Marvel is keeping Star Wars filled with top talent for the foreseeable future!
There are two sides to every story. And fans have always wanted to see the story from Darth Vader's perspective. Well, Marvel's got them covered with a story line from the Sith Lord's viewpoint in the ongoing Darth Vader comic book series. It's the entire galaxy against Vader until he makes some unlikely allies who absolutely steal the show: Doctor Aphra and her droids! These are the sadistic yet charming villains that Kieron Gillen was born to write and one look at Salvador Larroca's art will have you rooting for the bad guys! [Jeff B.]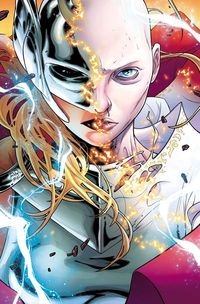 Thor
By: Jason Aaron, Russell Dauterman, Jorge Molina, Joe Sabino
You'd be hard-pressed to find a better comic book than Jason Aaron & Russell Dauterman's Thor and Mighty Thor. Talk about heroics–Aaron expertly weaves the story of Jane Foster (Thor's ex-girlfriend) as the new Mighty Thor.
She's been in the hero business ever since Marvel's Original Sin, but the team really dialed things up this year. Foster's cancer has gotten worse, and Thor's old enemies have started attacking in earnest. In the face of all of this, her grace and bravery shines through.
I'm really excited to see Russell Dauterman's art each month. He's a relative newcomer on the comics scene, but it feels like he and Aaron have been working together for decades. If you're like me, you'll find yourself enamored with Dauterman's depiction of facial expressions, the flow of lightning, and little pieces of Earth and flesh flying through the air. A truly magical series. [Josh C.]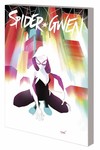 Spider-Gwen
By: Jason Latour, Robbi Rodriguez
One of the hottest new characters actually spun out of Marvel's Spider-Verse crossover (see what we did there?). When you get down to it, Spider-Gwen is a retelling of Spider-Man. Except that Gwen Stacy, got bit by the radioactive spider.
What I really enjoy and connect with here is that it's the same Parker-humor that we all love but coming from someone that we've all missed. I instantly connect with the character due to her strong ties in Spider-Man lore, while still being curious about her Earth (Earth-65 if you follow that sort of thing).
One of my favorite moments came during Spider-Verse when Spider-Gwen and Spider-Man (Peter Parker of Earth-616) meet, there is this quick but very emotional panel that really pulled on my heart strings.
This alternate Earth is one that is rich with past Marvel lore and new events that you've just got to discover. If you're looking something old, new, but maybe not red and blue, you'll want to pick this book up. [Martin M.]
Honorable Mentions:
Stay tuned to the
TFAW Blog
in the coming days as we'll be posting four more Best Comics of 2015 lists. At the end, YOU will decide which one will be crowned as the Best Comic of 2015!
–UPDATE: YOU CAN VOTE FOR YOUR FAVORITE ONCE PER DAY NOW THROUGH 1/14/16!–
Please follow and like us: