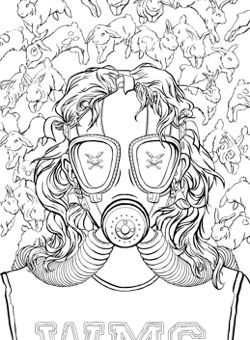 New York Times bestselling novelist Chuck Palahniuk collaborated with incredible comic book artists to create BAIT: Off-Color Stories for You to Color, a coloring book unlike any that you've ever seen.
Palahniuk invites readers to collaborate on this unprecedented hardcover edition: "Maybe between your colors, the artists' designs, and my stories we can create something that endures. Something worth keeping. Let's create a well-bound book that can sit on any shelf and be available for a new generation to discover and enjoy."
To celebrate the release of this ambitious book, we've partnered with Palahniuk for a special BAIT Coloring Contest that runs through December 12, 2016.
We want you to take some time to unplug, express your creativity, and share your talents with the world. Visit our contest page to view contest details and learn how to enter.
Extraordinary Prizes Await BAIT Contest Winners
Third Place Prize (Six Winners): Fight Club 2 Poster signed by Chuck Palahniuk.
Second Place (Ten Winners): Severed arm collectible signed by Chuck Palahniuk.
First Place (Three Winners): One of the following (to be determined at random)

Fight Club Signed Collector's Edition HC
Make Something Up: Stories You Can't Unread Signed Collector's Edition HC
Survivor Signed Collector's Edition HC
| | | |
| --- | --- | --- |
| Severed Arm Collectible | Fight Club 2 Poster | Signed Collector's Edition Hardcovers |
These are some amazing prizes, and the folks at TFAW are really jealous of the folks who will end up winning the contest. You all rock, and we can't wait to see your art!
Bonus for People Who Purchase BAIT at TFAW.com
You don't need to win the contest to get something signed by Chuck Palahniuk! For a limited time while supplies last, we will be including special gilded bookplates that are handsigned by Palahniuk! Order your copy of BAIT as soon as possible to increase the chances that you'll get one of these special copies.
TAKE A PEEK INSIDE BAIT: OFF-COLOR STORIES FOR YOU TO COLOR
ORDER YOUR COPY OF CHUCK PALAHNIUK'S BAIT
SEE BAIT CONTEST RULES AND DETAILS
Please follow and like us: