This week's New Comic Book Day Reviews brings us a quartet of books that we feel comic reader should check out. From Dark Horse we've got Black Hammer #9, Valiant brings us their next big story arc with Rapture #1, we take a trip with Peter Quill in Marvel's Star-Lord Annual #1 and DC brings us home with Detective Comics #957.
As a reminder these are only a few of the awesome comics that came out this week. Check out our other blog articles so see our thoughts on other books. Be sure to comment or share our post on Facebook or Twitter if you like our articles!
SPOILER ALERT — We try to keep from posting spoilers, but one may sneak through to our reviews now and again. Read with caution, true believers.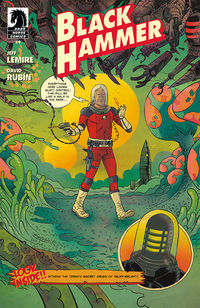 Black Hammer #9
By: Jeff Lemire, David Rubin, Dave Stewart
Black Hammer has to be one of the most exciting "Golden Age" superhero tales in a long time. As it slowly unraveling why everyone is stuck at Black Hammer Farms. Black Hammer #9 delves into how Talky-Walky and Colonel Weird met.
Distress signals in space never seem to be a good thing, unless it's meeting your best friend. It's hard to say that this issue of Black Hammer was a fun read. However, that's mainly due to what's been happening throughout the series. It was great to see how Talky-Walky and Colonel Weird met.
Jeff Lemire knows how to craft a solid story and this entry clearly shows his fondness to the golden age of comic adventures.[Martin M. at TFAW.com]
Pick up volume 1 of this Love letter to the Golden Age of Superheroes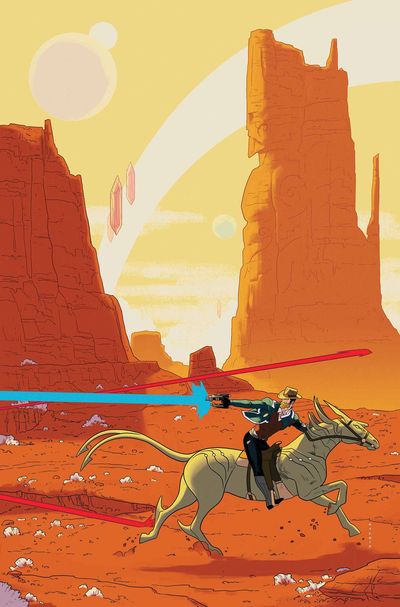 Star-Lord Annual #1
By: Chip Zdarsky, Djibril Morissette-Phan, Kris Anka
That was a fun ride. I always enjoy annuals for the small break it typically gives us from the norm. Chip Zdarsky's Star-Lord Annual #1 is no exception.
In classic Western fashion, our hero finds himself in a small town run by bullies. And we all know Star-Lord isn't a huge fan of bullies. So what does he do? Joins the Sheriff to take him and his gang down. There's more to it than that, but I don't want to spoil it. Star-Lord Annual #1 is a fun ride. While I wouldn't mind more Space-Westerns with Marvel Characters. The story here ends well and fits into where we are in the comics right now. No, this isn't any weird Secret Empire tie-in or anything like that. I will say that it does, tie into events that have transpired and this issue did leave me with a sad, but hopeful feeling. Much like great westerns do. [Martin M. at TFAW.com]
Rapture #1
By: Matt Kindt, CAFU
If you're like me and haven't read a lot of the new Valiant books, a crossover story like Rapture #1 seems a bit daunting. While I enjoy X-O Manowar, I'm not that familiar with the other fascinating characters in Valiant's stable. However, Rapture #1 by Matt Kindt is an excellent jumping on point for new readers while still offering something that longtime Valiant readers can sink their teeth into.
Rapture #1 focuses on four characters: Tama, Ninjak, Punk Mambo and Shadowman. Kindt gives each character a unique voice and the reason these characters come together is compelling. It's definitely made want to check out some more stories featuring Shadowman and Punk Mambo.
Artist CAFU knocks it out of the park, making each location feel unique. You'll feel the stench of death oozing out of the Deadside.
Rapture #1 is another excellent Valiant comic. This company continues to churn out hit after hit. If you've yet to get onboard with Valiant, Rapture #1 is your chance to do so. [Josh P. at TFAW.com]
Detective Comics #957
By: Genevieve Valentine, James Tynion IV, Carmen Nunez Carnero, Alvaro Martinez
Detective Comics #957 is something you don't often see in today's comic books: a standalone story. James Tynion IV presents us with a brief interlude between arcs with "The Wrath of Spoiler," a story that follows Spoiler (obviously).
The story that Tynion IV tells here is one that is often talked about among creators: Does just the mere presence of Batman bring about crime? Would these villains exist if they didn't have Batman to challenge them? Spoiler seeks to answer that question as she fights against an updated Wrath and Scorn, a team of villains who are looking to make a name for themselves.
The art by Carmen Carnero is refreshingly old-school in all the best ways and is some of the best art I think we've seen in Detective Comics yet.
The payoff for this story won't happen for a few months, but the surprise reveal of a forgotten Batman villain in the last few panels will have the community talking. Don't miss this issue! [Josh P. at TFAW.com]
Catch up with Detective Comics and Rebirth with our graphic novels!
What did you think of these books? What should we review next week? Let us know below!
Please follow and like us: