Coming in the first week of April for NCBD. We have X-Men Gold, Sovereigns and Shade #7. Check out our other blog articles so see our thoughts on other books. Be sure to comment or share our post on Facebook or Twitter if you like our articles!
SPOILER ALERT — We try to keep from posting spoilers, but one may sneak through to our reviews now and again. Read with caution, true believers.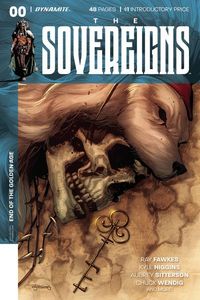 Sovereigns #0
By: Ray Fawkes, Johnny Desjardins, Stephen Segovia, Mohan, Kyle Higgins, Jorge Fornes, Chris O'Halloran, Chuck Wendig, Alvaro Sarraseca, Triona Farrell, Aubrey Sitterson, Dylan Burnett
The End of the Golden Age. Sovereigns #0 kick off a new era for the Dynamite heroes. The comic starts off hinting at the end and slowly moves backwards to give us small bits of what's to come in the series. Not only are we shown what Sovereigns will bring but what the other Dynamite series, like Mangus and Turok, will also bring.
Sovereigns #0 is split into several sections and timelines, each one giving us a taste of what's happened and what's coming next.
Sovereigns writer Ray Fawkes, along with artist Johnny Desjardins and colorist Mohan, does a great job with the set-up in the first section. Everything looks peaceful and calm until you flip the page and see the truth. [Martin M. at TFAW.com]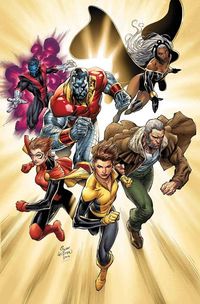 X-Men Gold #1
By: Marc Guggenheim, Ardian Syaf
After the success of X-Men Prime #1, a great deal of pressure falls on writer Marc Guggenheim to keep the ball rolling with this brand. I'm proud to say he does just that and then some.
The story in X-Men Gold #1 opens not with large amounts of exposition but with a bang, putting us directly into a fight between the X-Men and Terrax, of all people. By the second page, the book gives us almost everything the X-Men are known for, including teamwork and humor. By the end of the book, everything else the X-Men is missing is now there: prejudice, romance, softball games, and the surprise return of a group of villains that takes the X-Men back to their roots.
X-Men Gold #1 is a home run and is such a callback to the days of Claremont that you'd almost expect his name on the cover. [Josh P. at TFAW.com]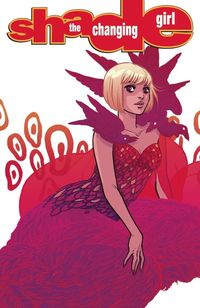 Shade: The Changing Girl #7
By: Cecil Castellucci, Marguerite Sauvage, Becky Cloonan
Billed as a stand-alone story, Shade: The Changing Girl #7 is a great jumping on point for anyone who has wanted to see what this book is all about. Fair warning: As part of the Young Animal line of comics, this is a book that is intended for mature readers only.
The story that writer Cecil Castellucii tells is a sad one, and while it involves aliens and other interplanetary forces, the core of the story will resonate with anyone. The story touches on issues such as struggling to fit into society and feeling like an outsider even among friends. It's a powerful issue with an ending that will truly make you feel for the main character. The art by Marguerite Sauvage is breathtaking and brings the story to life.
If you've yet to check out Shade: The Changing Girl #7, this is the perfect issue to jump right in. The story is well-written, the art is fantastic and it's story unlike anything else DC is currently putting out. [Josh P. at TFAW.com]
What did you think of these books? What should we review next week? Let us know below!
Please follow and like us: