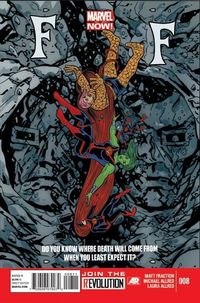 You guys have once again out done yourselves by sending in so many wonderful product reviews to choose from last month, it was nigh impossible to pick just three of you for this month's picks. However, after reading through the hundreds and hundreds of great reviews, we have hand picked three of our favorites as part of our monthly Product Review Contest. Below, you'll find out who won from June's Product Reviews. $25 TFAW gift certificates are on the way to the folks who posted them.
Paco from Tucson, AZ stopped by with his five star review of Matt Fraction and Mike Allred's FF #8 from Marvel Comics:
To quote text from a word balloon on page four of issue #8: "Wow. Never a dull moment with those guys." — Those guys, of course, being Antman, Medusa, She-Hulk and Ms. Thing. And there IS never a dull moment in this fun and subtly 1970s-infused comic book that manages to sneak in a serious blast from the distant pop culture past with the line, Thing rings, do your thing! Fun times.

Our second winner is Ash from Houston, TX. He had this to say about the Wicked & Divine #1:
I first picked out this book because the cover looked interesting, but I was surprised how much I enjoyed it. It definitely opens the door for some interesting stories to be told, and although the story in this issue is a bit predictable, the way the writers tell it makes me excited for future issues.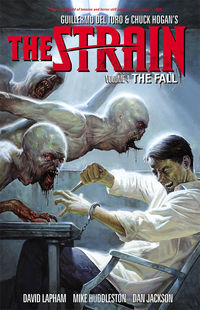 Last but not least, Kevin from Golden, CO wrote a review for Strain – The Fall Part 1 Volume 3 TPB that we had to share:
Great item excited for the next one. The rest of the story is also awesome. It also follows the books pretty well. I read the books before I got the graphic novels and I enjoyed them very much. Vol. 3 is just as good as Vol. 1 and Vol. 2. If you have these you must get Vol. 3. The color, drawings, and lettering is very good. Also, the story moves along at a great pace. Very well worth having. Get it and enjoy!

Thanks so much to everyone who wrote reviews last month. You're helping people decide what to get (or what to avoid) next.
Remember, you don't have to write a novel to win. Product reviews can be short and sweet, or highly detailed — as long as they help other customers, that's what we're looking for. So submit your reviews and help your fellow collectors sort out the "HOT" from the "NOT"! Who knows, you may be one of next month's winners.
HOW TO SUBMIT A PRODUCT REVIEW:
It's simple! Just visit any product page and look for this:
Click on it and our product review form will appear in a popup. Just fill out the pertinent information and submit your review, and you're done! We'll take a look at your review and get it up on the product page soon thereafter!
There's also a really easy way for you to call up everything you've ever ordered from us and review it. Simply log in to your account and go into the Order History Section. Next to each item, you'll see a "Review it!" link.
Questions? Comments? Let us know below!
Please follow and like us: