This week had some really strong new releases, and we wanted to highlight a few quality issues from this week's new releases that could get lost in the shuffle. Check out our other New Comic Book Day blog articles so see our thoughts on other books. Be sure to comment or share our post on Facebook or Twitter if you like our articles!
SPOILER ALERT — We try to keep from posting spoilers, but one may sneak through to our reviews now and again. Read with caution, true believers.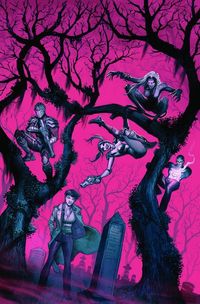 New Suicide Squad #18
By: Tim Seeley, Juan Ferreyra
Twist and Turns Ladies and Gentlemen! If you want them, the newest issue of New Suicide Squad has them. Harley delivers a whimsical yet informational recap of a seemingly pointless story. However, stick with it, it leads somewhere exciting.
This issue is rich with character development and the team sets us up for a whole new (possibly disastrous) plot. We also get to catch up with Amanda Waller and get a reminder that she is NOT TO BE TOYED WITH!
Tim Seeley delivers yet again with an issue that contains great dialogue for all and is fantastically displayed in the artwork by Juan Ferreya. [Sean W. at Milwaukie TFAW]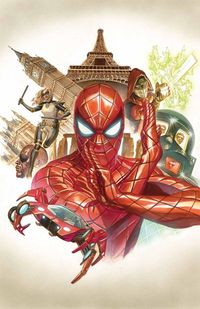 Amazing Spider-Man #9
By: Dan Slott, Matteo Buffagni
Amazing Spider-Man #9 From owning the biggest company with top notch technology to being known as the Friendly Neighborhood Spider-Man, Peter Parker has it all! Er, well almost… Unfortunately, all of Parker's successes have led to villains tracking his every move. In the previous issues, we are introduced to the terrorist group, Zodiac. They steal Peter's latest technology to hack into S.H.I.E.L.D.'s security system to find a super rare artifact. What are they going to do with this artifact? World domination of course!
This issue kicks off a new story arc in which Nick Fury and Spider-Man team up to find Zodiac's leader, Scorpio. If you really liked Superior Spider-Man, I am positive you will love this storyline. I mean after all, the same team that brought you Superior Spider-Man is doing this series! [Darcey M. at Universal TFAW]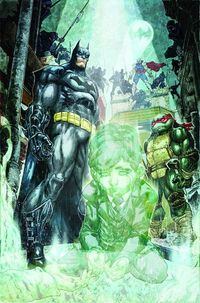 Batman/TMNT #4
By: James Tynion IV, Freddie Williams II, Jeremy Colwell
The Turtles are trying to get home, but they're up to their shells in trouble. With the help of Batman and an old friend, it looks like they may finally have some luck on their side.
We are now four issues deep into the awesome Batman/TMNT crossover and James Tynion IV's story is still as intriguing as ever. Freddie E Williams II and Jeremy Colwell are a fantastic pairing on art–I especially enjoy the decision to give the turtles different styled face masks.
As the story continues it gets more and more clear that each turtle shares traits with Batman. With Raphael being Batman's darker boding personality. Donatello, his tech side. Leonardo, the martial artist, and Michelandelo….uh…maybe not all.
If you haven't caught this from the beginning, go back and start. With DC/IDW doing second & third printings of the series you know it has to be good. [Martin M. at Milwaukie TFAW]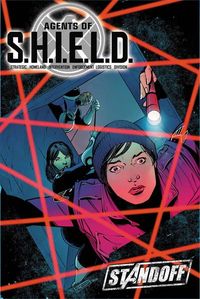 Agents of S.H.I.E.L.D. #3
By: Marc Guggenheim, German Peralta
Picking up from an excellent cliffhanger from the previous issue, Agents of S.H.I.E.L.D. #3 jumps immediately into the action and keeps a solid pace, despite having to dump a lot of exposition on the readers who might not be caught up on Marvel's Avengers Standoff crossover. Character sum up what's been happening so far without too much stilted or forced dialogue. The chase for Whisperer is the best part of the book and (Spoiler warning if you haven't read the first two parts of Standoff) Rick Jones uses things that don't seem unrealistic for a character with his history to have access.
Peralta's art is clear and dynamic, and Guggenheim fills the script with nods to both the current events of the Marvel Universe but nice bits of history as well. He's been a part of a great team on the DC TV side as creator of Arrow and Flash and now doing and excellent adaption of Marvel's most well-known network show. This one is highly recommended. [Dustin M. at Universal TFAW]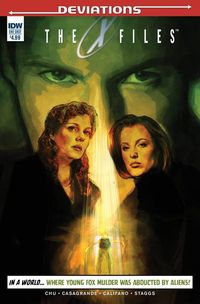 X-Files Deviations (one-shot)
By: Amy Chu, Elena Casagrande
The X-Files Deviations is a wonderful parallel for fans of the first episode. In this new story, wrier Amy Chu recreates what started it all with one major twist — Dana Scully is partnered with Samantha Mulder. Samantha's brother Fox was the one who went missing all those years ago and now the two must work together to find the truth that is out there.
The story moves along at a good pace and Casagrande's style matches the tone of the story. For most fans, the relationship between Mulder and Scully is probably the most iconic thing about the show, but without it could the series thrive? This issue has me thinking yes. It's a must read for any X-Files fan. Don't forget about the other IDW Deviations one-shot issues starring the Ghostbusters, TMNT, Transformers & G.I. Joe. I'm really looking forward to those now that I've read this issue. [Travis S. at TFAW.com]
What did you think of these books? What should we review next week? Let us know below!
Please follow and like us: