Has it really been a week since our last New Comic Book Day comic book review? Man, time flies. Here are a few of this week's new releases that stood out from the crowd. Check out our other blog articles so see our thoughts on other books. Be sure to comment or share our post on Facebook or Twitter if you like our articles!
SPOILER ALERT — We try to keep from posting spoilers, but one may sneak through to our reviews now and again. Read with caution, true believers.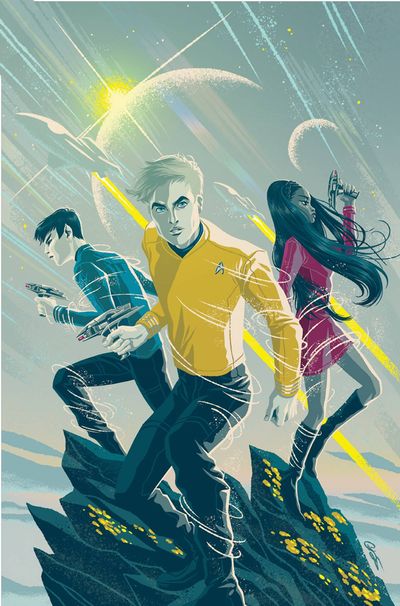 Star Trek Boldly Go #1
By: Mike Johnson, Tony Shasteen, George Caltsoudas
Set months after the events of Star Trek: Beyond, Boldly Go finds the crew of the Enterprise split up as their ship is rebuilt. Kirk has taken over interim Captain duties on the Endeavor along with McCoy and Checkov. Sulu is now first mate on the Concord. Scottie is teaching at Starfleet Academy, and Spock and Uhura are on sabbatical on New Vulcan. That is until a new, yet familiar, threat forces the gang back together much earlier than expected.
Mike Johnson captures the tone of the new Star Trek series perfectly, while at the same time introducing a classic Trek nemesis to an unfamiliar crew. In many ways he's combining three eras of the series into one, and expertly so. Tony Shasteen captures the likenesses of the actors from the movies, as well as the clean and crisp aesthetic. If you're a fan of the recent films, or of Star Trek in general, this is a must read. [Mikey N. at TFAW.com]
VISIT OUR STAR TREK COLLECTION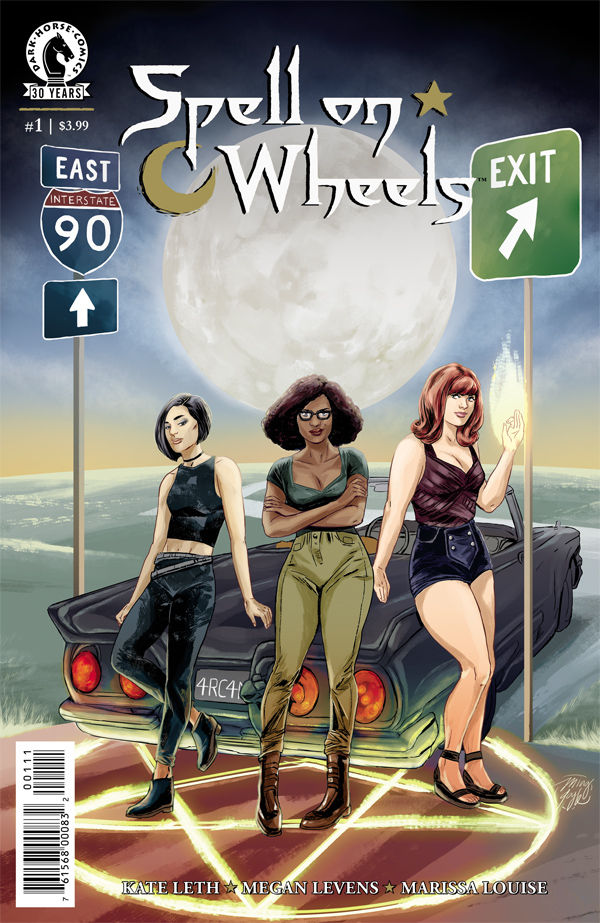 Spell on Wheels #1
By: Kate Leth, Megan Levens, Marissa Louise, Ming Doyle
Dark Horse's newest magic comic comes just in time. Not a horror based comic, but with Witches what better time is there other than October?
Spell on Wheels is the story of three best friends working and living together. One day their house gets broken into and they must go on a road trip to reclaim their belongings. They're witches, and you can bet that the stolen items are a little more than just a few trinkets…they REALLY need to get their stuff back.
Kate Leth brings us a fun group of gals for what looks to be a fun adventure. The characters all have their own abilities and traits beyond their magic. I felt like anyone could relate to that feeling of despair and loss after being robbed. While obviously has more to do with the magic they wield, you can relate to their situation. Megan Levens and Marissa Louise do a stand up job within this first issue. I love the character designs. The emotions come through very well with each character. [Martin M at TFAW.com]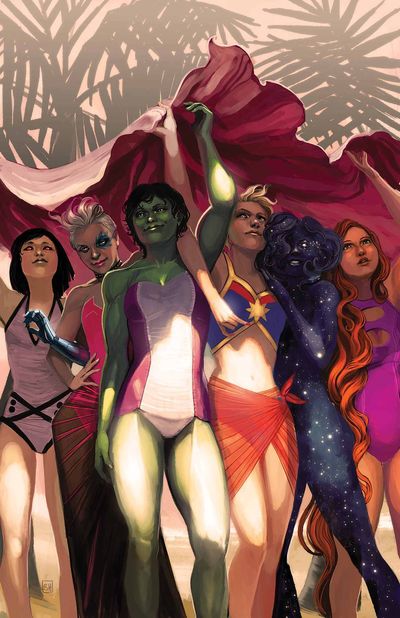 A-Force #10
By: Kelly Thompson, Paulo Siqueira
The A-Force Civil War II tie-in found the team in Colorado on the hunt for bug creatures that were once the cities inhabitants. The problem is, they must find a way to stop this plight from spreading before her teammates turn int these very same creatures.
This was a fun final issue for A-Force. On top of that it was a good Civil War II tie in. I'm not caught up on Civil War II issues, but I didn't need to play any catch-up to jump into this issue — it felt very solid as a stand alone story. Kelly Thompson has been doing a bang-up job with A-Force ever since she started at issue #2. Paulo Siquerira, Joe Bennett, and Rachelle Rosenberg do a fantastic job bringing this team to life. One panel in particular made me go "wow!" (It's spoiler-y so I wont say, but feel free to guess!) You really can't go wrong with a team made up of Captain Marvel, She-Hulk, and Dazzler. [Martin M. at TFAW.com]
Nightwing #7
By: Tim Seeley, Javi Fernandez
Set right after the events of the epic Night of the Monster Men crossover, Nightwing is checking in again with the Parliament of Owls in Australia. Only to find them all dead, somehow linked to the Cult of Kobra. Nightwing tracks down his recent ally, Raptor and discovers that Raptor has been in Nightwing's life much longer than he thought.
Tim Seeley has been doing an amazing job of rebuilding Nightwing into the fan-favorite version of Dick Grayson people have been missing. He allows the story to breath on its own, but still fold seamlessly into the events happening with the entire Bat-Family. Javier Fernandez on pencils provides a lot of grit to the story. Nightwing is in a darker place than normal, and I love it. Nightwing #7 is another amazing addition to this great series, with plenty more to come. [Mikey N. at TFAW.com]
What did you think of these books? What should we review next week? Let us know below!
Please follow and like us: