This week Black Panther and the Crew starts, Alien Day comes a little early, and The Prism of Time begins in Hal Jordan and the Green Lanterns for New Comic Book Day. Remember this was only a small batch of what came out this week.
Check out our other blog articles so see our thoughts on other books. Be sure to comment or share our post on Facebook or Twitter if you like our articles!
SPOILER ALERT — We try to keep from posting spoilers, but one may sneak through to our reviews now and again. Read with caution, true believers.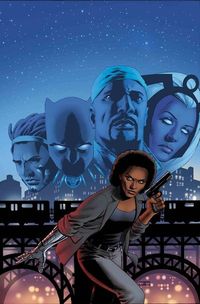 Black Panther and the Crew #1
By: Ta-Nehisi Coates, Butch Guice, John Cassaday
I wasn't sure what to expect before reading Black Panther and the Crew #1. I knew of Ta-Nehisi Coates from his excellent run on Black Panther but I was worried that Marvel was spreading Black Panther too far, too fast. Imagine my surprise to find out that despite being a prominent part of the title, Black Panther doesn't make an appearance in the issue at all.
Rather, the issue follows Misty Knight (and a surprise guest!) in a story that hits close to real world events while still fitting nicely into the Marvel Universe. Coates expertly captures the tension that exists today in places like Harlem, making the issue informative as well as interesting. Since this is a Marvel book, you can expect some action, and artist Butch Guice does an excellent job depicting it.
Black Panther & The Crew #1 offers something different than your standard Marvel comic and is highly recommended. I'm eagerly anticipating to see just how Luke Cage and Black Panther figure into the story. It's not a book that was on my radar before but I'm immediately adding to my subscription; after you give it a read, I guarantee that you'll feel the same.
If you like this comic, you'll love Coates' work on Black Panther!
[Josh P. at TFAW.com]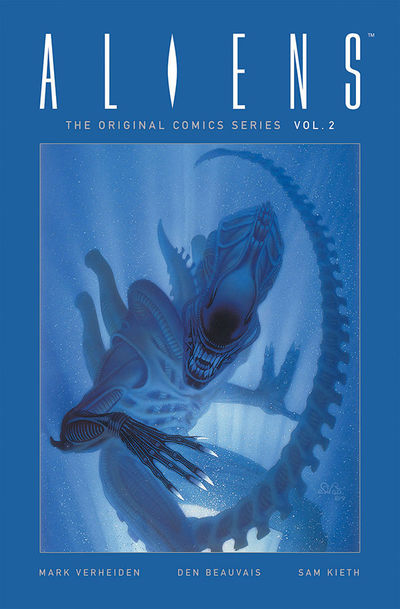 Aliens: The Original Comics Series Volume 2
By: Mark Verheiden, Den Beauvais, Sam Kieth
Before we got Alien 3 in theaters, we got Dark Horse's Aliens Comics. And oh boy were they exciting! I remember reading these as a kid in excitement for the next movie. Seeing Hicks, Newt and Ripley all together fighting against Xenomorphs, I couldn't wait for the next movie! Alas, we got David Fincher's Alien 3 instead.
This rerelease hardcover contains the original Dark Horse arcs: Aliens: Nightmare Asylum and Aliens: Female War. It also reverts back to the original character names, which were changed in printings that came AFTER the release of Alien 3, from what I understand.
Nightmare Asylum, by writer Mark Verheiden and artists Den Beauvais and Sam Kieth, tells the four-part story about militarizing the Xenomorphs and what Hicks and Newt do to stop it.
In the second story, Female War, Ripley is forced back into the fray to protect Newt.
This beautiful hardcover collection is a must have for Aliens fans! There's no better way to celebrate Alien day on 4/26!
MAKE SURE TO CHECK OUT ALIENS: DEAD ORBIT COMING SOON!
[Martin M. at TFAW.com]
Hal Jordan And The Green Lantern Corps #18
By: Robert Venditti, V Kenneth Marion, Mikel Janin
Hal Jordan and the Green Lantern Corps #18, like many of DC's current titles, represent a rebirth of the Corps. Back in their home universe, the Corps unites under John Stewart, whose first order is to unite both the Green Lanterns and the Yellow Lanterns together to form one supreme space force. As you can expect, tensions are high and bad blood soon turns into spilled blood.
Just when things couldn't look any worse, a surprise visitor lands on the Corps' doorstep. This mystery man will be very familiar to fans of The CW's Legends of Tomorrow!
Hal Jordan and the Green Lantern Corps #18 is an excellent jumping on point for newcomers. Past events are succinctly explained and the focus is more on the future than on the past. This arc is shaping up to be one of Robert Venditti's best and will impact the Corps for years to come. If you've ever wanted to check out this comic, now is the best time!
Check out Green Lanterns to see how this arc impacts Jessica Cruz and Simon Baz!
[Josh P. at TFAW.com]
What did you think of these books? What should we review next week? Let us know below!
Please follow and like us: