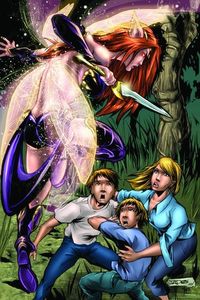 We're midway through our epic Zenescope Month, interviewing the many creators that produce sexy, creepy horror comics like Grimm Fairy Tales and The Waking, as well as the very popular Charmed. Today, we interview Jean-Paul Deshong, artist for Grimm Fairy Tales Presents: Neverland, an upside-down take on the classic tale of Peter Pan. Here, Deshong tells us how he broke into the business, what it's like working for Zenescope, and what he likes drawing the most!
TFAW.com: What drew you to comics?
Jean-Paul Deshong: To tell you the truth, That is a very good question. I have been literally been drawing from three years old, I was the action figure type of kid, so I was always into things like superheroes. My mom always (even to this day) encouraged my interest. Comics came into the scene as an extension to that . . . I guess that pointed the direction of my artistic interest.
TFAW.com: Who were your favorite comic book creators, growing up?
JP: Oookay!! I guess I'll begin at the beginning. I've had many favorite artists. John Romita Jr., John Byrne, Arthur Adams, Frank Miller, Jim Lee, Todd McFarlane. Manga artist Matasume Shirow was a big influence. I also started to follow anime studios like Mad House and Bones. A lot of people say that they can see an anime influence in my work.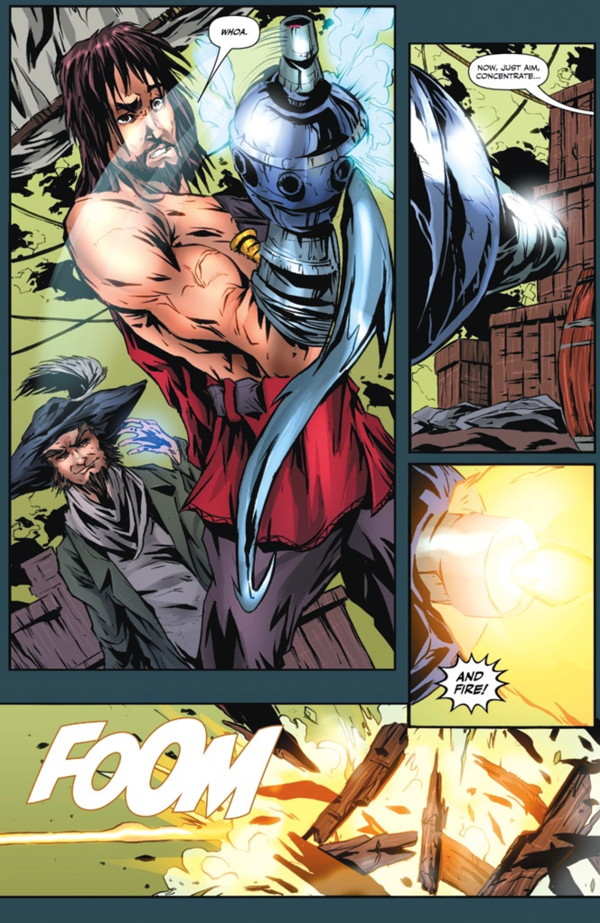 TFAW.com: How did you start to work for Zenescope?
JP: I was handing out submissions out at NYCC08. I went to the submissions booth and met Raven Gregory. I told him I had a submission for him. He looked at me kinda of strangely as I passed him my sample. As he looked at the work and his face lightened up. He looked up at me and said, "Never give someone work like this out of a bag like that."
NOTE: It was a crushed bag that was handed out at the beginning of the Con. It was pretty beat up by the time I got to Zenescope.
Getting back on the topic, he looked at the sample, said he liked it, and told me he was going to pass it on to another editor, and they would be in touch. In a couple of weeks later, they were in touch.
TFAW.com: Grimm Fairy Tales Presents: Neverland deals with fairies and magical places, but overall, it's a very dark tale. What did you think about when you first approached the material?
JP: Before I got the actual script, I was given an overview. I was excited about it. Once I received the actual script, and [saw] how it was really Pan turned on its ear, I was even more enthusiastic about the book. So much so that I emailed the new editor and expressed my excitement for the story.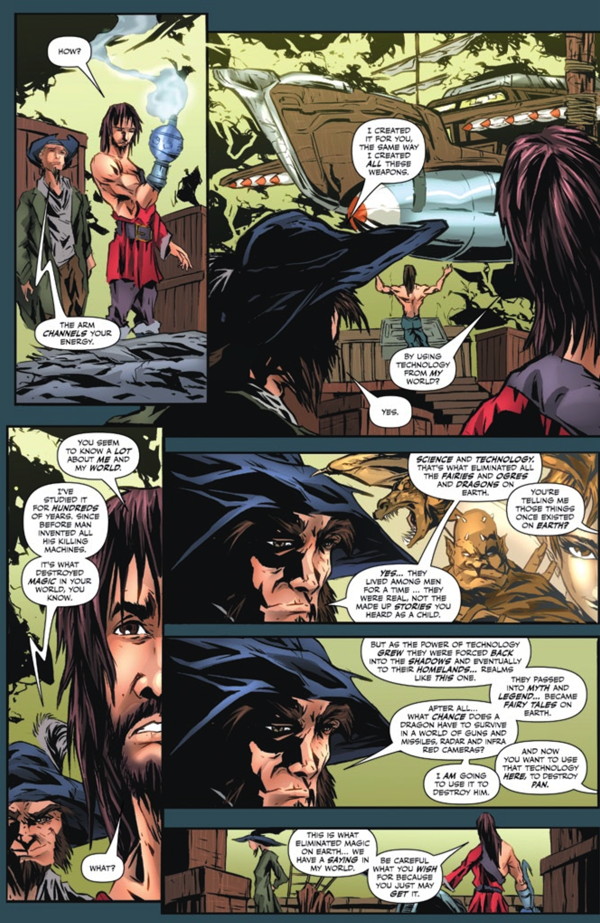 TFAW.com: Were you a big fan of Peter Pan?
JP: I'm a little embarrassed to admit this, but at my mom's house I still own the Disney Peter Pan record from the Disney animated movie. I can still probably sing all the songs, but I think that would take a lot of tequila.
TFAW.com: Did you go to the older stories for inspiration when you designed the characters?
JP: My designs were based off of the studies I received through Zenescope and from the cartoon.
TFAW.com: What's the biggest challenge of working on a book like this?
JP: If I had to make an assessment, I would say that keeping the emotion intact from the script into the art was my hardest, or I would say interesting, part of drawing the book. Pan was evil, Hook was schizophrenic in our realm, but the hero in Neverland, Tinkerbell was beautiful but deceitful, and so forth. Keeping those emotional woes to define the characters were the biggest challenge.
TFAW.com: You covered the inks as well as the pencils here. Do you prefer to ink yourself? What's it like for you when someone else handles the inks?
JP: That's tricky. I like to ink my own stuff because I add different textures in my ink that I don't see until I ink something. But I've also had great inkers take my work to another level and do things I wouldn't have thought of. In the case of Neverland, it was my enthusiasm and excitement for the story. I wanted to do my part in making the book as well as I could. Thankfully Zenescope was receptive.
TFAW.com: What's your favorite thing to draw in Neverland: the girls, the monsters, or the technology/weapons?
JP: Not to sound like a politician, but I enjoyed drawing everything in Neverland. Drawing Evil Pan was just as fun as drawing Hook's hook, or Croc, or the Lost Boys. There are great books out there who do maybe one of these things, but with every issue, of every page turn of the script, I was always finding myself saying, "Oh wow, I can't wait to draw that."
TFAW.com: What's it like working with Zenescope?
JP: It's been a great ride. The people at Zenescope are great. Down to earth, great to talk to about anything from the script to everyday life. If I ever had a problem, it was addressed in a timely manner. Patient and understanding. Everything that a comic company could be.
TFAW.com: Do you prefer supernatural-horror books? What other genres would you like to play with?
JP: I'm open to anything and everything. From horror, to sci-fi, it really doesn't matter.
TFAW.com: What types of comics are you reading these days?
JP: It's funny. Whenever I go to the comic shop (incognito, of course), I always pick up something different, I pretty much dabble in everything, although I tend to pick up trade paperbacks because I want to get the whole story in a sitting. Batman is one of my favorite heroes, so I'm eager to see Batman Inc. Wolvie had babies, so the X-Men books are interesting, I've always liked Dark Horse's manga, and of course Grimm Fairy Tales and The Waking and the Wonderland series. Like I said, Zenescope has a great knack for taking stories we know and giving them a great twist.
TFAW.com: Do you have any other projects coming up that you'd like to tell us about?
JP: CLASSIFIED. BLACK OPS. Can't say. Guess you'll have to wait and see.
I guess we will! But you won't have to wait and see our exclusive 10-page preview of Grimm Fairy Tales Presents: Neverland #5, in stock right here, right now. You can also pre-order future Neverland comics and save 20%.
Love Neverland? Remember to check out our interview with writer Joe Brusha, who give us additional insight into this evil-tinged tale.
Are you a fan of Peter Pan? Post your comments below!
Please follow and like us: