Motor Crush screeches into New Comic Book Day this week. Plus we check on Nightwing and Nova. It's a M and N kind of week! Remember these are only a few of This weeks new releases Check out our other blog articles so see our thoughts on other books. Be sure to comment or share our post on Facebook or Twitter if you like our articles!
SPOILER ALERT — We try to keep from posting spoilers, but one may sneak through to our reviews now and again. Read with caution, true believers.
Motor Crush #1
By: Brenden Fletcher, Babs Tarr, Cameron Stewart
This new motocross meets battle royale style action series from Image, follows Moto Crush rider Domino Swift. In this story, competitors race each other for titles and vials of "Crush", a highly effective, but potentially deadly performance boosting drug. In this issue, we are introduced to Domino's world, which gets turned upside down just days before her big race. Can she regain her edge on her competition before the race, or will her need for Crush get the best of her? We'll have to see what happens the upcoming issues!
Motor Crush is the creation of Cameron Stewart, Brenden Fletcher, and Babs Tarr. The highly stylized art style and compelling story keep you hooked from page to page. Readers familiar with any of the creators' previous work will see a lot of similarities to this world.
A must read for fans of The True Lives of the Fabulous Killjoys, Black Canary, Gotham Academy, and Batgirl. [Ashleigh L. at Universal Citywalk TFAW]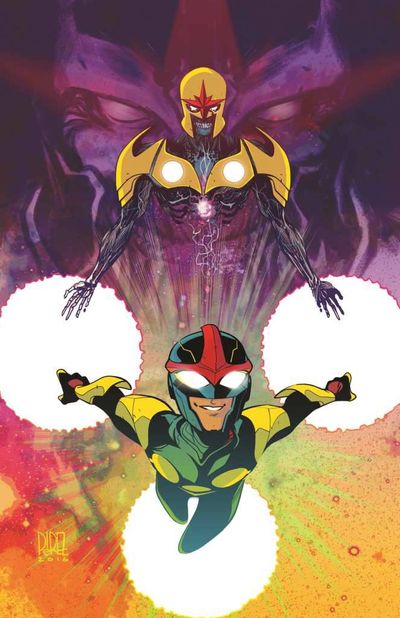 Nova #1
By: Jeff Loveness, Ramon Perez
The Return of Richard Rider! Being back from the dead, newly resurrected but why and how? Back from his dark fate in the Cancerverse (Earth 10011). Trying to piece what happened to him back together, he finds himself back at his mother's doorstep with questions and little answers.
Sam Alexander is no longer an Avenger, now a Champion with Ms. Marvel, Totally Awesome Hulk, Spider-Man, and Cyclops(?). Sam is called on by Ego the Living Planet but what might the Planet want from our last Nova Corp Member? Sam would much rather help Ego than deal with the problem of embarrassing himself in front of the new girl at school. Fighting villains is so much easier than first impressions.[Allen B. at Universal Citywalk TFAW]
Nightwing
By: Tim Seeley, Marcus To
Finally, Dick Grayson returns to Blüdhaven, and with Marcus To as the artist? The crowd goes wild and the angels sing!
Our newest story arc opens with Damian interrupted during a practice of his Titan's rallying call. Touching on how our characters are dealing with Tim Drake's death (Detective Comics #940). While some of our heroes are pushing through the pain. Our hero is taking this chance to escape, and what better place to run than Blüdhaven—or should I say, Fun-Haven?
We get a few glimpses of Dick discovering what makes Dick Grayson, not Nightwing. These are hilarious little gems throughout the story. This and the looming implication of a corrupt government framing others makes for a compelling story arc I can't wait to see all the way through.
Dick says it best himself, "You gotta keep it sexy and exciting" and boy did they ever. Stellar artwork and characterization throughout the whole issue makes for a refreshing journey for any Nightwing fan.
[Megan W. at Universal Citywalk TFAW]
What did you think of these books? What should we review next week? Let us know below!
Please follow and like us: